Ikoyi Building: Finally, Facts Behind the Collapse Revealed Months After Ugly Incident
After a long wait on the investigation into the 21-story building that collapsed tragically in Ikoyi, Lagos state, the truth has emerged
The Coroner inquest team in charge of the case on Tuesday, August 9 reeled out some eye-catching facts about the incident
However, the most intriguing part of the investigation is the indictment of government agencies for their compromise and complacency
Lagos, Surulere - On Tuesday, August 9, the Coroner's inquest team led by Magistrate Oyetade Komolafe revealed the reason behind the collapse of the 21-story building in Ikoyi on Monday, November 1, 2021.
As reported by the Punch newspaper revealed that the Ikoyi building collapse was a result of a lack of adherence to the necessary steps and practices required before the commencement of construction.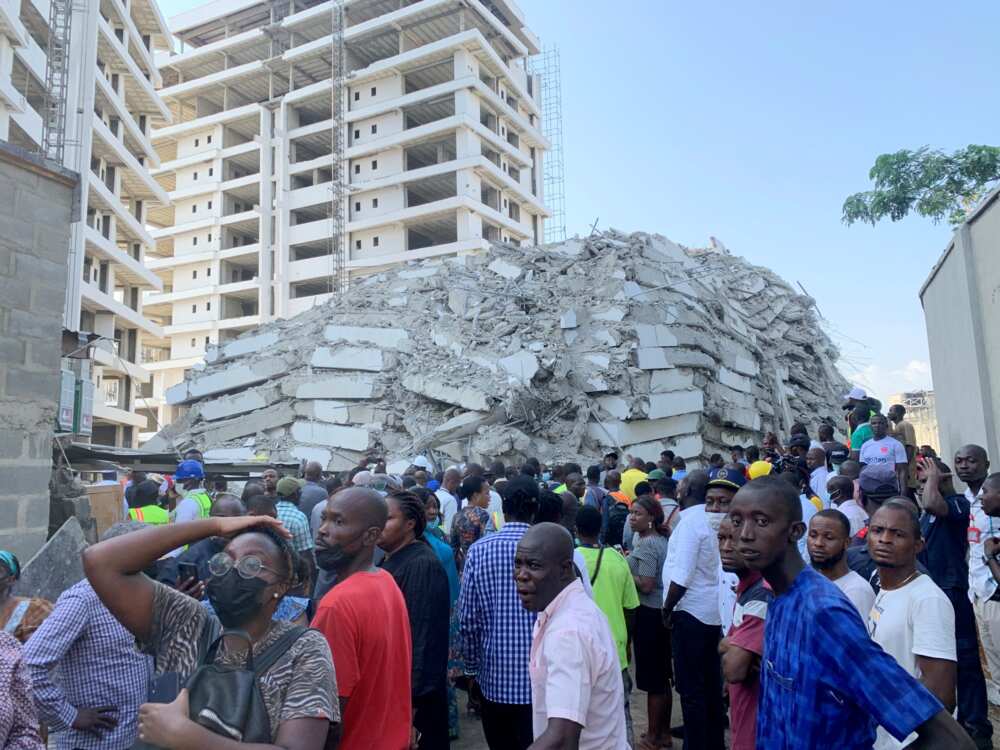 The Lagos Island Coroner Division, at Court 4, Surulere, in a judgment by Magistrate Komolafe stated that these reasons were what led to the tragic incident.
Legit.ng gathered that the findings of the inquest team also revealed that there was a series of violations of the stipulations of the Lagos state building regulations.
Komolafe also disclosed that there was a deliberate omission of the bio-data of the project board who ordinarily should have provided their details before the commencement of the project.
The coroner inquest team indicts govt agencies
He further stated that the relevant agencies in the state who were supposed to sanction the gross misconduct of the contractors failed to do so due to the fact that they were compromised.
He said:
"The building structure failure was due to the design errors and combined stress failure of the columns at the lower floors."
Komolafe noted that investigations carried out further unearthed poor management of the project site as well as lack of quality assurance/control
Scores confirmed dead, 9 others rescued in 21-storey building collapses in Ikoyi
It will be recalled that over 40 persons were reported dead during the tragic incident of the 21-story building that collapsed in Ikoyi.
The casualty recorded at the scene of the incident was confirmed by the acting coordinator of the National Emergency Management Agency (NEMA).
Ibrahim Farinloye confirmed that the collapsed building is located on Gerrard Road around the Ikoyi area.
Survivor recounts how 21-storey Ikoyi building collapsed
Meanwhile, further details of the tragic incident were unraveled by some of the first-hand witnesses at the scene of the incident.
These details were given by a survivor of the building collapse who is receiving treatment in one of the hospitals in Lagos state.
The survivor said he has also been warned not to speak to anyone about the incident of the building collapse.
Source: Legit.ng