Survivor Gives Details of How 21-Storey Ikoyi Building Collapsed
Details have been revealed from the incident that occurred on Gerrard Road in Ikoyi on Monday, November 1
These details were given by a survivor of the building collapse who is receiving treatment in one of the hospitals in Lagos state
The survivor said he has also been warned not to speak to anyone about the incident of the building collapse
A survivor of the collapsed 21-storey building in the Ikoyi area of Lagos has given details of how the incident on Gerrard Road occurred.
Premium Times reports that the survivor (name withheld) had explained that he was on the site of construction with his colleague when the first pillar of the building cracked.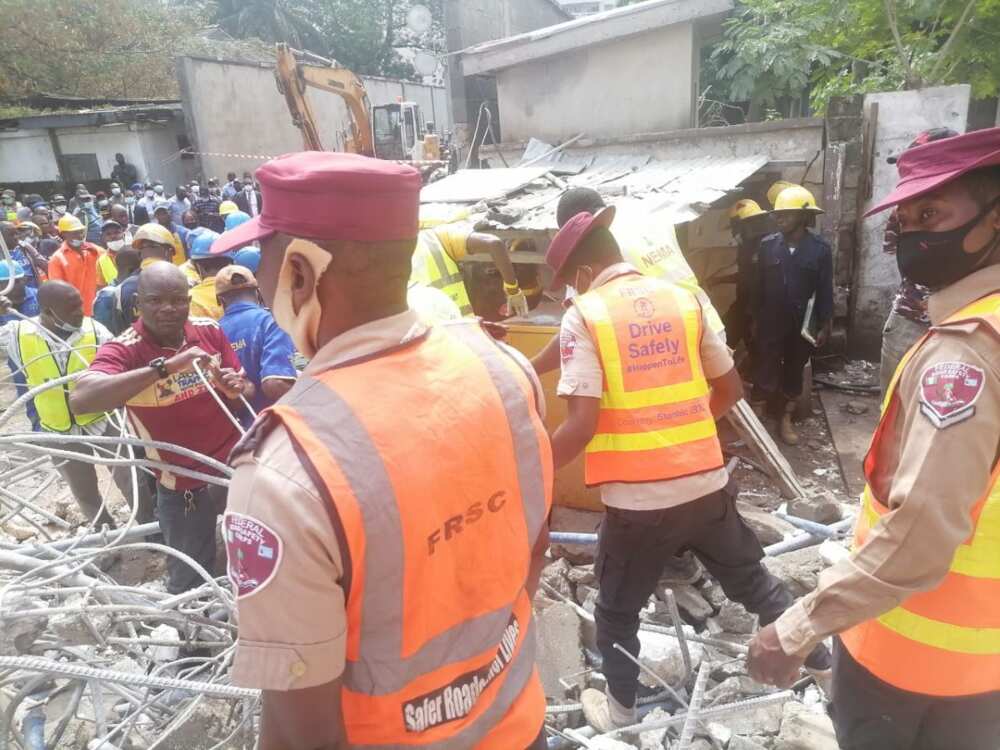 Speaking further, the survivor who worked as a labourer at the site was interviewed at the hospital where he was receiving treatment.
A case of 'see no evil, speak no evil'
He also said he was warned never to discuss the incident with the press or anyone.
The survivor said:
"I was working with my colleague. I have been told not to tell anybody.
"That day, we were working on the first floor, Engineer Kola and Engineer Ola told us there is one pillar on the first floor, the pillar was cracked."
He noted that while work was going on, they heard a noise and the pillar began to shake.
According to the survivor, himself and another colleague, who he identified as Monday began to run out of the building.
The survivor, however, said he fell down and was struggling to come out of the building but somehow managed to leave with the security man helping him to the hospital with a motorcycle.
He said that the owner of the building, Femi Osibona, knew about the cracked pillar and had been on the engineer's neck to break and fix the pillars.
"He was aware, he saw us, he even gave us money for food (breakfast). He saw us there when we were working on it."
Lagos state government reacts to reports of demolishing two other buildings
Meanwhile, Legit.ng previously reported that the government of Lagos state had said that it was yet to conduct an integrity test on the two remaining buildings in the area of the collapsed one.
The commissioner for information and strategy, Gbenga Omotoso, also debunked claims that the state government was planning to demolish the other buildings.
He said a panel of inquiry has been instituted to investigate issues surrounding the collapse of the building.
A 19-year-old boy who is also a survivor of the collapsed building said the incident was an act of God.
The boy who identified as William Nwachukwu and hails from Imo state said he was sleeping on the fourth floor when the building walls began to crack.
He said when he noticed that the building was shaking, he jumped from the fourth floor into a nearby building.
Source: Legit.ng