Basorun Oyo to Take Over Alaafin's Palace before Emergence of New King
Following the demise of the Alaafin of Oyo, Oba Lamidi Adeyemi, the head of the Oyomesi, Basorun of Oyo is reportedly to take over the affairs of the palace
The current head of the Oyomesi saddled with this responsibility is High Chief Yusuf Akinade Ayoola
The top Yoruba monarch Oba Adeyemi, according to media reports, died in the early hours of Friday, April 22
Oyo Oyo state - The head of the Oyomesi, Basorun of Oyo, High Chief Yusuf Akinade Ayoola, is expected to take over the affairs of the palace of Alaafin of Oyo, pending the appointment of a new Alaafin, a report by Daily Trust stated.
This followed the death of Alaafin of Oyo, Oba Lamidi Adeyemi III, on Friday, April 22.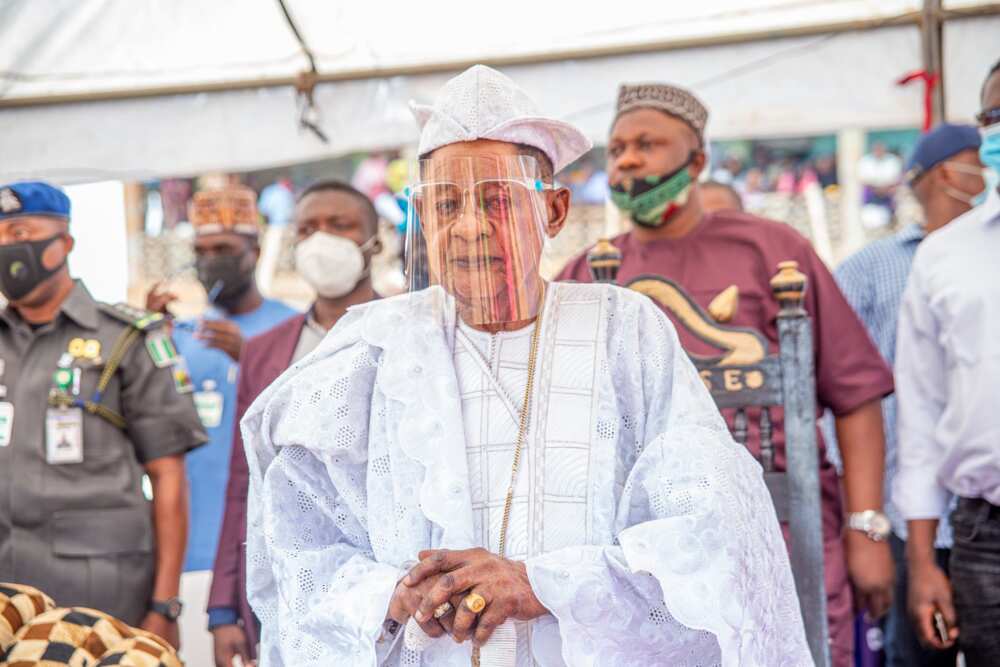 Historically, Basorun has the final say on the nomination of new Alaafin.
According to history, the Oyo empire was monarchical system headed by Alaafin, as the king.
However, an administrative council and governing body made up of chiefs (Oyomesi) serves to maintain balance in power.
Members of Oyomesi were headed by prime minister called Basorun who can demand the king's suicide by sending him a calabash of parrot's eggs.
Basorun has the power to organise religious festivals in addition to becoming the commander-in-chief of the Oyo Army.
Traditionalists hold burial rites for Alaafin of Oyo after Muslim prayers
Meanwhile, Sango devotees have taken custody of the remains of the Alaafin of Oyo for continuation of traditional rites after Islamic prayers were performed on the body.
After the Muslim prayers, Sango devotees were seen carrying the remains from Ode Aro part of the palace into the Oba Adeyemi III Hall, where they initially covered the "sleeping" monarch with a mat before forming a circle around the remains.
As the remains were carried, the devotees chanted dirges and eulogies of Sango, whom an Alaafin embodies, according to Yoruba mythology.
A Big Iroko has fallen, Asiwaju Bola Tinubu mourns Alaafin of Oyo
In another related report, a former governor of Lagos state and the national leader of the All Progressives Congress (APC), Bola Tinubu, has described the late Alaafin of Oyo Oba as a big Iroko tree.
Stating that the big Itroko tree has fallen, Tinubu said he is saddened by the transition of the royal father also known as the Iku Baba Yeye.
In a statement signed personally by the APC leader and sent to Legit.ng, Tinubu said that after ascending to the royal throne at the age of 31, Alaafin became one of the most influential, greatly respected traditional rulers in Yorubaland, Nigeria and indeed Africa and beyond.
Source: Legit.ng