Ikoyi Building Collapse: How US Returnee, Bob Oseni, Falls Victim on Planned Return Day
There is a new development on the recent collapse of a 21-storey building in the Ikoyi area of Lagos state, on Monday, November 1
Recent is how a US based Nigerian businessman, Wale Bob-Oseni fell victim of the tragic incident after receiving a call from the owner of Fourscore Homes, Femi Osibona
Damilola who is the sister to the Oseni, lament bitterly over the slow pace of the rescue team and was certain her brother was among the victim
Lagos, Nigeria- A report by The Punch indicates that a US-based Nigerian businessman, Wale Bob-Oseni, is reportedly among the victims of the building collapse which happened in Ikoyi, Lagos on Monday, November 1.
The real estate dealer was said to be on his way back to the US on Monday, when he got a call from the owner of Fourscore Homes, Femi Osibona, to check out the ongoing development at Ikoyi.
Bob-Oseni's sister, Damilola Otunla, age 29, sat on the pavement across the street engaging in a three-day vigil for her brother who was believed to have been inside the high-rise building when it collapsed.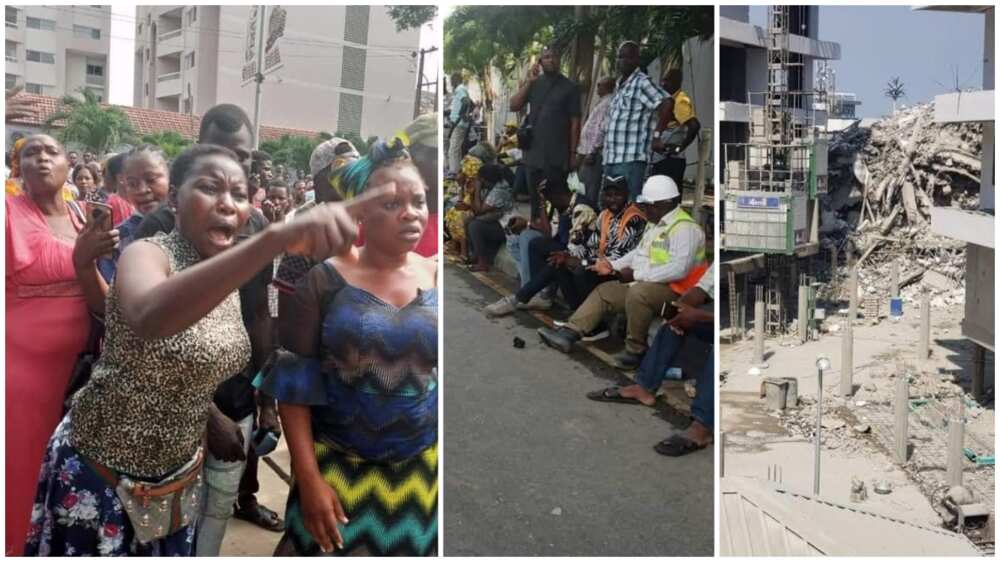 When she heard the news of the disaster on Monday, she immediately rushed to the scene from her home in neighbouring Ogun state.
Wearing the same grey hoodie, black shorts and flip flops since Monday, Damilola looked sad, her eyes empty, as she recalled how her much older brother acted like a father.
She said:
"He took me like his own daughter."
She was angry with the slow pace of the daily rescue efforts, which had not started as of 8:30 am Wednesday.
She added:
"It is like they have made their decision already."
Other family members were also at the scene
Bob-Oseni lived in Maryland, America, but had been home for the past few months and was visiting a friend working on the building site, his family said.
However, in a viral video, a man believed to be the victim's driver was seen crying, saying he was to take his boss to the Lagos airport.
He said:
"He was heading to America. I want to go and drop him at the airport."
21-Storey Building Collapse: more details emerge as Pastor, 22 workers remain trapped
Meanwhile, Legit.ng had earlier reported that On Monday, November 1, a 21-storey building located on Gerrard Road in the Ikoyi area of Lagos collapsed killing many and trapping others in its rubble.
Since the collapse of the building, the National Emergency Management Agency (NEMA) alongside many sister agencies have been working round the clock to ensure that victims under the debris are evacuated.
At the time of this report, NEMA's acting coordinator for the southwest region, Ibrahim Farinloye, said 22 bodies have been recovered from the rubble of the building collapse.
Source: Legit.ng