21-Storey Building Collapse: More Details Emerge As Pastor, 22 Workers Remain Trapped
A pastor of Redeemed Christain Church of God is still trapped beneath the debris of the 21-storey building collapse
The pastor identified as Ola Ogunfuwa is trapped alongside his 22 workers including welders, bricklayers among others
Pastor Ogunfuwa was said to have gone into the construction site about 10 minutes before the building caved in
On Monday, November 1, a 21-storey building located on Gerrard Road in the Ikoyi area of Lagos collapsed killing many and trapping others in its rubble.
Since the collapse of the building, the National Emergency Management Agency (NEMA) alongside many sister agencies have been working round the clock to ensure that victims under the debris are evacuated.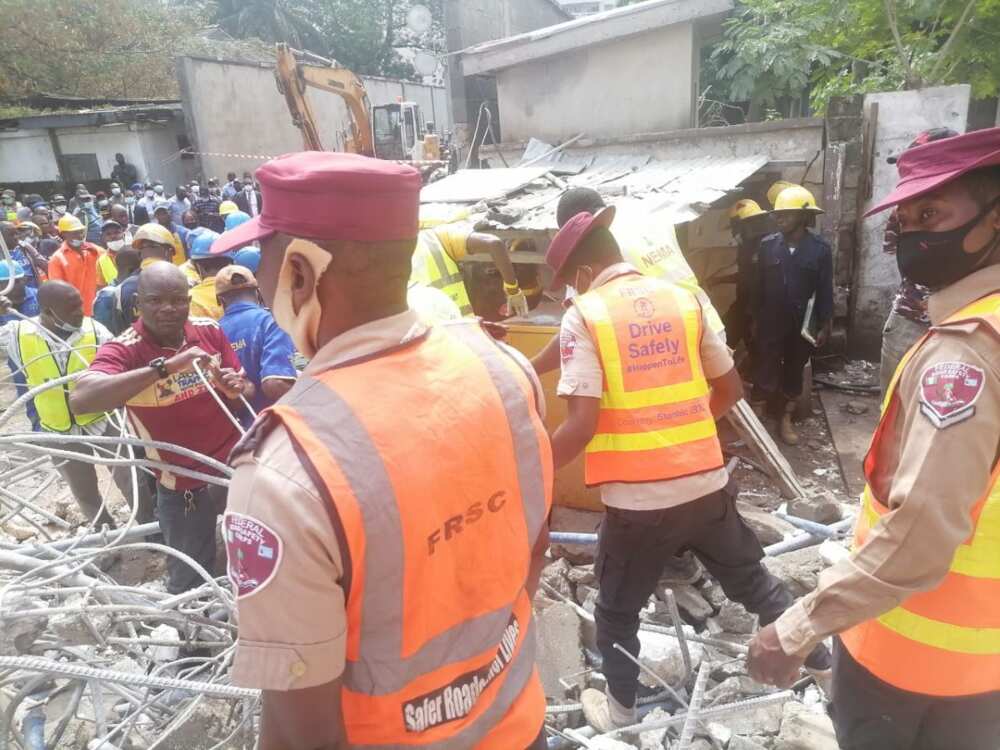 At the time of this report, NEMA's acting coordinator for the southwest region, Ibrahim Farinloye, said 22 bodies have been recovered from the rubble of the building collapse.
Also, a total of nine people were rescued alive from the collapse.
Pastor Ola Ogunfuwa trapped alongside 22 of his workers
However, a recent development suggests that a pastor with the Redeemed Christain Church of God, Ola Ogunfuwa, and 22 of his workers are said to be trapped in the rubble.
Punch reports that Ogunfuwa, a pastor in charge of Living Water Parish, Ibafo in Ogun state is a contractor on the project.
The report said that since the building collapse, no one has heard or seen Ogunfuwa neither has he (Ogunfuwa) or any of his workers been identified as those rescued alive or bodies recovered.
Shola Emmanuel, a friend of the pastor who spoke on Wednesday, November 3, said Ogunfuwa is an engineer who came to the site of the construction with 22 other artisans including bricklayers, welders.
According to Emmanuel, the workers came all the way from Ibafo to work on the ongoing 21-storey building project.
Emmanuel said:
"I am here this morning because one of my pastor friends is working here, he is an engineer. He came with about 22 people all the way from Ibafo (Ogun State) to work here; labourers, bricklayers, welders, about 22 different guys that came together with him to work on the project."
Keeping hope alive for the trapped pastor and his co-workers
Emmanuel said his pastor friend had come out of the building earlier - before its collapse - but went back inside after he was summoned by one of his bosses.
He said it was just about 10 minutes after Ogunfuwa went into the building that the 21-storey building caved in.
Emmanuel added:
"As a church, we prayed all through yesterday night and we're still believing that there is nothing God cannot do because we know that people are still many there, they said they are over 50."
An expectant Emmanuel noted that even though the number of recovered bodies outnumbers that of those rescued alive, he is still hopeful that his friend would be safely rescued.
Meanwhile, Legit.ng previously reported that a 21-storey building located on Gerrard Road in the Ikoyi area of Lagos state.
So far 22 people have been confirmed dead from the collapse of the building while nine others were rescued alive.
In addition, the Lagos state government said approval for 21-storey was given for the construction but work on the site was suspended for four months.
Source: Legit.ng