"I'm Senior to the Movie Industry": Pete Edochie Explains As KOK Brags About Seniority in Nollywood
Veteran Nigerian actor Pete Edochie has spoken about his seniority in the film industry
In a video going viral, the movie star noted that he acted in Things Fall Apart before Nollywood was even created
Edochie's disclosure comes after another actor, Kanayo O. Kanayo, claimed to senior him in Nollywood
Legendary Nigerian actor Pete Edochie has shared more insight into his acting career and how it all started.
Just recently, during an interview with Afia TV, the movie star explained that he was older than Nigeria's movie industry, Nollywood.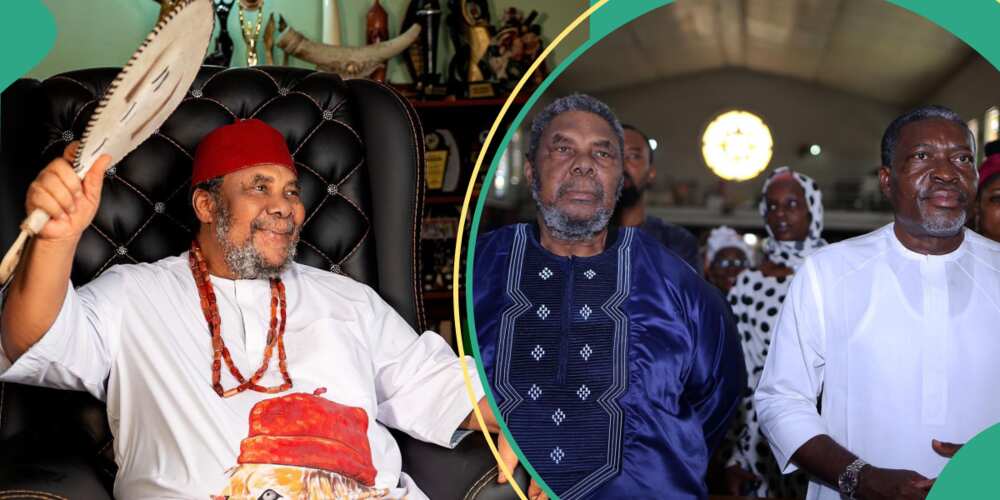 During the interview, the Edochie patriarch noted that nothing like Nollywood existed when he did Things Fall Apart in 1985. According to him, the film industry was still in the womb.
In his words:
"I am senior to the movie industry. When I did Things Fall Apart in 1985, there was nothing like Nollywood. By then, Nollywood was slumbering sonorously in the womb of time."
He said Nollywood only came into existence seven years later with the movie Living in Bondage.
How Things Fall Apart boosted Pete Edochie's career
Pete Edochie revealed how Things Fall Apart boosted his career and made him celebrated as an actor. He recounted how he travelled worldwide, and even the British Broadcasting Corporation (BBC) flew into Nigeria to interview him and also flew out to America to meet with Chinua Achebe, the book's author.
The movie star said that Achebe was so pleased with the way he portrayed Okonkwo's character and told him that he gave the role an interpretation after his heart.
He said:
"It was seven years after that Nollywood came on board with Living in Bondage. I went round the world before Nollywood came. By the special grace of God, after I did Things Fall Apart, I was celebrated internationally. BBC flew here to interview me then flew me to America to Chinua Achebe and Achebe said 'Pete Edochie gave that role an interpretation after my heart' before he died, he was calling me Okonkwo. Seven years after Nollywood came and when I retired from broadcasting, I joined Nollywood."
See the video below:
Nigerians react as Pete Edochie says he's older than Nollywood
Several Pete Edochie fans reacted to the interview by agreeing with his legendary status. Read some of their comments below:
PANNOCK:
"He is a fantastic actor ! I really liked him in Things Fall Apart" and even when I read the book, I imagine Okonkwo as Pete Edochie."
Michael Laurean:
"The has to be the most respected man in Nigeria."
Emmaz4eva:
"The legend of our time..Okonkwo in Things Fall Apart."
Dj DEX:
"Nothing dey pain me pass say this man leave him legacy to that son."
Ifecee:
"I knew this man as Okonkwo. It was later i knew his real name."
IdyllicXpresssion:
"I heard Kanayo saying that he is senior to Pete in Nollywood that things fall apart was just a and not Nollywood."
The Big Fish:
"I can never forget how I stayed glued to Things Fall Apart. Okonkwo was a household name. This is a succinct explanation to clarify KOK. Okonkwo Legend."
Kanayo O. Kanayo says he seniors Pete Edochie in Nollywood
Recall that Legit.ng had earlier reported on Kanayo O Kanayo making a bold claim about his seniority over his veteran colleague, Pete Edochie, in Nollywood.
The 61-year-old, while speaking on the history of the movie industry, shared the groundbreaking achievements legendary filmmaker Kenneth Nnebue made with his projects. He added that Nnebue was the first filmmaker to produce home videos in 1992 on a professional level.
KOK explained that he and his colleagues who acted in the hit movie "Living in Bondage", released in 1992/93, were among the pioneers of Nollywood as true professionals before anyone else.
Source: Legit.ng