"Respect Tradition": Mixed Reactions Trail the Moment Pete Edochie & Kanayo Greeted Ooni of Ife at a Party
Actor Kanayo O. Kanayo recently shared a video showing the moment he and Pete Edochie exchanged greetings with the Ooni of Ife at an event
In the short video, the Ooni who was seated received backhand greetings from the Nollywood veterans
The video has, however, triggered mixed reactions from netizens as many knocked the actors for not respecting traditions while others blamed Ooni
Yoruba monarch, Oba Adeyeye Ogunwusi Enitan, the Ooni of Ife, is currently trending on social media over a video showing the moment he exchanged greetings with veteran actors Pete Edochie and Kanayo O. Kanayo at Elizbeth Jack Rich's 40th birthday dinner party.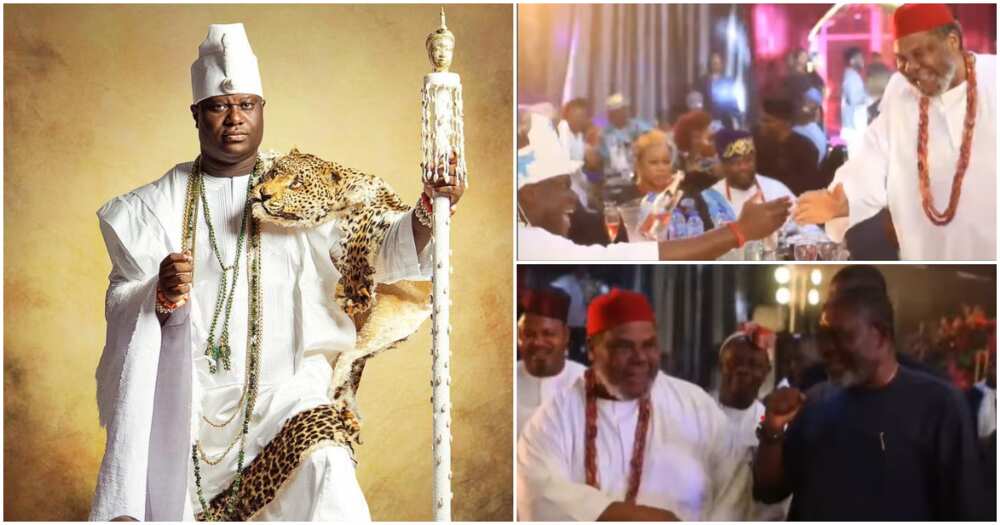 The video which Kanayo shared on his Instagram page showed the moment he, alongside Pete, approached Ooni's table at the event. They gave the traditional ruler the popular Igbo back handshake.
Sharing the video, Kanayo added a caption that read:
"Last night was awesome @peteedochie @babarex0 @chidimokeme and the very outstanding His Royal Majesty, Oba Adeyeye Ogunwusi Enitan, Ooni of Ife."
Watch the video below:
Mixed reactions trail video of Kanayo and Pete Edochie greeting Ooni of Ife
The video has since sparked reactions online as it didn't sit down well with some netizens who said it was disrespectful, while others blamed the Ooni.
Legit.ng captured some of the reactions, see them below:
maxmaxwell23:
"The blame is on the Ooni of Ife for going to that kind place and for also accepting a hand shake from people; I'm not against the nollywood stars but they supposed to bow before the stool of the king of ife. if it was the former ooni of ife who could try this and even give him hand shake?"
iamflappys:
"If you don't respect yourself no one will .. if the real and former king is on the seat this nonsense will not happen.. I respect the work and talent of the legend but if the king start respecting the throne and act like a king this madness will not happen. If anything remove your cap."
rahmonoladipo:
"Pls always respect traditions,this is disrespectful to our culture."
blazi.ngfire:
"They gave the Oba a three handshake which is how great men are traditionally greeted in Igboland, do you expect Chief Pete Edochie to prostrate for the Oba it's not done, we are NdIgbo.."
iam_dor_dor:
"Oni of Ife is not a king, he only rule Ife not the whole state. He is not a king."
Ooni of Ife and Pete Edochi met on a neutral ground
In a chat with Legit.ng's Olumide Alake, Paul Okoye (not Psquare singer) shared some interesting details about the Igbo culture.
According to Paul, an Igbo man doesn't bow to anybody except his Chi, which is a person's personal life force/Spirit/ dispenser of destiny in Igbo cosmology.
"We don't even bow to deities. That some Igbo men do it doesn't mean it is the right thing. When that Igbo man is now a titled man like Pete, the possibility of bowing becomes close to non existent.
"Then culture aside they met in a neutral turf, Pete is not Yoruba, I don't think he is obligated to bow to the Ooni in this instance. Even if he isn't Igbo, bowing would have been out of courtesy, not by force by fire. Then there's also the issue of age. The man is an old man, I am not sure he can bow even if he wanted to."
Paul, however, added that it would have been a different situation if Pete Edochie had gone to see Ooni at his palace in Ife.
"Bear in mind that these whole dynamics will take a different interpretation if they had gone to see the Ooni in his palace," he stated.
Obasanjo prostrates to greet Ooni of Ife
Legit.ng reported how Chief Olusegun Obasanjo made a surprising move as he prostrated to Oba Adeyeye Ogunwusi, the Ooni of Ife, in 2016.
This happened during a visit by the former president to the palace of the monarch in Ife.
Obasanjo, accompanied by eminent personalities, was well-received by the king and prominent traditional rulers.
In what drew gasps of surprise and applause, the former president prostrated to greet the Ooni in what was, although a cultural gesture but notable.
Source: Legit.ng