"Vote Personality Never the Party": Actress Etinosa Calls Funke Akindele Her Leader, Declares Firm Support
To see someone within the entertainment industry speak so highly of their colleague, the way actress Etinosa Idemudia did about Funke Akindele, says a lot
As the 2023 gubernatorial elections draw closer, Legit.ng recalls an interview with the Edo state-born movie star Etinosa and who she intends to vote for as governor of Lagos
During the interview, Etinosa spoke about Funke, who is running for the office of the deputy governor of Lagos state on the platform of the People's Democratic Party
Despite claims that there is hatred for ace Nollywood actress Funke Akindele, which is why most of her colleagues haven't shown any form of public support for her political ambition, one person seems to have a different view.
Etinosa Idemudia, an Edo state-born actress, has come out to entirely throw her weight behind Funke's political ambition to become the deputy governor of Lagos state in the coming 2023 governorship polls.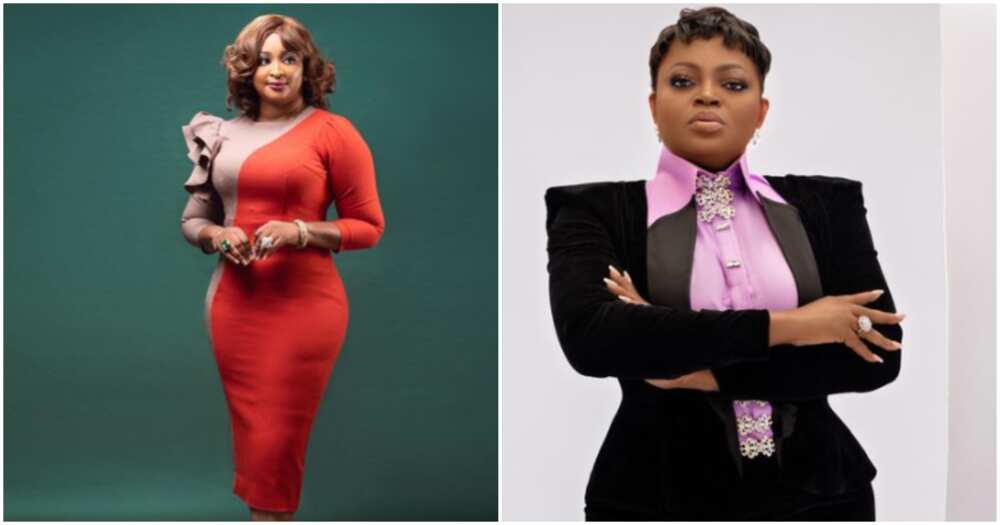 Etinosa revealed why she was willing to support Funke's ambition during an interview with Legit.ng's Oke-Hortons Nosa.
The female comic had this to say about Funke as an actress and movie producer:
"I mean, it's Funke Akindele; it's going to be the best of the best. She has been raising the bar from one level to another throughout her career."
She added:
"Funke is someone who, as an actor, I can give my hand to and allow her to lead me blind. If she holds me and says, "follow me", I'll follow her. So basically, I believe in her and her agenda, and I'm not talking about the Party; I'm talking about the person. I believe in Funke Akindele, and I wish her the best."
"Funke Akindele is a great leader," - Etinosa
The beautiful Edo queen also spoke about her trust in Funke's leadership skills and why she's more interested in her capacity as a person rather than the platform she is running on.
"I can't say for the Party because I have never really followed them up and what they have to offer in any of their campaigns. But I am speaking specifically on Funke Akindele. She's a great leader and someone I will trust any day, anytime."
2023 election: "Mr Jollof doesn't have sense because of money they sold Nigeria to yeye person," says Etinosa
Meanwhile, Legit.ng recalls reporting that Nollywood actress Etinosa Idemudia, since her big break in the entertainment industry, had come to be known as someone who never shies away from expressing her thoughts and would say them exactly as they are.
During an interview, Etinosa revealed that she hugely supported Peter Obi and his political ideals.
However, she couldn't help but call out some of her colleagues, who she accused of collecting stipends from another presidential candidate to sell the country to a less deserving person.
Source: Legit.ng