Gospel Singer With Special Feet Weds Fiancée, Dances Like David in the Bible, Nigerians React
The video of a gospel singer dancing with total energy on his wedding day has surfaced on social media
The young slim man was overjoyed that he was getting married, even his bride could not match his space as they danced
Fans have reacted to how well the man could dance despite his disabilities, they showered him with prayers and well-wishes
The clip of a young gospel artist with special feet has warmed the hearts of fans as he danced excitedly during his wedding. The man has cleft feet but has proven he can do what others with perfect feet can do.
If they were to give the best dancer a prize at his wedding, the groom would clinch all the laurels because of his dance steps.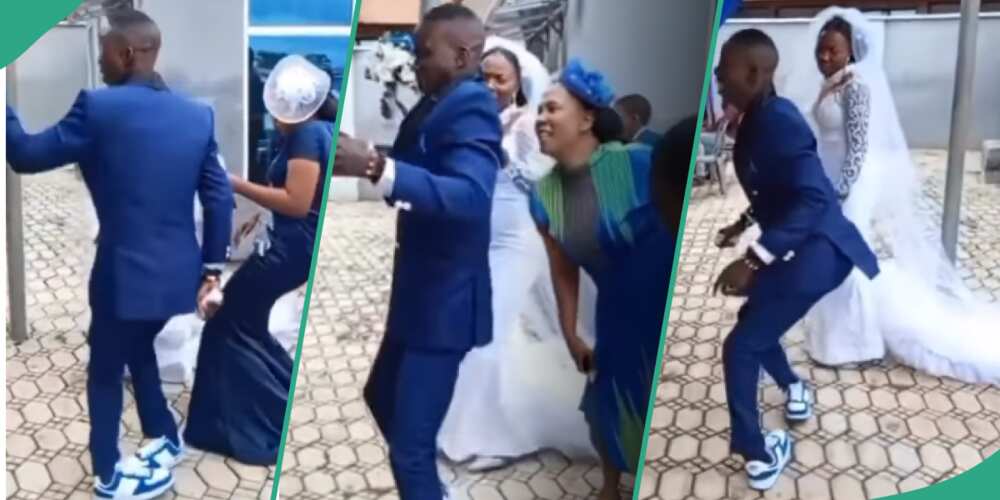 The bride struggled to meet up with her groom
Excited to get married, the bride couldn't keep up with her husband's space. At one point, she had to stop dancing and look at the man; she smiled before joining him.
The best man also struggled to meet up with his friend. He had to start jumping and pretending as if he was dancing.
See the video of the dancing groom here:
Fans react to the video of the gospel singer dancing
Reactions have trailed the recording of the gospel singer as he danced so well at his wedding. Here are some of the comments below.
tbellz07:
"I love how happy he is, despite whatever physical challenges he may be facing. I wish them a happy married life and I also pray they make enough money to have a corrective surgery because the legs can be straightened. My friend's daughter had a corrective surgery in Nigeria and walks fine today. May God bless and provide for them."
@msquaredizz_:
"Love is real! I'll definitely find mine."
@ellaberry_kids:
"Every heart knows where it belongs, na you just no won find where your heart belong , happy married life to them .. happiness and peace of mind na the ultimate."
@sugaryok111:
"He is the happiest man on earth now. May God bless their union."
@priscillia_oluchi_:
"All I see is a happy man, that has decided to find happiness regardless of his disâbility. Just because a man lacks the use of his eyes doesn't mean he lacks vision. Disâbility is a matter of perception. May their marriage be filled with everything that makes a beautiful home. Bless them."
@t_love_miami:
"Nothing happen outside u without first happened inside u! I'm still wondering how he comfortably dance all those dance with is predicament.
@favoriteblaz:
"The fact that she's excited is everything."
@davidnow:
"AlI i see is happiness, he really deserves it all
@endylight1:
"Please tell me the reason why you are still single? Shay you Dey see say man full everywhere."
@osagiator_ewean_gabriel:
"He can actually do surgery to correct that leg."
@donbraz:
"Congratulations to him. I can imagine his Joy."
Groom reveals reason he didn't dance on wedding day
Legit. ng had earlier reported that a groom had scolded the DJ handling music at his wedding for asking him to dance.
In the video, he warned the DJ not to ask him to dance because his religion does not permit such an attitude in public.
He later revealed that he was Ustaz; he doesn't dance.
Source: Legit.ng