2023 VGMA: Ghanaians React as Musician Kwabena Kwabena Rocks Feather Top and Colorful Flared Trousers
Ghanaian musician Kwabena Kwabena's interesting and colourful garb stood out at the 2023 VGMA
The singer, who always wins over his audience with electrifying performances, wore a purple top and multicoloured trousers to the event
Some social media users have expressed mixed reactions to the trending red-carpet videos
Ghanaian musician Kwabena Kwabena is trending after rocking a purple long-sleeve feather top at the Vodafone Ghana Music Awards.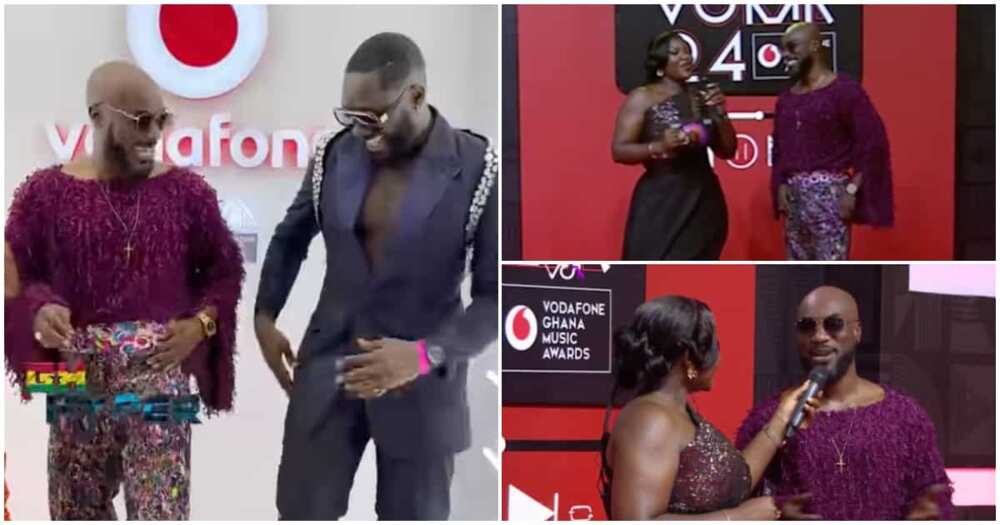 The talented musician donned a soft designer top that matched perfectly with his multicoloured pants to the annual music event.
Kwabena Kwabena completed his look with black pointed shoes as he impressed fans with his dance moves.
2023 VGMA: Some social media users react to Kwabena Kwabena's look
Some online users have expressed mixed reactions about Kwabena Kwabena's classy look.
Afiefie Piesie stated:
"This one is what the market woman calls " twa mepɛ alata style."
iam_mr_ben stated:
"Kwabena Kwabena to abena abena."
_r.chmond stated:
"Parachute is crazy."
yes_iam_akosuaaaa stated:
"You guys are really poor in the fashion sense; what kwabena kwabena he's is creative casual for men. Met Gala looked at what men were wearing especially bad bunnies. Let's learn and stop trolling people."
kutieleegh_ stated:
"Ghana Sam Smith, eeeiii boi gurl."
anthonymichaels007 stated:
"We know you people will do your things again, but we're patiently waiting."
um_diva2_ stated:
"Sister Kwabena Akwaaba oo."
_amadebbi stated:
"I get this top some oo."
"Juju for protection": Reactions to photo of N2m 'authentic' WA hunters' jacket
In recent years, the fashion industry has seen a growing interest in traditional and cultural garments from around the world.
One such item that has captured the attention of fashion enthusiasts and collectors is the West African hunters' jacket.
The jacket, which is traditionally worn by hunters and other members of West African communities, features intricate cowry embellishments and interesting patchwork.
Twitter user, Kalu Aja, shared photos of the jacket on display on sale in the US with a price tag of N2,071,530 ($4,500) attached to the hemline of the jacket.
Netizens had different reactions to the photo.
Source: YEN.com.gh