Kanye West and Purported Wife Step Out in Fully Masked Ensembles: "Why Does He Want Faceless Women?"
Kanye West and his wife, Bianca, were spotted wearing fully masked ensembles, prompting mixed reactions from netizens.
Some social media users criticized West, suggesting that he was dressing his partner to resemble his ex-wife, Kim Kardashian
The photos of the couple's unusual attire generated a lot of buzz online, with some praising the bold fashion statement while others found it off-putting
Kanye West has once again sparked mixed reactions on social media after he was spotted stepping out with his purported wife, Yeezy architect Bianca Censori, in fully masked ensembles.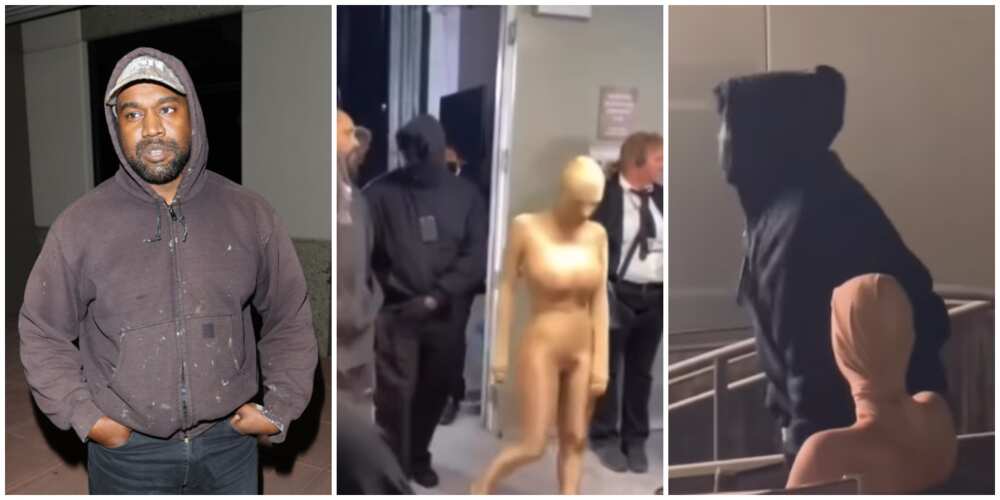 The couple attended the Fear Of God SS23 show dressed in classic Kanye style. While Kanye rocked an all-black ensemble with a full face mask, Biance rocked a gold catsuit with a face mask.
The couple's attire left many fans scratching their heads, while others couldn't help but draw comparisons to West's ex-wife, Kim Kardashian.
The photos of the couple's bold fashion statement quickly went viral, with social media users expressing a range of opinions about the rapper's latest sartorial choice.
Watch the video below:
Social media users react to Kanye West and wife's fully covered ensembles
kandiceknecole:
"Imagine your man dressing you like his ex."
_ikeijha:
"This is crazy. I just could not walk around looking like an unlocked character."
elainebroasterwhite:
"This man gets women to make complete fools out of themselves for him. Girl, blink if you need help. Oh, you can't because your eyes are covered."
junebugshpr:
"This aesthetic is tired now. Why does he want faceless women?"
jerroncouture:
"He's an artist and women are his muses. While I do feel it is all very contrived, it is his form of expression period. He was dressing Alexis, and Amber. It's his thing. It's def women out here doing way worse for men with much less."
ma_beautynyc:
"It's a hmmm for me . I feel like the women he dates completely give up their identity.."
kandiceknecole:
"Imagine your man dressing you like his ex."
Adidas rumoured to be in talks to bring Kanye West back after cutting ties with him over anti-Semitic comments
Adidas is rumoured to be in negotiations with Kanye West again.
The Guardian reported that Adidas ended its partnership with Ye a while back over his antisemitic comments, saying it "doesn't tolerate antisemitism".
A popular hip-hop blog Daily Loud took to its Twitter timeline and posted that it's rumoured that the controversial Kanye West and Adidas could be restoring their business relationship.
Source: Legit.ng