Celebrity Fashion: Good Designer Plug, 5 Other Ways to Elevate Your Style Like Ebuka
Ebuka Obi-Uchendu is arguably one of the most well-dressed celebrities in Nigeria and it goes without saying that he is a style god well on his way to becoming a fashion icon.
In 2022, the top media personality and Big Brother Naija host was voted the most fashionable male celebrity of the year.
Whether in casual wear or red carpet ensembles, be sure to be amazed by Ebuka's sense of style.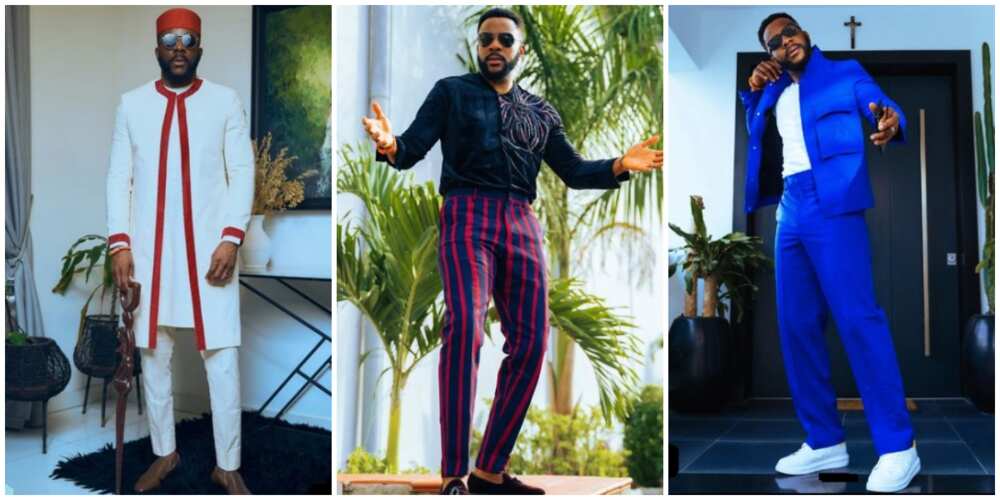 For men looking to tap into some of that Ebuka's fashion magic, here are six tips to help you improve your style.
Check them out below:
1. Shop your size
If there is one thing Ebuka can never be cut dead in, it is certainly ill-fitted clothes.
The media personality always goes for his perfect size, be it pants, shirts, agbadas or tuxedos.
2. Don't be afraid to experiment
We've seen Ebuka in a crop shirt, a cartoon-inspired ensemble and only recently, in feather agbada.
One thing is clear, Ebuka loves to experiment with his looks and more often than not, it pays off!
3. Always groom your facial hair
Ebuka always keeps a well-groomed beard and a neat haircut.
There is never a time that the media personality was spotted either online or out and about looking dishevelled.
And there's no reason you should too.
4. Get a pair or two of sunglasses
One of the many things that always contributes to the sleekness of Ebuka's looks is his sunglasses choices.
These fashion accessories know how to elevate a look.
For the media personality, aviator shades fit the frame of his face. Find what works for you and stick to it!
5. Have a good designer plug
Knowing what style suits you and having someone capture that perfectly in a design are two different things.
Having a good tailor/designer or even a personal shopper will help ease the burden of dealing with ill-fitted and drab clothes.
6. Confidence
You can have the best stylist, and a wardrobe that is the envy of many men but if you do not possess the confidence to pull it off then it will all be for nothing.
Designer behind BBNaija Cindy's birthday looks says it took her 3 weeks to create them
Cindy Okafor turned 27 on Friday, January 13, and decided to mark it in a rather memorable style.
She shared photos from her birthday shoot which went viral on social media due to the nature of the materials used for the looks.
Legit.ng recently reached out to the designer behind Cindy's looks, Ezinne Mercy Okafor, to give insight into the making.
Source: Legit.ng