Legit Style Pick of The Week: 7 Asoebi Ladies Impress Fashion Lovers With Their Ensembles
When it comes to owambe functions, there are ladies who make sure to show up and show out
From oxygen-defying corsets to daring sleeves, these fashionistas make sure to serve it hot
In this article, Legit.ng takes a look at how seven gorgeous ladies slayed in their various asoebi ensembles
Looking good at that upcoming owambe party doesn't have to be stressful or turn out to be a disaster if you have the right guide and designer in your corner.
A brief search through the internet shows a plethora of asoebi styles to choose from and let's be honest - that can be pretty confusing.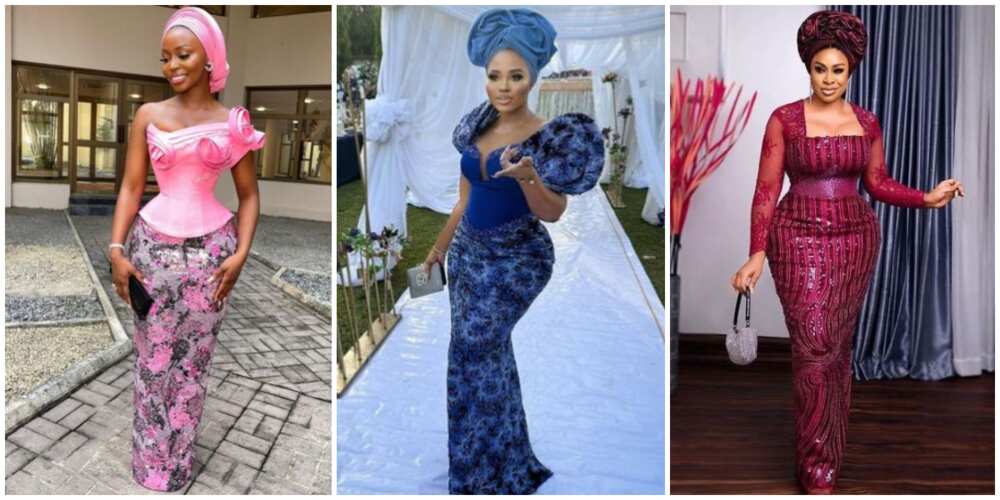 If you've got an event coming up and have no idea what to make with your asoebi fabric then you're in luck.
In this article, Legit.ng highlights seven looks to check out:
Asoebi look 1
This is for leg-baring fashion lovers!
With a floor-length side train, this asoebi belle puts her curves on display in this sheer-infused number.
Asoebi look 2
If you're big on covering up skin and keeping things classy then this is a look you should certainly try.
While the colour black is a classic option for looks like this, this style can work with any fabric of your choosing.
Asoebi look 3
The creative director behind Nigerian fashion brand, Tubo, never disappoints!
If you want to catch a break from the popular gown choices, then you can make a 2-piece with your fabric.
Here, Tubo sports a strapless pink corset bodice top over a pencil print skirt with an opening at the back.
Asoebi look 4
This double-sleeve one-shoulder style is another classy option if you're not big on strapless looks or busy-sleeved dresses.
Here, this beauty slays cream dress with a bodice embellished with appliques.
Asoebi look 5
If you're a lover of jumpsuits or pants, then this still is for you!
This curvaceous fashionista donned a corset bodice top with sheer sleeves which she paired with pants embellished with feathers and frills.
Asoebi look 6
If you're looking for that rich aunty look then this is the one for you.
This Queen Anne's neckline fitted dress with long sleeves did justice to this lady's curves and gave her an air of confidence.
Asoebi look 7
If you're a lover of dramatic looks then try replicating this style.
Everything about this dress - from the sleeves to the fitting of the corset and skirt screams perfection.
Viral video of bride in gorgeous green look leaves many stunned
When it comes to wearing the perfect fit for their special day, a lot of brides are not willing to give that up for anything.
A bride recently got social media users talking after a video from her traditional wedding ceremony surfaced online.
Identified as Khadijah, the beautiful lady opted for a bejewelled green dress with a corset bodice that has left many people in awe.
Source: Legit.ng