Designer Behind BBNaija Cindy's Birthday Looks Says it Took Her 3 Weeks to Create Them
Big Brother Naija reality TV star, Cindy, marked her birthday recently dressed in some interesting outfits
In one of the looks, she sported a hairstyle made from nails and a dress made from cement bags
In a chat with Legit.ng, the designer, Ezinne Mercy Okafor, opened up about the creative process
Cindy Okafor turned 27 on Friday, January 13, and decided to mark it in a rather memorable style.
She shared photos from her birthday shoot which went viral on social media due to the nature of the materials used for the looks.
Legit.ng recently reached out to the designer behind Cindy's looks, Ezinne Mercy Okafor, to give insight into the making.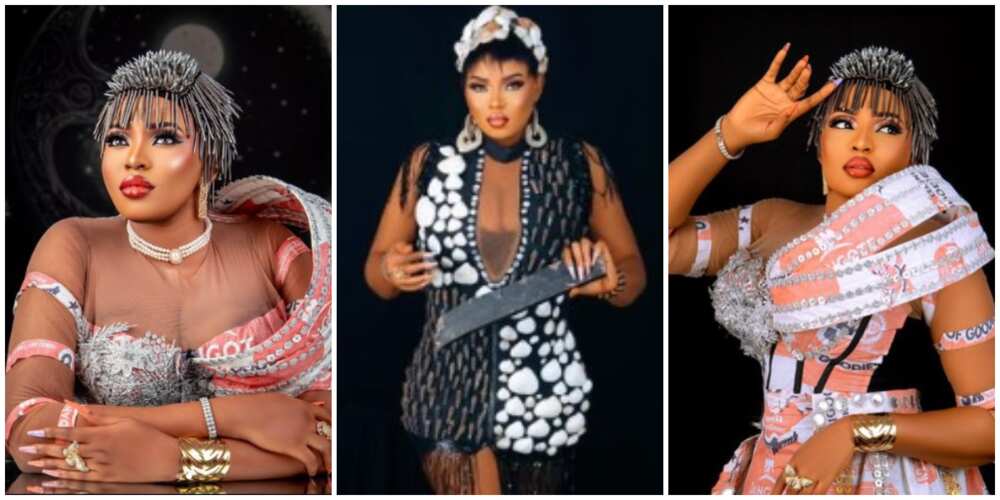 The Nelly's Place creative director revealed that the creative process took three weeks to achieve, explaining that it involved a lot of complex methods.
What inspired BBNaija Cindy's birthday looks
For Cindy, the perfect birthday look(s) had to be unique and different from what was the norm.
Ezinne recounted:
"She told me she wanted something out of the box. So, being what I know how to do best, I chose cement papers. I went for Dangote's cement papers just to appreciate his contribution to the Nigerian economy and job creation."
The designer explains that the other looks, with the sea shells, hair with nails, hair with shells and another yet to be posted were basically created to encourage recycling which is something she believes isn't emphasized enough.
"My all-around concept is to do something never been done before and create a Masterpiece. Fashion should be worn to make a statement is what I believe. I can't wait for the rest of the looks to be shared."
BBNaija Cindy's reaction to the looks and the value
Ezinne revealed that the reality TV star was impressed with the designs and even pointed out how this can also encourage recycling and all that.
On how much the looks were valued for, the designer stated that N1.5 million and N1.7 million went into all the looks created.
"The complications faced and efforts put in those looks led to endless sleepless nights with all hands on deck. You know it's one thing sketching a design and another to implement as desired. Just grateful to my entire team and Cindy for bringing it to life. Hopefully, people can learn to turn assumed trash to wealth."
Inspired by Cardi B: BBNaija stars JMK and Chichi mark birthday in similar looks
Cardi B is one American celebrity whose fan base in Nigeria continues to grow, and even among Nigerian celebrities, the fan love is no different.
In October of 2022, the Grammy-winning rapper shared photos of herself in a silver strapless corset bodysuit which she wore underneath a regal floor-length tulle robe with furry cuffs.
In December of the same year, JMK paid homage to the WAP rapper. For her birthday, the BBNaija Shine Ya Eyes star sported a similar look for her 25th birthday. Chichi also did the same.
Source: Legit.ng