American Reality Star Porsha Dons Gorgeous Traditional Dress as She Weds Nigerian Beau, Designer Speaks
American reality star Porsha Williams got married to her Nigerian beau, and photos have since surfaced online
The Real Housewives of Atlanta alum dressed up in a traditional Benin gown for her special day
Her husband, Simon Guobadia, sported a white Benin two-piece with several stacks of coral beads
Nigerian designer, Lakimmy, who made Porsha's two dresses opened up about some interesting details
On Friday, November 25, American reality TV star, Porsha Williams tied the knot with her boo, Simon Guobadia, in a Nigerian traditional wedding.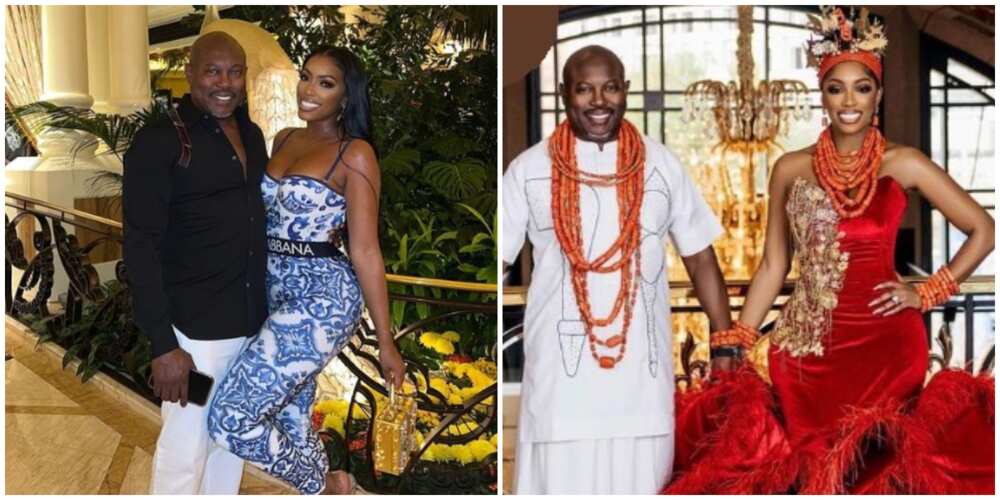 According to People, the couple had their ceremony at the Four Seasons Hotel Atlanta in front of 250 guests.
The report further states that The 41-year-old Real Housewives of Atlanta star and Guobadia, 57, will tie the knot again in an American ceremony on Saturday.
Photos of the couple in their traditional looks, exclusive to People, have surfaced on social media.
In the photos, Porsha is seen dressed in an extravagant strapless velvet dress which she paired with coral beads and a hair crown adorned with jewellery.
This is one of two dresses designed by top Nigerian brand, Lakimmy.
Her husband sported a white two-piece ensemble with coral beads as well. Both looks were in honour of Guobadia's Benin heritage.
Designer behind Porsha's Edo dress shares interesting details
In a chat with Legit.ng's Kumashe Yaakugh, Lakimmy recounted how emotional she got when the American reality TV star reached out to her to make the dresses.
"She had so many other options but she chose us! I was surprised to know our designs are loved by so many across the globe!"
Porsha's first look: Red velvet Edo bridal look
The designer states that Porsha wanted to look like a complete Edo bride and left no stone unturned.
"She did her research even before contacting us and she knew it has to be an all-velvet dress. She wanted an over-the-top, dramatic structured, well-detailed and a form-fitted dress that hug her curves nicely."
Lakimmy says the right amount of jewellery embellishment was added which is very different from the usual and also created a structural skirt to suit Porsha's huge personality.
Check out the photo below:
Details on Porsha's second traditional wedding dress
For the second look, Porsha rocked a gorgeous bedazzled cream dress which the designer revealed was picked by the star from their previous collection.
She, however, wanted hers a little over-the-top with more bling and crystal.
The regal dress was a fully beaded blouse with asymmetric structured sleeves and a detachable dramatic ruffled skirt.
It also featured a fully blinged-out fitted skirt that revealed a thigh-high parting when the zipper in front is open.
"The essence is to transform Porsha from the glamorous bridal look into a more comfortable look ideal for the after party."
Porsha's reaction to seeing her dresses and how long it took to make the dresses
Lakimmy reveals that despite having a virtual consultation with Porsha and no fitting was done, the dresses fit perfectly.
"Her reaction was priceless!!! She was so excited after receiving her dress and it fitted just right requiring no form of alteration whatsoever!"
The designer reveals that the dresses took about nine months from design conception to finishing.
Described as an exclusive design, she says it required about 25 skilled craftsmen and women. However, a cost estimate for the dresses was not given.
On her experience working on the dresses, Lakimmy had this to say:
"I enjoyed putting up this masterpiece together! The most exciting experience was Porsha trusted us completely throughout the process! She is every designer's dream!"
Wedding fashion: Beautiful bride dazzles in 2-in-1 wedding dress, internet users in awe
While white and off-white wedding dresses continue to rule the wedding scene, other vibrant colours are making their marks too.
A beautiful bride, identified as Sekina, dazzled in a powerful peach look for her special day.
Nigerian designer and creator of the outfit, @stylesbyzeeyarh, posted several videos of the curvy bride draped in the dress.
Source: Legit.ng