This is Just the Beginning: Rihanna to Introduce Fenty Products to Nigeria, 7 Other African Countries
Rihanna has announced plans to introduce Fenty Beauty and Fenty Skin brands in eight African countries
The American-based beauty mogul/hitmaker said the brands would become available to countries including Nigeria, Ghana and Kenya starting May 27
Thousands of people especially Africans took to social media to commend Rihanna for the move
Rihanna has announced plans to launch her Fenty Beauty and Fenty Skin brands in Africa, including Nigeria.
On Tuesday, May 10, 2022, the American-based beauty mogul and hitmaker said the brands would become available to eight African countries.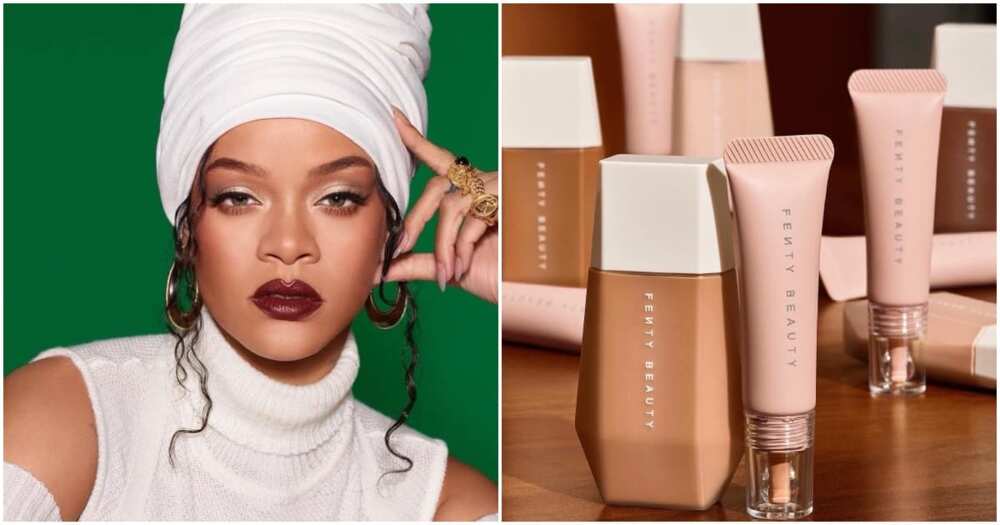 She said in a Facebook post:
"I've been waiting for this moment! Fenty Beauty and Fenty Skin are finally dropping in Africa."
PAY ATTENTION: Install our latest app for Android, read best news on Nigeria's #1 news app
According to Rihanna, the products will be available in Nigeria, Botswana, Ghana, Kenya, Namibia, South Africa, Zambia and Zimbabwe starting May 27, 2022.
See the post below:
African fans excited about Fenty products in Africa
Reacting to the news, thousands of people, especially women, commended Rihanna on the expected launch.
Neema Muthee, for instance, said Kenyans would finally have access to original products.
"Finally, we are going to have original Fenty products in Kenya. I see Fenty lipsticks in downtown Nairobi, and I know they are fake."
Cindy Carol made light of the situation, saying the products were already available:
"They already arrived in Kenya."
Queen Sandy lamented that her country had been left out.
"My country Uganda is always left out of everything."
Kayange Saloe back-peddled her grievance in a funny comment:
"Trying to see where Malawi is, then I remembered that Malawi and Zambia are one. It's coming home."
Rihanna dances to A$AP Rocky's performance while heavily pregnant. fans react
Rihanna is a supportive girlfriend. The superstar was recently filmed dancing to her boo's performance.
A$AP Rocky was live on stage rapping while Riri was on the side cheering her man on.
The heavily pregnant singer and the rapper have been making headlines across the world since they started dating. They've also trended for all the wrong reasons just recently when the Praise The Lord hitmaker was arrested in front of Riri after their holiday in Barbados.
Source: Legit.ng