Pastor Sam Adeyemi on Why Men of God Flaunt Wealth: "It's Risky in Africa to Say You're Equal"
A popular Nigerian pastor, Sam Adeyemi, recently spoke with comedian Teju Babyface on how people want to see their preachers
Adeyemi said it was risky for a pastor in Africa to preach that he was equal with his people because they wouldn't believe he had the anointing
The cleric's comments on how pastors have to show off wealth to be worshipped and respected by their followers got netizens talking
One of the famous Nigerian pastors, Sam Adeyemi, has spoken on the much talked about topic of African men of God prioritising material wealth.
Just recently, the preacher granted an interview to comedian Teju Babyface, where he explained why it was important for some pastors to portray themselves in a certain way for them to be respected by their followers.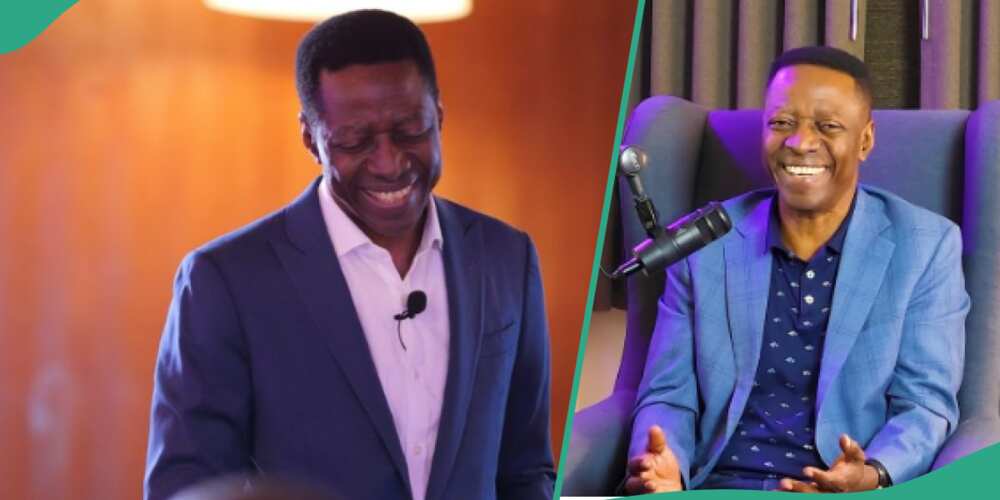 According to the Daystar Christian Centre pastor, people want to be able to worship their leaders, and if a pastor decides not to go down that route, they may not have a large following.
He added that a pastor who chooses to go the regular way of laying low and not putting himself on a pedestal, may not get many followers as the people would not believe he was anointed.
PAY ATTENTION: Follow us on Instagram - get the most important news directly in your favourite app!
Pastor Sam said:
"It's just the way it is, the people want to worship their leaders, so if you don't go with that culture, you may not like to have a large following. If you go counter-cultural, you will pay the price for it, although eventually it will pay you because you will have authentic true leadership."
How culture affects the way Africans see pastors
Sam Adeyemi also stated that people would prefer to respect a pastor who has 20 protocol officers and mobile policemen who walk into service with them as they struggle to touch the pastor's garment. He said that is the person the people would believe truly has the anointing.
He also said:
"It's risky in Africa for you to come out and say we're equal, they will think something is wrong with you in the first place, they will think you don't have anointing. And then we flaunt wealth, material wealth, our people worship money because of the level of deprivation and poverty around. You want people to believe you're powerful and anointed, come in your Rolls Royce, even if you've only done part payment on it but that you came out with some powerful dressing…"
See the video below:
Nigerians react as Pastor Sam Adeyemi speaks on men of God flaunting wealth
Sam Adeyemi's explanation of why many pastors like to flaunt their material wealth got many netizens talking. Read some of their comments below:
akinalabifilms:
"Pastor Sam is saying the authentic truth. Our people like to be deceived."
spendy:
"Real talk, our leaders are product of the culture, I have been saying the Government of our country is a reflection of us and this man just affirmed it. You will be surprised they are running the country the best way they could."
thefoodnetworknig2:
"Not only in the church though! Ordinary content creating, if you haven't painted that larger than life image, people won't give you attention, no matter how talented you are!"
fifi_gets.it:
"So true. The influence of materialism in every part of the Nigerian society is sickening."
bshizzle70a:
"Summary - There are no men of God, just clever men who understand the psychology of their people & capitalise on this to feed fat."
itekopinion:
"I am not a fan of Pentecostalism. But this man is someone I truly respect. I have never said anything bad about him. He is totally different. Those that attend his church are lucky to have a good teacher."
Mohbad: Tonto Dikeh tackles Pastor Tunde Bakare
In other related news, Legit.ng earlier reported that actress Tonto Dikeh took to social media to react to the general overseer of The Citadel Global Community Church, formerly known as Latter Rain Assembly, Pastor Tunde Bakare's verdict about late singer Mohbad's death.
In a post on her page, the mum of one tagged Bakare as a hypocrite who keeps mum when the evil deeds of his colleagues are made public.
Tonto asked the cleric to keep Mohbad's name out of his mouth and use the same energy he used to say the late singer reaped the reward of his actions to call out his colleagues.
Source: Legit.ng