Mohbad's Mum in Tears, Begs Nigerians to Find Naira Marley: "He Threatened My Son, Please Help Me"
Mohbad's mum is keen on getting justice for her son, and she has called on Nigerians to help her find singer Naira Marley
In a video sighted online, during a visit from the press and actress Tonto Dikeh, the grieving woman claimed Naira was behind her son's death
Mohbad's mum also revealed her son told her about his ordeal and how the Marlian label owner threatened him
In a chat with Legit.ng, @Literaldiva, a lawyer affirmed that based on evidence before Mohbad's death, there is a case against Naira Marley
Mohbad's mum has been thrown into despair since the tragic death of her son, and she has joined the fight to demand justice for him.
In a video sighted online, the grieving woman called on Nigerians to help her find Naira Marley because there's little she can do.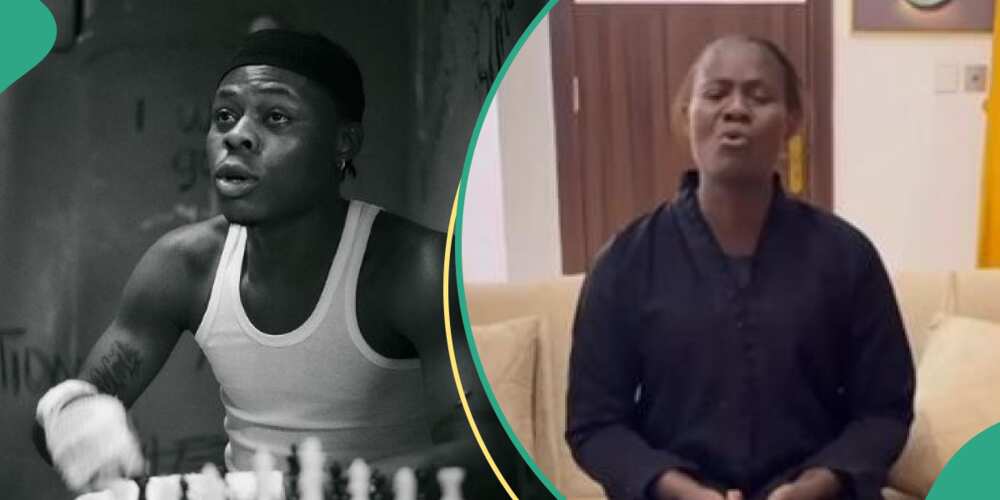 In tears, the late Mohbad's mum said her son opened up to her, claiming she knows the Marlian record label owner is responsible for his death.
She also added that Naira Marley threatened her son, and the only thing Nigerians can do is to help her fish him out.
Actress Tonto Dikeh was seen at the scene asking for tissue for Mohbad's mum to dry her tears.
Watch the video below:
Netizens react to video of Mohbad's mum
abiodun.website.developer
"Naira Marley don buy market bayi o. The market wey him buy, even him gan go dey shock say when him pay for ham!!! Him cup don full."
1demmyblaze:
"Why wait till now to cry out ma."
pablogrey001:
"Now e don deh clear thank God!"
commanderr_tom:
"There's no where to hide for him. He must come and answer for his crimes."
the_small_london:
"Omoo this matter don dey big ohhhh....the power of social media."
911jomi_richie:
"But you abandon him when he was alive for many years he said most of it all in his songs na when he die and game more attention you know its your son but left moh and his lil sister with father up till now as its said the sister learns tailoring to survive but mama dey inside island with another man crazy world."
harinskincare:
"10 years I no see mummy … which Naira u Dey find yeye naira Dey bank."
splendstar:
"The police should just declare him wanted if he fails to show up by today."
fazzybinny:
"Your pikin tell you and you didn't voice out not Untill now why are some mothers careless like this?"
There is enough evidence for a case against Naira Marley
In an exclusive chat with Legit.ng, @Literaldiva, a trained lawyer, shared her opinion about Mohbad's mum wanting Naira Marley to pay for his sins based on evidence.
She said:
"There is no case for Mohbad's death yet, except more evidence comes to light. However, there is a case for assault and harassment before his demise, giving the evidence on social media and also evidence from other parties present at the time of the assault."
Video of Mohbad's wife surfaces
Legit.ng earlier reported that a video of Mohbad's wife mourning his death sparked mixed reactions online.
In a video sighted online, the young lady, dressed in black, looked sober and heartbroken as she replied to people who came to greet her.
Actress Iyabo Ojo was briefly sighted in the clip, and it turned out the video was made during her condolence visit to Mohbad's mum and his wife.
Source: Legit.ng