Splash & Agidigbo FM Place Hefty Ban on Naira Marley, Zinoleesky, Marlian Music
One of the popular radio stations in Oyo state, Agbidigbo FM, owned by Oriyomi Hamzat, has placed a hefty ban on Naira Marley and his record label
The radio station joined its peer Splash FM as they publicly announced placing a ban on Naira Marley and everything related to his label
The move is in support of the ongoing investigations into the mysterious, tragic death of young singer Mohbad
Two popular Oyo state radio stations, Agidigbo and Splash FM, have thrown down the gauntlet as they placed Nigerian singer Naira Marley and his music on the Not To Be Broadcast (NTBB) list.
On Monday, September 19, veteran journalist and owner of Agidigbo FM, Oriyomi Hamzat, made a public announcement saying all Marlian music, be it from Naira Marley or any artist on his label, has now been placed on the NTBB list.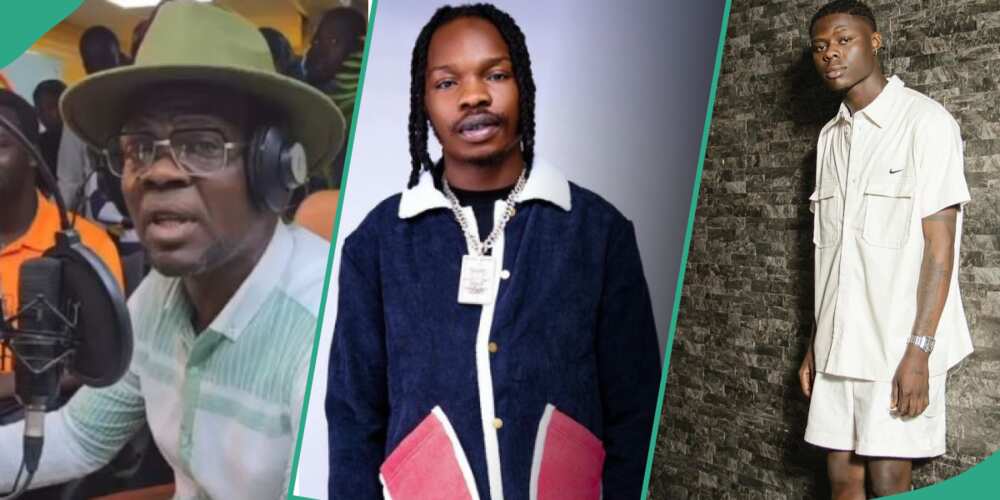 The announcement by Agidigbo FM was made hours after Splash 105.5 made a similar pronouncement.
"We are not saying they are responsible for his death" - Hamzat indicated
The veteran media personality was, however, quick to note that he nor his radio station were not saying Naira was responsible for the death of Mohbad, but until he is proven not guilty, Marlian music would stay banned on Agidigbo.
He made this announcement in Yoruba.
Watch Oriyomi's announcement below:
Splash Fm's announcement:
Nigerians react as Ibadan radio stations ban Marlian Music
See how netizens reacted to both Radio radio stations' announcement below:
@dasola_dasilver:
"Lawyers should write to Spotify, YouTube and all streaming channels to cancel him."
@_pekenazy:
"I trust my oriyomi if den enter this matter Naira go fall finally."
@1beautiful_bee:
"Zino go dey cry like this ."
@kdon_eleniyan:
"Na Wetin I deh always gbadun Oriyomi (Agidigbo fm) for be that…. He's always swift on justice. No time to deh delay for him at all! May you live long Oriyomi."
@missydolly_:
"Moh was just too young for all he faced….he just wanted to make good music and feed his family."
@o_seunabiodun:
"They touched the wrong LIGHT. This is not business as usual. The whole country is mourning and having sleepless night."
@tummy_anny:
"I've never seen a young man's spirit tormenting the whole country like this Mohbad's spirit before."
@cute_rikkie:
"This stigma follows their innocent children in years to come…. Dear Lord I pray every generational curse over anyone of us. Is destroyed tonight."
@deh_toun:
"I am sure they will be somewhere regretting and maybe fighting themselves that they shouldn't have killed this boy…You off wrong bruh,you wnt do it again if you survive and I am sure you wnt survive it…"
@oyin_lagos:
"They blew out the wrong light.. ọkan gbogbo wọn o ní balẹ..... Imọlẹ lives on."
Verydarkman shares video of Naira Marley's boys attacking Ruggedman
Legit.ng reported that Verydarkman shared online a video of when Naira Marley's boys attacked veteran rapper Ruggedman during a conference in the U.K.
In the trending video, Verydarkman also sheds light on some nefarious activities and crimes committed by Naira Marley and his gang years before the tragic passing of Mohbad.
VDBM noted that Naira Marley had always bent towards violence, assaulting anyone who disagreed with him.
Source: Legit.ng