"I'm Innocent": Sarah Martins Tearfully Denies Sponsoring Lady Who Wished Yul and May Edochie's Daughter Dead
Nollywood actress, Sarah Martins has cried out on social media after her name was dragged into May and Yul Edochie's family drama
The movie star was recently accused of paying a lady who wished May and Yul's daughter death on the internet
While in tears, Sarah denied the heavy allegations as she explained the relationship between her and the lady who dropped the vile comments
Nigerian actress Sarah Martins has reacted to claims that she is behind the evil comments wishing death on May and Yul Edochie's daughter, Danielle.
Legit.ng had earlier reported how a Facebook user, Ukawuike Uzochi Sandra, had dropped several vile comments online where she said May and Yul's daughter must die.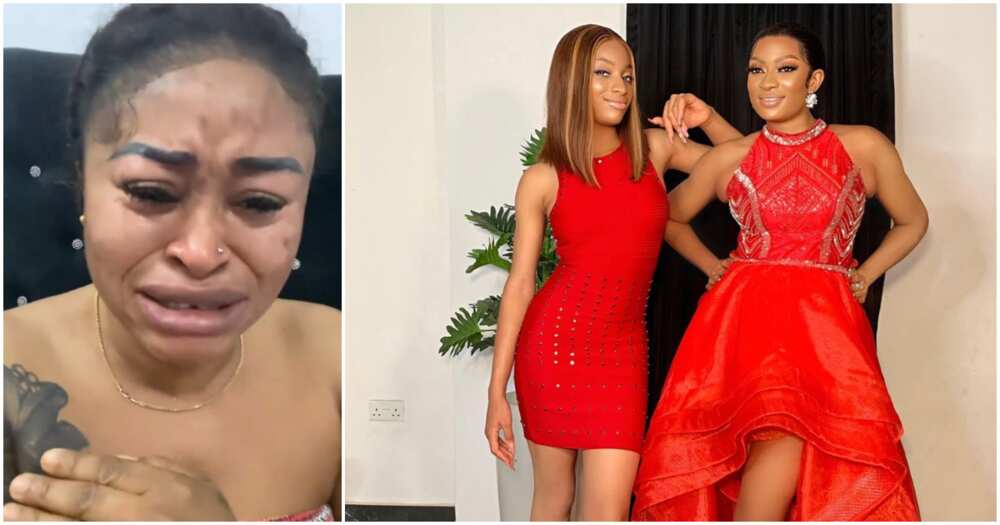 Sarah, a friend of Yul Edochie's second wife, Judy Austin, was dragged into it after screenshots went viral that she had sent money to the troll in the past.
In a new development, Sarah took to her Instagram page to shut down claims that she sponsored the death wishes against May and Yul's daughter.
PAY ATTENTION: Follow us on Instagram - get the most important news directly in your favourite app!
The actress, who was in tears, said she has never wished anybody death and has no reason to wish such evil against May.
How Sarah was linked to death wish against Yul's daughter
In the video's caption, Sarah also explained how the troll was linked to her. The movie star said that she had done a giveaway on her Facebook page sometime in July, and the lady was one of the 10 lucky winners who got 5k from her.
Not stopping there, Sarah said someone evil decided to merge her screenshot alert with the lady's vile comments to make it seem like she sponsored her.
She wrote:
"I did giveaway sometime in July on my Facebook page (sarahmartins tv) which I posted here and I clearly said I would randomly choose my winners on Facebook which I did and one miss Uzochi Sandra was among the 10 active followers I chose and credited with 5k each.
Someone from the pit of hell, saw where the lady dropped an evil comment against May Yul Edochie's daughter and went back to my giveaway that she won sometimes ago and took a screenshot of it and then merged my picture to it and started circulating disgusting lies against me saying I paid her to kee Daniella the first daughter of May Edochie and the evil news has been flying round the internet."
The movie star reiterated that she has no hand in the situation and that the troll is just one of her fans who attacks May's fans for always coming for her.
In her words:
"I have no hand in this, never have and never will! Please you'all should stay away from me…. I've had enough already!!!!!!
Note: I have NEVER met the said lady before, I do not have any form of relationship with her. She's just a fan that attacks May's fans same way they attack me."
See her post below:
Reactions as Sarah Martins denies sponsoring Danielle's death wish
Sarah Martin's video drew a series of comments from netizens. Read some of them below:
herroyalmajesty23:
"Madam leave May and her family alone. Wash your hands off their matter completely, today you will cry and apologize to your followers, tomorrow you will go on live video to drag May. You keep drawing attention and dragging to yourself. You are an actress, clean your brand and face your work. You can support your friend but don't be a b!tch about it and stop coming online to drag a lady who has done absolutely nothing wrong to you. This is my sincere advice to you."
nchinenye:
"Why are u crying, u said in daddy freez interview that u will take a bullet for judy, this is just post u crying when u see the bullet u ask for, what will do , u ask for it u will get it."
carolchintu:
"Stop mentioning May and her children in that your mouth ."
ahanauche:
"Leave Cry Sarah, you brought it upon yourself Countless times You have been dragging Queen May, You constantly attack her on your FB page with evidence. You gave that person 5k as giver away it's only normal for people to tag you to what the FB girl was talking."
meeday24_:
"You see Wetin amebo and yeye friendship lead you too Show me your friend and I will tell you who you are. Nah pesin snatcch husband nah you them dey drag like ero iloota Omoor ."
Emmanuellaezinne:
"Crocodile tears you never see anything."
Sarah Martins recounts how her ex-hubby betrayed her
Sarah Martins trended online after sharing the story of how her ex-hubby betrayed her.
To celebrate International Women's Day, Sarah noted that love for her is now transactional and explained what her ex-husband did to her.
According to the actress, she used to believe in love until she got married to her ex-husband as an untouched woman at the age of 19.
Source: Legit.ng