"Thought Her Dad Was Responsible": Sophia Momodu Spills More on Davido for Stopping to Care for Imade's Needs
Popular Nigerian socialite, Sophia Momodu, has continued to spill more tea on her baby daddy, Davido
On her Snapchat page, she reposted a series of comments from fans and added side notes where she called herself mum and dad
Sophia's posts hinting at Davido no longer taking care of Imade went viral online and raised mixed reactions
Nigerian singer Davido's first baby mama, Sophia Momodu, has now spilled more tea on him allegedly no longer taking care of their daughter, Imade.
Legit.ng had earlier reported on how Sophia hinted at changing Imade's last name to Momodu because she has been playing the role of mum and dad.
In a new development, the socialite shared more posts on her Snapchat page, where she shed more light on the situation with Davido.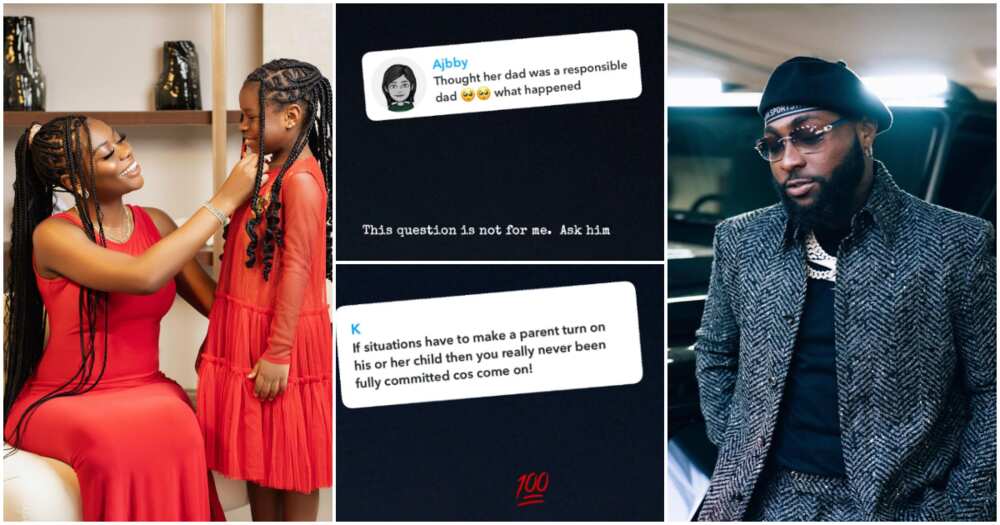 Sophia reposted some of the messages she received from fans that she agreed with, she also added her side note to some of them.
PAY ATTENTION: Share your outstanding story with our editors! Please reach us through info@corp.legit.ng!
Sophia responds to fans' messages
Some fans seemed to think that Davido decided to stop caring for Imade because Sophia had finally moved on. One of the fans recounted how her own baby daddy got married to someone else and abandoned their child because she refused to continue sleeping with him.
In response to that, Sophia advised her to walk tall and keep her head up in every room because she is mum and dad.
Another fan explained that she always thought Davido was a responsible person and asked what happened to that. Sophia replied by saying the fan's question was meant for Davido.
Sophia also wholeheartedly agreed with a comment from a fan who said that if Davido could turn on Imade because of certain situations, then he was never really committed to her in the first place.
See screenshots of some of Sophia's Snapchat posts below:
Netizens react as Sophia Momodu spills more tea over Davido stopping to take care of Imade
Sophia's posts soon became a trending topic on social media after they went viral. The socialite's post raised a series of mixed reactions from fans. Some of them noted that she should not be judged because she knew best how the situation was affecting her, while others said she was only nagging because Davido got married.
Read some of the comments below:
vict.oriabillion:
"Honestly it's never Sophia fault ! Wiz kid doesn't even acknowledge any of his kids except jada kids so I blame Davido for over caring .. nobody is a fool .. David started giving and giving and the glutton as been using it to taunt her imaginary haters .. now he decided to stop cause na em money and she doesn't have that right .. change her name boo .. no be only am davido born .. lmao it's crazy how some lady think .. you want to change name cause adeleke will not open more doors for her or what .. when no be boy you born for am .."
Chinney_imperial:
"Nawaooo, why is it now that you are ready to move on? This man since 2018 has been showing one woman PDA for everyone to see including you… he never hid his feelings for Chioma and he has been calling her my Wife!!!! Women what is our problem? It's not easy sha….. May God guide your decisions."
reantibarr:
"If you never experience this , you can never understand…. "
mss_olachi:
"Dear God I honestly don't know what she's going through but I pray she finds peace.this is why I can't marry a man who has baby mama's because it will definitely end like this!"
___sh0__sh0___:
"Lord, fix it!!!! May I never procreate with someone who will leave the responsibility of raising the child solely by myself. I need a present father 100%. "
adeshola.koya:
"Even if u play the role of a mum and dad still not give u the right to change her surname to yours. If u deny him of seeing his child then it's understandable. Because na greed make u get belle for person wey u senior with 9 years. So deal with whatever comes out of it. U knew u can't marry u in the first place. Just because Davido didn't show up for her birthday while dealing with the loss of his son, u wan change surname but Davido has been there for every of her birthdays just this one because he was mourning u wan change surname that's greed still. If u change her surname na u go still suffer am. Pikin still plenty wey David go born for him life time and your daughter won't be there to represent her father as the first child."
Foyekali:
"This girl should just move on abeg...KoshiDanu joor."
deco_rbyj:
"Not fair nau..we saw how David came tru for her daughter,e no hide for internet & she was always posting etc..Just 1 birthday he didn't celebrate in a big way ? Mk Una settle this matter amicably..All these writeups won't do shiit.."
the_realdetoun:
"She's sounding daft with all these,. All because he married and she is pained. Cos that's what it looks like."
Sophia Momodu considers changing Imade's last name to hers
Davido's first baby mama Sophia Momodu has shared details of how parenting their daughter Imade is going, changing the belief that the singer is an amazing father.
In a series of viral posts online, the mum of one made it clear that she has been playing the role of father and mother to their daughter.
The entrepreneur affirmed that she would like to change Imade's name from Adeleke to hers, Momodu, since the singer allegedly doesn't want to have anything to do with her.
Source: Legit.ng