Man Asks Lady to Give Him Half the Chance She Gives Boyfriend, She Agrees & They Eventually Get Married
A Nigerian man met a girl on Facebook who was in love with her boyfriend
He jokingly asked her to give him half the chance she gave to her boyfriend prove that he is better
She gave him the chance and they eventually fell in love and decided to get married
A young man from Nigeria has shared his romantic journey with a girl he met on Facebook and how he eventually got married to her.
The man, who simply identified himself as Mai Daraja on Facebook, said he was browsing through Facebook one day when he came across a profile of a beautiful girl named Maryam.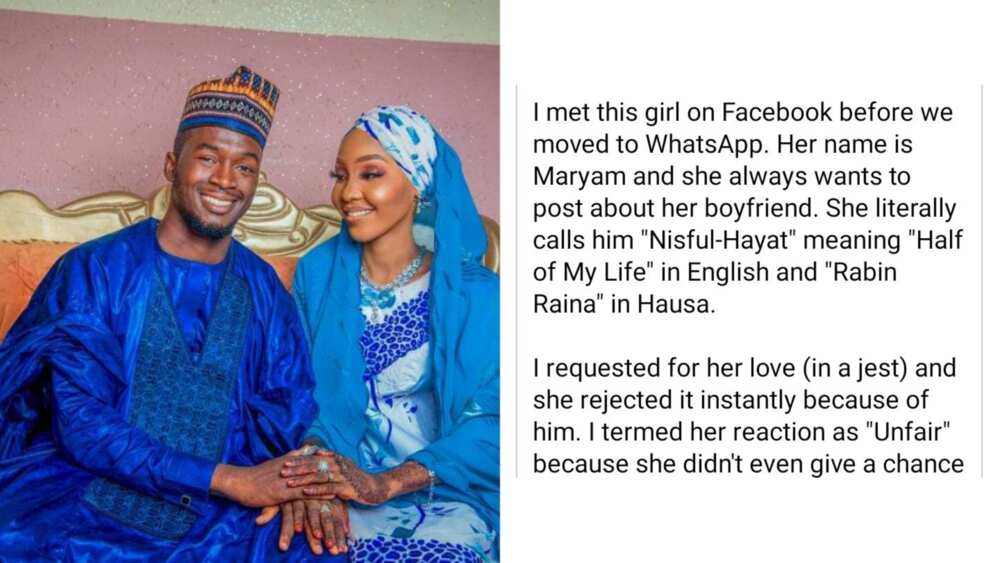 Chatting stage
He was intrigued by her posts and decided to send her a friend request. She accepted and they started chatting.
He soon discovered that Maryam was in a relationship with a guy she called "Nisful-Hayat", which means "Half of My Life" in English and "Rabin Raina" in Hausa.
She was very proud of her boyfriend and often posted about him on social media.
Asked for her love
The man said he was not deterred by her relationship status and jokingly asked her for her love.
He said he was surprised when she rejected him instantly, saying she only had eyes for her boyfriend.
He told her that her reaction was unfair and that she should give other people a chance to win her heart.
Getting half the chance
He challenged her to give him half the chance she gave to her boyfriend if she was fair enough.
She asked him how he would do that and he replied:
"Since he's Rabin Ranki (Half of your life), allow me to become Rabin Rabin Ranki ".
She laughed and agreed to his proposal. From then on, they started calling each other RRR and their friendship blossomed into something more.
They moved from Facebook to WhatsApp and eventually met in person. They fell in love and decided to get married.
See the full story on Facebook here
Nigerian man marries lady with blessed fingers as photos of book surface
Meanwhile, Legit.ng earlier reported that Emediong, a 500-level student of surveying and geomatics at Rivers State University gave maximum credit to her primary school teacher for being the brain behind it.
The skilful Nigerian lady is presently a 500-level student of Geomatics at Rivers State University.
Emediong Essien first captured the attention of netizens after photos of her book were shared on Facebook.
Source: Legit.ng