"Obidients Wanted to Set Me Up in Prison": Seun Kuti Reveals in New Video
Nigerian Afrobeat musician Seun Kuti levelled serious accusations against Peter Obi's supporters, also known as Obidients, following his arrest by the police
Recall that Legit.ng previously reported that the singer was caught on tape slapping a police officer, which elicited conflicting views on social media.
In a recent video, the controversial musician claimed that Obidients sought to frame him during his eight-day detention
PAY ATTENTION: Сheck out news that is picked exactly for YOU ➡️ click on "Recommended for you" and enjoy!
Nigerian Afrobeat singer Seun Kuti has accused supporters of Peter Obi, the Labour Party's candidate in the 2023 presidential election, colloquially known as "Obidients," of attempting to frame him following his detention by the Nigerian police.
Remember that the artist was captured on camera assaulting a police officer, which elicited conflicting reactions on social media.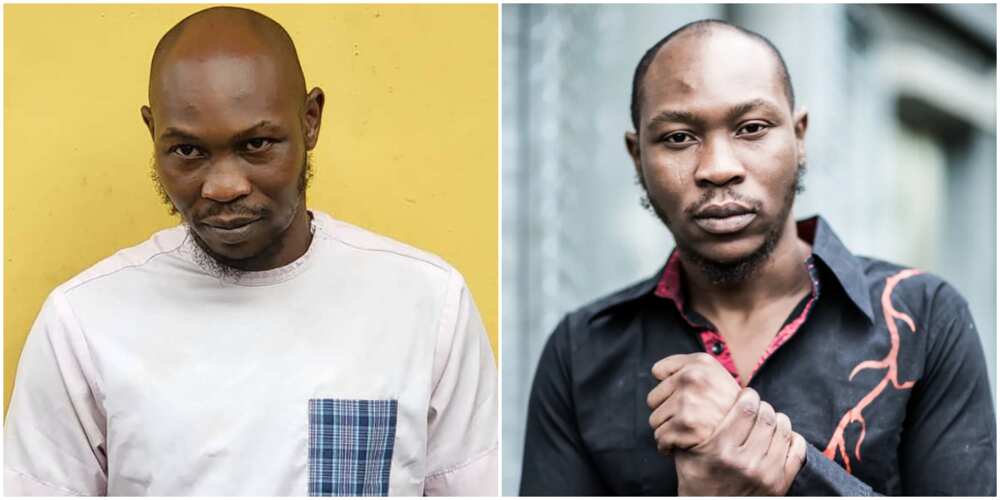 Legit.ng reported that Seun was detained earlier this month for allegedly assaulting a police officer on the Third Mainland Bridge in Lagos.
In a recent video, the controversial musician accused 'Obidients' of trying to frame him when he was imprisoned for eight days.
PAY ATTENTION: Follow us on Instagram - get the most important news directly in your favourite app!
He said:
"The Obidients still wanted to set me up inside the prison. Thank God for Ancestral Secret Service. They don't know that the Ancestral Secret Service is always working. Even inside the cell, they were there with me for 24 hours, watching and guarding to make sure mosquitoes did not bite me.
"Have you ever seen or heard that someone went to jail and was not bitten by mosquitoes? That was me.
They wanted to set me up but the news got me. All these fake journalists can't back up what they are saying; they can't back up what they are doing because they know what is behind it – the nonsense they spew as facts.
"Even when they tell the truth, they are lying because the truth has an agenda. They are not saying it for people to know about it, they are saying it so that they can get something from somewhere that is sinister. Even when they do something that is right, it is wrong.
"Some people have gone so far as to lie that Oxford (University) hosted David Hundeyin. Oxford doesn't know you. Who are you? Why are you lying that Oxford hosted you? They used that for clout – clout chasers. Everything they do is about clout.
Watch Seun's video below
Nigerians react to Seun Kuti's video
jekwuthestylist:
"He didn't deserve the hate from Nigerians in his trying times. Most of us looked the other way and that was sooo wrong. Some whr even antagonizing him. He said some things I didn't agree with too during the elections but he's a one of us. He stands with us against these oppressors. He deserved better."
terryjay55:
"Nobody get beef against you. I be obidient. You slap police face the music. If Police self do brutality against you or any member of the Nigerian society, make dem self face the music and rot in hell. It's that simple not everyone is against objective judgment. Most of us who supported Obi did not say he's a saint, amongst the 3 leading candidates, he was the one without any corruption case and we picked him. So rather than most of you castigating run the race. if you Seun think say you dey good enough to rule why you nor contest? Then test your popularity. Please stop all this gaslighting."
omo__jeje:
"I use to take you serious before, but once you slapped a Police officer you are not different from Buhari, Tinubu, Obasanjo, Bukola Saraki, Atiku Abubakar, Jonathan, Peter Obi APCPDPNNPPLP Kwankwaso and Co."
mr.chukwi_:
"So so interesting live session, big ups egbon, at least you don clear some kind rumors."
augustudoh:
"When you live and grow up in a Critical environment, it is near impossible for a person, to not develop a Critical Mentality. The mentality that affects ourselves as well as others around us."
Seun Kuti makes changes to his Instagram page
Following his release, Seun Kuti expressed his appreciation to everyone who helped gained his freedom after spending days in detention.
Seun penned a short message to his legal team led by Femi Falana (SAN).
Upon his release, the late Fela Kuti's son adjusted his Instagram biography by including words related to his recent detention.
Source: Legit.ng