Murphy Afolabi: Sanyeri Reveals How Late Actor Took Him, Mercy Aigbe, Others to US for the 1st Time in 2008
The death of Yoruba actor Murphy Afolabi is still a hard pill to swallow for most of his colleagues
At his Fidau prayer on May 22, Sanyeri got a chance to talk about how good Afolabi was before his death
According to Sanyeri, he and a couple of their colleagues entered America for the first time because of Murphy
From the moment Murphy Afolabi's death was announced on May 14, his colleagues have had so many good things to say about him.
At the late actor's Fidau prayer on May 22, veteran actor Sanyeri said that the good things Murphy did in his lifetime had not been discussed enough.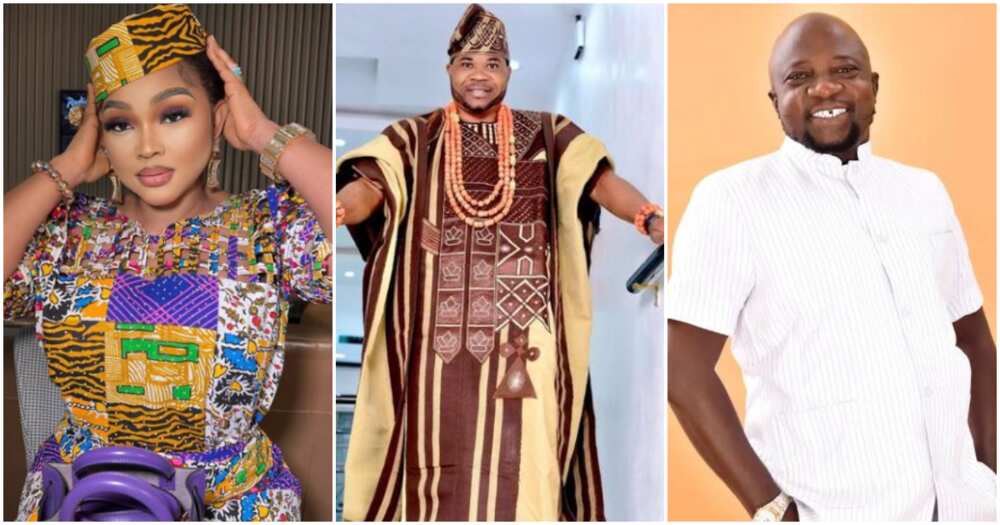 According to Sanyeri, in 2008, he, Muyiwa Ademola, Yomi Fash Lanso, Mercy Aigbe, Eniola Badmus, Kunle Adegbite, Bimbo Oshin and a bunch of others entered the US for the first time because of Murphy Afolabi.
He added that in 2012, some other people landed in Canada, a ripple effect of Murphy's influence in 2008.
Sanyeri also said the late actor did so much for them even though he did not attend school.
Watch the video below:
Netizens react to Sanyer's revelation
bakarezhainab:
"May his soul continue to Rip That is why I always appreciate people while they are alive, no matter how small the favour is I will come out to say thank you, we don't know the years left for us all we would keep praying for grace and long life . #riptothedeparted."
tiernyolalere:
"Murphy get glory o if na that one , he was the first Yoruba actor I know of that shot his movie outside Nigeria, but make God help us put big money with fame sa, Murphy na star."
toyinhaastrup:
"@sanyeri234 was very right because I'm one of murphy Afolabi's products living in America ..His death was a painful one "
toinflawless:
"So sad when people die,you get to know how good they are to people,please give them their flowers while they're still alive."
lizrealestateboss:
"And to think that we judge people based off certain standard. He's helped even the "seemingly educated ones". God rest his soul."
balogunadeolamonsurat:
"I just pray they will all remember what he did in helping them n help d children he left behind."
pwetty_renny:
"Hmmmmm, he would really be missed.... I pray his family enjoys his good deeds."
Woman reveals Murphy Afolabi owed her N1.4m
At the Fidau prayer for late actor Murphy Afolabi on May 22, there was a period people had to come forward and make it known if he owed them money.
After the cleric who preceded the event called out actress Adunni Ade over the money she owed her late colleague, a woman made her claim too.
In a video sighted online, a woman standing beside the cleric out in front of friends and colleagues of the late Murphy claimed he owed her N1.4m.
Source: Legit.ng