"End of It All": Video As Murphy Afolabi's Corpse Is Paraded in Glass Coffin, Gets Buried in Simple Mud Grave
Popular Yoruba Nollywood actor, Murphy Afolabi, has now been buried amidst mourning by his many fans
The movie star died on May 14, 2023, after reportedly slipping in his bathroom
Videos from his burial made the rounds, and the late actor's corpse was seen being paraded in a glass coffin before he was finally laid to rest
Popular Yoruba Nollywood actor, Murphy Afolabi, has now been buried only a few hours after his shocking death.
Legit.ng had earlier reported on how the movie star died on May 14, 2023, after suffering a tragic fall in his bathroom.
In a new development, the Nollywood star has now been buried on May 15. Videos surrounding the moments before he was laid to rest made the rounds on social media.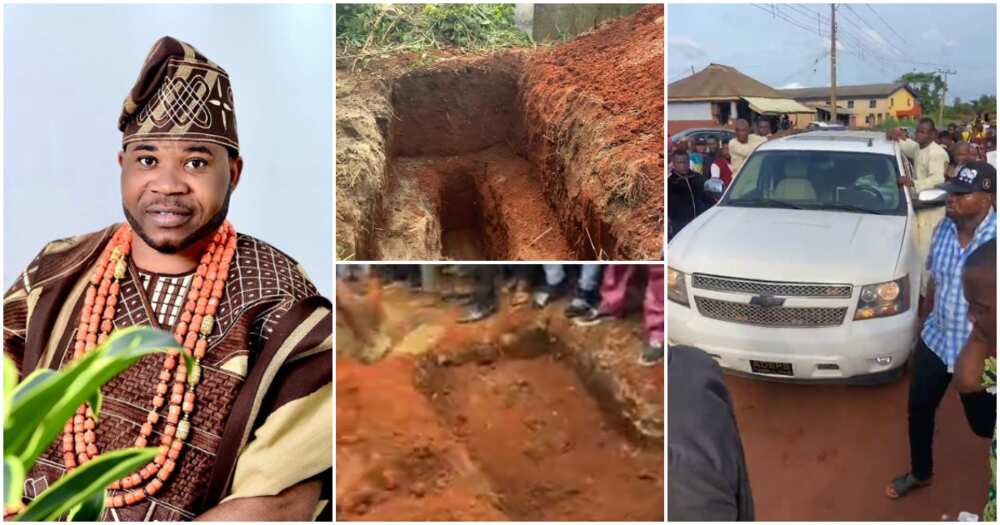 In a video posted on Instagram by @EmiraltyAfrica and spotted by Legit.ng, the late actor's body was seen being transported and later arriving at his Ikorodu residence in Lagos to be buried.
A large crowd had gathered in the area to witness the laying to rest of Murphy Afolabi. See the video below:
Another video showed the late actor being conveyed in a glass coffin as his body was put on display for all of his fans to see. The same large crowd gathered around Murphy's corpse as they followed it to where it was going to be buried.
See below:
A photo was also posted showing a group of Islamic clerics praying on Murphy's corpse as it was wrapped in a white shroud and laid in front of them just before it was put into the ground.
See below:
See a video of the prayer below:
Murphy Afolabi finally buried in simple mud grave
After the late actor's corpse had been paraded and prayed on, it was finally put into the ground. According to Islamic rites, Afolabi was wrapped in a white shroud and laid in a simple narrow grave.
See below:
Netizens mourn Murphy Afolabi as late actor is finally buried according to Islamic rites
The heart-wrenching photos and videos from Murphy Afolabi's burial ceremony soon made the rounds on social media and drew a series of emotional reactions. Read some of the comments from fans below:
tripple.n.collection:
"May his continue to rest in perfect peace."
oluwanifemi.92:
"There is no God but Allah."
afolabiowabumiwa:
"Just like that? 6 feet for all of us? GOD, you're Mighty."
wf.oyo.lapaid:
"May your gentle soul Rest In Perfect Peace "
Hennykarzcouture:
"Vanity."
ibrahimtemitay:
"May almighty Allah forgive all his shortcomings and grant him aljanat fridaous."
queen_lahra_:
"So Murphy is gone for real."
kikidivine07:
"Muslim burial rights it just the best jare. No time wasting and the body is still the person and not changed."
turayah___:
"The END"
big_huzzy_____:
"Inna lillahi wa inna ilayhi raji'un, To him we all come and to him we shall all return, End of the Road Hmm "
Omodunbiadeola:
"The End Of It All"
aminatshoye:
"This is so emotional just like that"
mjaydesign_events':
"Just like that ,oh death"
Odunlade Adekola, Saidi Balogun, others react to Murphy Afolabi's death
The death of Murphy Afolabi sent shockwaves across the internet in the Nigerian community.
Several stars, including Odunlade Adekola, took to social media to react to the sad news.
Odunlade Adekola shared a photo of pitch-black darkness as he reacted to the tragic news. Only a few days ago, Odunlade was one of those who celebrated Murphy on his birthday.
Saidi Balogun shared a photo of Murphy dressed in Yoruba regalia and accompanied it with a caption expressing sadness over the news. He bade Murphy farewell and prayed for his soul to rest in peace.
Source: Legit.ng