Supportive Partners: A look into Mercy Johnson and Regina Daniels' Political Walk With Their Husbands
Nigerian Nollywood star actresses Mercy Johnson and Regina Daniels were very supportive during their husbands' political runs, leading to their victories
These movie queens stole the spotlight for most of the campaign trips with their husbands, which they utilized in convincing the voters 
Political couples play an important role in influencing people's decisions to support the partner vying for a post.
Where the significant other fits into the campaign process to make the people believe that their spouse is definitely the right person for the job because they know them too well to say otherwise.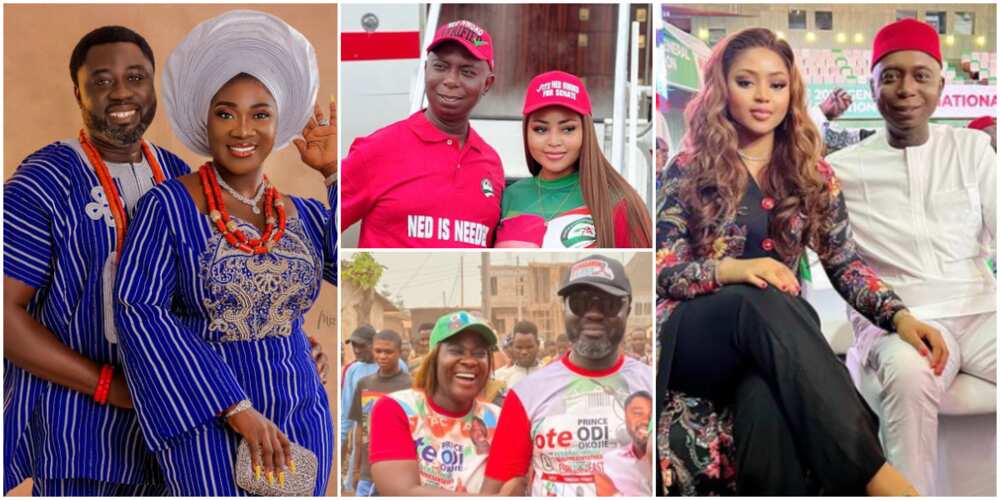 Legit.ng looked into the times Nollywood actresses, Mercy Johnson Okojie and Regina Daniels, went down the campaign trail for their husbands who are politicians.
Recall Legit.ng reported that Mercy Johnson's husband, Prince Odi Okojie, vied for a position in the Federal House of Representatives under the All Progressives Congress (APC), which he won. At the same time, Regina Daniels' husband, Chinedu Nwoko (also known as Ned Nwoko), ran for the Senate under the Peoples Democratic Party, where he also won.
PAY ATTENTION: Follow us on Instagram - get the most important news directly in your favourite app!
Mercy Johnson hails husband as he wins APC ticket
The vibrant actress took to social media to announce that her husband, Prince Odi Okojie, won the APC ticket for the 2023 elections in the Esan North East/South East Federal Constituency of Edo state.
Celebrating her man's victory, she noted:
"You are a good man and a man of the people. I am sure you will be an awesome federal representative for the good people of Esanland."
Regina Daniels celebrates with villagers as her hubby wins PDP ticket
A clip shared on Regina's Instagram page captured when the indigenous people of Delta state stormed Ned Nwoko's premises to celebrate with the man of the moment.
The actress was seen in the video alongside her children, rejoicing with villagers over Ned's senatorial ticket for Delta North.
In a different post, Regina expressed her love for her man and her strong belief in the constructive changes he will bring.
"You have never been a lover of politics, and I'm glad to have convinced you to do this because I know what you stand for, your love, and your dreams for, your country. Anioma will feel your impact. Delta State will feel your impact. Nigeria will feel your impact."
Regina Daniels goes live on first day of hubby's senatorial campaign in Delta North
The screen beauty went live on Instagram to capture the events of her husband's first day of campaign in his constituency, Delta north.
Mercy Johnson joins Lagos state Governor Sanwo-Olu for APC women's southwest rally
The vibrant actress expressed optimism over the plans of the ruling APC for women and the citizens of Nigeria. Mercy shared photos of herself and the Lagos state governor, Babajide Sanwo-Olu.
The actress said hearing from the authority restored her faith in the ability of APC to change the nation's course permanently.
Mercy Johnson and husband storm the markets in his hometown
The actress shared a video of herself and her husband visiting market vendors in Esan, South-East of Edo state.
Mercy and her political spouse walked hand in hand, both wearing campaign shirts, and distributed flyers to the market people as they promised to vote for him.
Regina Daniels thrills crowd with dance steps at Ned's campaign rally
The actress danced on stage at a youth gathering organised by her husband to enable the youths personally meet and share their ideas with Prince Ned.
Regina got on stage and thrilled her husband's supporters with some trendy dance steps.
Mercy Johnson goes on a door-to-door tour alone to mobilize voters
The movie star campaigned alone with the people of Esan as they went on a door-to-door tour to mobilize voters.
In the video on her page, women from Mercy's husband's community, both young and old, welcomed her with open arms and admiration. 
Regina Daniels steals the show at an interactive session Ned Nwoko hosted for DELSU student
The actress and her partner received so much love when they campaigned at Delta State University.
The students were overwhelmed upon seeing Regina, as most struggled to hug and take selfies with her.
At some point, the students pounced on the actress and tried to touch her all at once, until their security officers intervened.
Mercy Johnson and hubby spend Valentine's Day meeting with community leaders
The Nollywood star and her husband spent their 2023 Lovers Day going around the Esan community to meet with their leaders and tie up loose ends with their leaders as the presidential election day approached.
Regina Daniels Intensifies Campaign for Ned Nwoko few days to the election, lists the good he did in the past
The Nollywood diva gave a moving speech on why the people of Delta State should vote for her man.
In the video she shared online, Regina began by greeting the people in her native language before listing out Ned Nwoko's good record when he was a House of Representatives member in 1999.
Mercy Johnson dances, rallies with hubby as he finally wins 
As a dutiful wife who supported and advocated for her husband, Mercy took to Instagram to celebrate their victory.
In the video, the actress and her man, decorated with white powder on their faces and bodies, were seen dancing with indigenes of the community.
Regina Daniels grins widely and jubilates as Ned Nwoko wins election
On February 27, 2023, Regina posted a video of herself celebrating to herald her husband's significant victory.
The movie diva was beaming with smiles on her official Instagram page as she applauded while their community people flocked to their compound to rejoice.
"Who marry you, marry wife": Mercy Johnson speaks husband's language to thank his people for voting
The Nollywood star was heavy on gratitude as she took to social media to specially thank her husband's people in their native language.
 Starting with their indigenous praise song, the movie star appreciated the men and women for showing up massively to vote for her hubby.
Social media users were dazzled by her language dexterity; one reaction read: "Who marry you, marry wife."
Regina Daniels dresses up Like a new bride to officially thank voters for making her man win
The movie star, who could not contain her excitement, dressed like a new bride to thank everyone who voted for Ned.
Regina was all smiles in her exquisitely beaded attire as she celebrated the Anioma people for casting their votes for her husband to win.
Mercy Johnson and husband visit Adams Oshiomhole
Meanwhile, Legit.ng previously reported that Adams Oshiomhole was honoured by Mercy Johnson and her politician spouse, Prince Odianosen Okojie.
The Nollywood star and her hubby, who recently won the House of Rep seat in his constituency, went to show the former Edo governor his certificate of return.
Prince Okojie took to social media to share moments they had with the ex-governor, stating his endearment to serve the people better.
Source: Legit.ng