"Money Has Changed Hands": Efe Irele Dumps Olumide Oworu, Publicly Declares Support for Desmond Elliot
Actor Olumide Oworu shocked Nigerians after he revealed that he would be going against his colleague Desmond Elliot
Their colleague Efe Irele on Oworu's page cheered him on, and just recently, she made a U-turn, and is now supporting Desmond Elliot
Irele's sudden switch has sparked reactions on social media, with netizens asking why the actress changed her mind
Actress Efe Irele was one of the first few celebrities who cheered their colleague Olumide Oworu on after he revealed his intention to go against Desmond Elliot.
Desmond Elliot is seeking election into the Lagos state House of Assembly to represent Surulere consistency, and Olumide Oworu is running for his first time in the same capacity.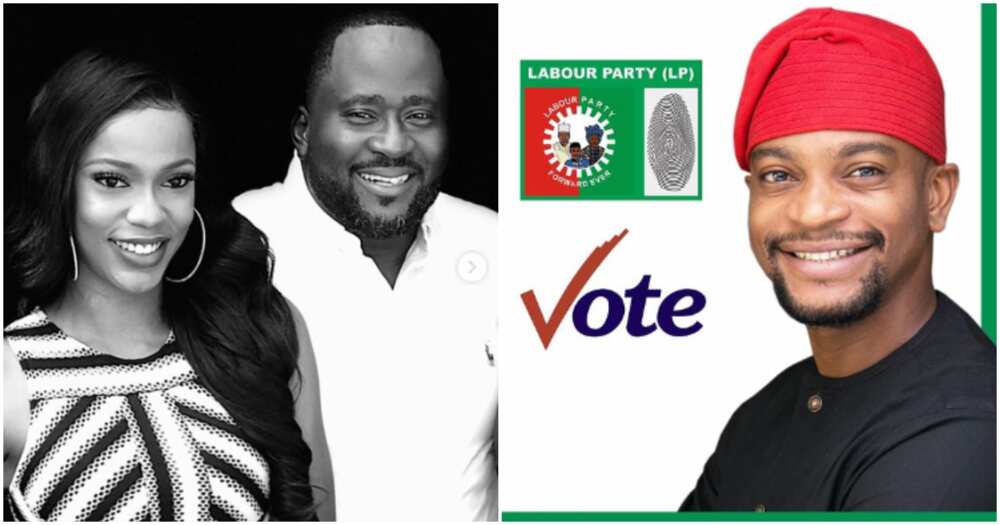 Just recently, Efe Irele took to her Instagram page with his photos and tagged him as her friend and big brother.
The actress highlighted Elliot's achievements in the past eight years and affirmed that she would be voting for him.
She wrote:
"I believe in @desmondelliot not because I know him but because I have seen what he has done as an individual and as a lawmaker. I have seen how he encouraged and supported young Lagosians (including me) in the creative industry. I have seen him provide free shuttle buses for students in Surulere. I personally know up to 15 out of the 1,000 people he provided free health care and insurance for. Forget PR and social media management, Desmond Elliot is a good representative and I will be supporting and voting for him on Saturday. I am with you my big brother and friend. @desmondelliot."
See the post below:
Netizens react to Efe Irele's statement
nwanyibuezee:
"Money has changed hands. Shameless people!"
the_hampersworld:
"The fear of Akin Alabi is the beginning of wisdom!!"
purple_raiin:
"Exactly I saw that her post last 2 weeks I'm so surprised to see this one today "
oyindamolami_xo:
"Lolll hypocrisy at its finest"
official_faithadama:
"So PR and Social Media Management controlled his mouth to say the lot he said when he did, it's ok to support your friend but crediting incompetence is worrisome."
oluwaremu:
"Efe… this is a wrong move. It should not be YOU !!!!!"
Desmond Elliot reveals he is Igbo, speaks language as he campaigns in Church
Desmond Elliot has been pushed to work hard if he wants to continue to represent his constituency, Surulere, at the Lagos state House of Assembly.
In a viral video on Instagram, the actor-turned-politician carried his campaign train to a Catholic Church and did his best to get them on his side.
While addressing the church, the politician revealed he is also Igbo, and to drive home his point, he addressed the congregation for a short while in Igbo.
Source: Legit.ng