2023 Elections: "Arrogance Is Not a Leadership Quality," Kate Henshaw Replies Atiku on LP's Reliance on Youths
The PDP presidential candidate Atiku Abubakar insinuated that Peter Obi and his political party lacked structure
The one-time vice-president of the country believes that Nigerian youths will make little or no effort towards the victory of the Labour Party
In response, Nollywood's Kate Henshaw accused him of arrogance, pointing out that the proportion of youths is far greater than that of the elderly
The Peoples Democratic Party (PDP) presidential candidate Atiku Abubakar, in a recent interview, accused Labour Party of not having any political structure.
In his words:
"Let's be realistic; where is Labour in this country? Where is the structure? No single member of the government, no house of assembly, no house of representatives; no senate, no government, no local government, no chairman, no nothing."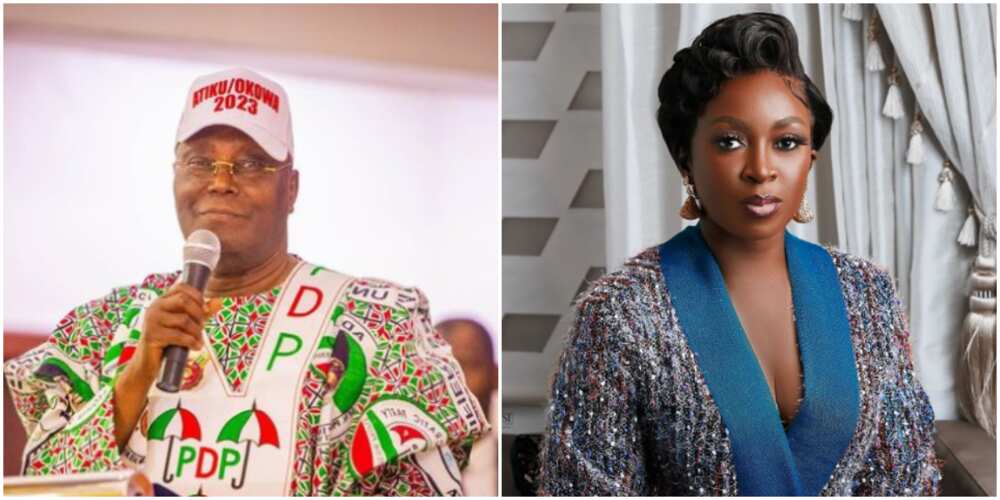 Atiku believes Labour Party is a greenhorn in the game and doesn't have the capacity to govern a country.
PAY ATTENTION: Follow us on Instagram - get the most important news directly in your favourite app!
"Fine, they are starting; it's not bad to start. But you cannot start and be at the top," he said.
When the interviewer argued that Labour Party is dominant among the youth, Atiku replied: "Okay, let the youth vote them".
Responding to this, Kate Henshaw took to Twitter, pointing out that "the percentage of youth is far greater than the old and elderly."
"Someone said they have no structure...Let the youth vote for them... so shall it be...!!The percentage of youth is far greater than the old and elderly...So shall it be...Arrogance is not a good quality in leadership. Shikena."
See the post below:
Nigerians react to Atiku's comment
blissinmudems:
"Must you talk about the opposition party, why not talk about what you have to offer."
queennnebisi:
" Nobody Dey even mention pdp for this election …"
comb_line_braids:
He's not even asking youths to vote for him. He is acting like it's his birth right. What arrogance.
jayligal:
"Atiku is right!!!!!! Obi will do well at the ballot however it will NOT be enough to win the elections..........Elections are primarily won by Mobilization and sanitisation. Let's start with a PDP ward chairman in Ogbaku ward in the Mbaitoli LGA of Imo State. That ward chairman and his boys are going round the houses and streets daily and encouraging people to vote for PDP....then you have the LG chairman doing the same on a larger scale, the governor, the House of Assembly, the House of Representatives, the Senators, the former governors and the stakeholders too. ...LP followers do their mobilisation too but certainly not on the frequency, wide reach and scale of these people!!!!!!!!!!"
chiamakaethels:
"This is how some one that is educated, with human Conscience, kind hearted speaks not some one like toyin Abraham that has eating out her human conscience cos of bribe will come out here to rant nonsense abt nothing."
thelindalyn
"He has spoken as an old cargo that he is. However, y'all have been at the top for decades and have done nothing to better the lives of the citizens. It can continue to be business as usual."
alowonleiziaq:
"I'm part of the youth and my vote is for Atiku Abubakar, I believe there's millions of youth that won't still vote for Obi, I believe in Atiku, I don't believe in obi. Good day."
Peter Obi meets with entertainment industry stakeholders
LP presidential candidate Peter Obi met with stakeholders in the entertainment industry.
The likes of Chidi Mokeme, Kanayo O. Kanayo, and Nkechi Blessing, among others, were in attendance.
Nkechi Blessing hailed Peter Obi, describing the LP presidential candidate as a calculative man.
Source: Legit.ng