"Why Did They Kiss?" Kate Henshaw Shouts, Jumps on Chidi Mokeme As They Reunite in Video
Chidi Mokeme and Kate Henshaw have been friends for over thirty years even before Nollywood, and their recent reunion was an adorable one
The veteran actors ran into each other's arms like little kids and shouted excitedly to express how happy they were to see each other
The highlight of the moment that got netizens talking was the kiss Mokeme and Henshaw shared
According to Chidi Mokeme, he and Kate Henshaw have been friends for over thirty years, way before Nollywood, as models.
Mokeme has been in the country since his latest project Shanty Town hit Netflix and is working on another with Kate as cast as well.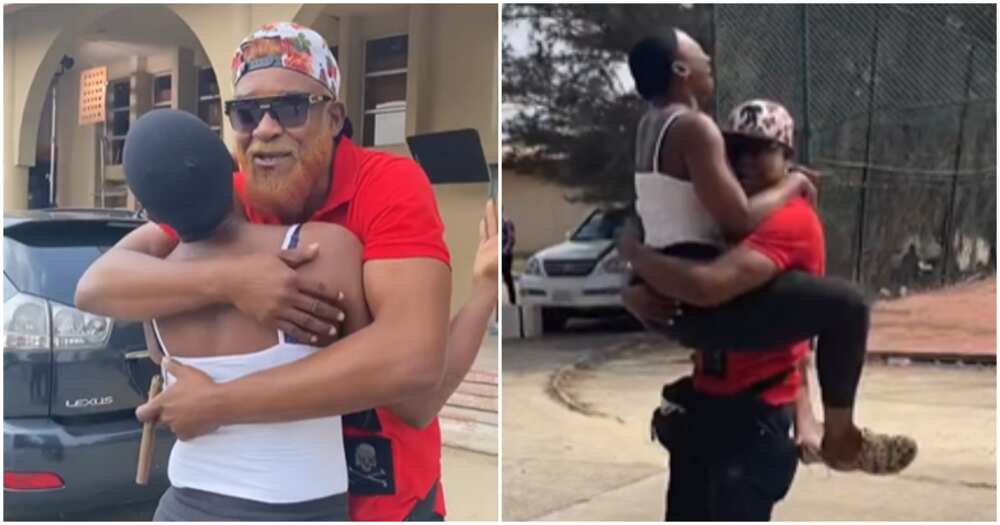 In the video he shared, the actor and his friend reunited like little kids, they ran into each other's arms and shouted to express their excitement.
Mokeme lifted the actress who straddled him by the waist and when she eventually set her foot back down, they quickly shared a kiss.
Almost oblivious to the camera, the Nollywood stars gushed over each other as they revealed that it's been too long since they met physically.
"So here I was, in my corner, mentally putting finishing touches to this my character on the set of RUTHLESS. And from the corner of my eyes, who did I see? Our life matron, The Grand Commander of the Fit Fam Vampire Club, the most ageless of them all, the most energetic free spirit to walk this realm. The K8GGR8, The Advok8, OluwaKate, One And Only @k8henshaw And You can see how excited I was. No be today. We've known each other, and been friends and colleagues since our Modelling days over 30years ago. Way before Nollywood as we know it. And this is what happens when we jam together on the same set to make magic. Both of us are cooking some fresh characters that you are guaranteed to love. Stay Tuned."
Watch the video below:
Nigerians react to the video
healthertainer:
"This is wholesome! 2 stars shining so bright in one video had to reduce my screen light @k8henshaw ❤️"
mizwanneka:
"I'm sooo happy you are back . Pls don't leave us again o . Wat can we do for you to just stay . Haaaaa shey u fit model hair like this make wanneka luxury make u ambassador."
superstarace:
"Love To See This! Pure Energy ❤️"
ufuomamcdermott:
"@k8henshaw na person!!!! Una two just correct!!!❤️❤️❤️"
europemonies:
"Something is telling me this people don knack before and the become bestie "
mk_ome1za:
"But una no suppose kiss like that nau."
itzmorap:
"But wait ooh why did they Kiss.. abi na so this bestie thing the be? Who go be my bestie Abeg."
Chidi Mokeme finally reveals why he stayed off spotlight
The movie star made a huge comeback into the film industry with the movie Shanty Town, and he answered the question on everyone's lips.
In an interview on Channels TV's Rubbin Minds, Chidi Mokeme, who is on another project already, revealed that he was off the entertainment scene after the tour of the last movie he starred in.
He then went on to say for the first time, that he came down with Bell's palsy, a condition that affects one side of the face and makes it droopy.
Source: Legit.ng