"She's Adopted": Mr Ibu Sides With Daughter, Jasmine Shares How Actor's Wife Wants to Sell His Properties
Actor Mr Ibu and his daughter, Lady Jasmine, have come to share their side of the story in light of recent accusations by his wife, Stella Okafor
The veteran entertainer joined media personality, Daddy Freeze, for an Instagram live session where he hinted at what has been going on
Mr Ibu's second son who also joined the session confirmed that Lady Jasmine is the movie star's adopted daughter
Veteran Nollywood actor John Okafor aka Mr Ibu is currently trending on social media after his wife, Stella Okafor aka Real Iburess, heaped accusations on him.
Recall that Legit.ng previously reported that controversial IG blog, Gistlovers, shared clips showing the moment Mr Ibu and his wife had a heated altercation that involved outsiders coming to settle the matter.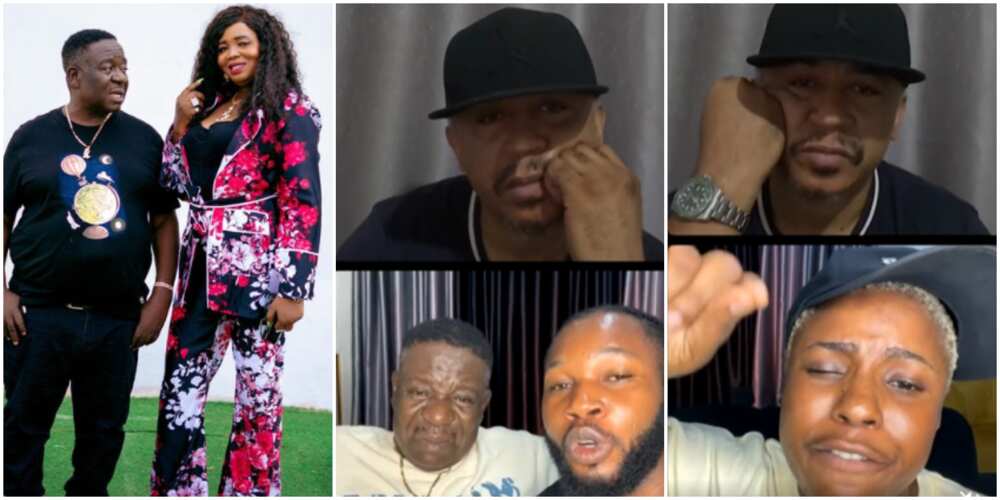 The actor's wife also accused him of neglecting her and the children, adding that Jasmine is not his daughter as she has made the world believe.
Well, the actor was joined by his daughter Jasmine and second son, Daniel, during an Instagram live session where they all gave their individual account of what really went down.
PAY ATTENTION: Follow us on Instagram - get the most important news directly in your favourite app!
According to Mr Ibu, the altercation with his wife was real and the matter was taken to the police station, and officers made it clear that the matter shouldn't be escalated to social media.
Mr Ibu, however, said he was surprised to see that his wife had started spreading all sorts of misinformation about him and his daughter, Jasmine, on social media. The comic star confirmed that they haven't been living together as the marriage has been plagued with a lot of misunderstandings.
"Jasmine is Mr Ibu's adopted daughter" - Daniel Okafor
In a different portion of the interview, Daddy Freeze categorically inquired about Jasmine's identity and the actor's son, Daniel, who was beside him answered the question.
According to Daniel, Jasmine is the Nollywood actor's daughter who he adopted when she was still a child.
"She's 100 percent his daughter, not biological but adopted right from childhood," the young man said.
On the claims being peddled around, Daniel stated that his stepmother, Stella Okafor, has simply been brainwashed by friends leading her to believe that Jasmine is only around the actor for his fame.
Daniel admitted that he always had a good relationship with his stepmother but her problem has always been taking to the words of outsiders. The young man also traced the genesis of the misunderstanding to when Mr Ibu was sick and admitted to an Abuja hospital.
According to him, Jasmine flew down from Cyprus to be with the actor and take care of him even before his wife who was in Nigeria. He recounted how Jasmine paid hospital bills and even went the extra mile to retrieve the actor's social media accounts that had been hacked. Daniel said Mr Ibu's wife was nowhere to be found the whole time. He said she's only causing trouble and wants to take the glory now that everything seems fine.
Jasmine clears the air
Also joining the live session, Lady Jasmine dismissed the claims that she isn't the actor's daughter but his girlfriend. Jasmine demanded the presence of Mr Ibu's wife in the session while recounting how they had a good relationship in the past, and she (Stella Okafor) would always refer to her as a daughter.
According to Jasmine, the root of the entire drama is money and how Stella Okafor is always wanting more from the actor even though she knows he is not working. The actor's daughter mentioned how his wife made him sell his landed property worth over N4 million for less and how she got N700k for the children's school fees and another N300k to fix her car.
Jasmine shared several bank transaction screenshots while recounting how the actor's wife would always come to her whenever she needed to get money from him.
On the actor's sickness, Jasmine equally claimed that the actor's wife was hardly ever around and the few times she visited, she was always concerned about recording videos to share on social media.
According to her, the viral clip of Stella cutting Mr Ibu's nail at the hospital was all planned and shared online to make the world see her as a dutiful wife.
Watch the full session below:
Nigerians react to Mr Ibu's family drama
gorgeouxoxoxo said:
"Nigerians react ine in the middle of all this? Why does his wife have to go through Jasmine to see her husband or get anything from him?....you are interfering too much. You have a good heart but step back a little."
stella_churchill said:
"Watching this video and hearing from Mr Ibu and his children, it doesn't show that he has memory lost at all and I have a strong feeling that whatever they have said about his wife is true. The wife is just making trouble and manipulative."
he_sandrajames said:
"Now y'all know better not to believe whatever lies your soooooo called gossip Oba dishes out. Df May God bless you real good."
onyi_best_girl said:
"Make una sha pray for Ibu and him health abeg na that one Dey important pass oo….this man doesn't need all this gbas gbos now bikonu!!"
chidinma_blog said:
"Chioma is now ibu's mouth piece and home manager , see how she is talking to his wife in front of him na wa for Nigerian men ooo."
bukas_tony said:
"Watched this and all I can say is…. The worst thing that can happen to any man is marrying a lady how loved money more than human life. Is well."
goldie_christie_albi said:
"Jasmine thank you for com back to Nigeria to save your daddy's life oo, if not you this man for don Mkpai."
Mr Ibu celebrates wife's birthday
Meanwhile, Legit.ng reported that Mr Ibu showered his wife with praise as she marked her birthday on Monday, January 9.
The much-loved comic actor shared lovely pictures of his wife as he added that he doesn't have the words to convey his feelings for her.
Many of the actor's colleagues and fans have taken to his comment section as they joined him in celebrating his wife.
Source: Legit.ng