The life and death of Ric Ocasek
Ric Ocasek, 'The Cars' frontman was found dead in his New York apartment on 15th September 2019. The discovery was done by his estranged wife, former model Paulina Porizkova. She described the death of her estranged husband as an unexpected one considering that Ric had undergone an unnamed surgery and was expected to make a full recovery. Indeed, life is fleeting and unpredictable.

The once famous rockstar made a name for himself in the music world. He and his friends formed a rock band named The Cars back in the mid-70s. As the lead singer of the group, he was instrumental in the birth of the new wave movement. Some of the group's hits include "Drive", "Good Times Roll" as well as "My Best Friend's Girl".
Is Ric Ocasek really dead?
The former artist and producer was announced dead after the police got an alert of an unresponsive male at home. The 911 call was made by his estranged wife. While the cause of death was not known earlier, the police reported that the singer died of natural causes and that there seemed to be no foul play, at least according to an NYPD official.
According to Porizkova , the singer passed on peacefully in his sleep. This came as a shock to them since he was recuperating quite well. In an Instagram post, the widow wrote,
"Ric was at home recuperating very well after surgery," Porizkova, said in an Instagram post. "Our two sons, Jonathan and Oliver, and I were making sure he was comfortable, ordering food and watching TV together. I found him still asleep when bringing him his Sunday morning coffee. I touched his cheek to rouse him. It was then I realized that during the night he had peacefully passed on."
She went on to express her sincerity and gratitude for the outpouring love that the family and friends received during the trying time. She signed off in a manner suggesting that she was actually speaking on behalf of the family.
It was later discovered that the 75-year-old singer had succumbed to an illness. The medical examiner established the cause of death to be as a result of heart complications. The Daily News reported that a New York City's medical examiner's determination confirm that the cause of the musician's death was hypertensive and atherosclerotic cardiovascular disease. In addition to this, Ocasek also struggled with pulmonary emphysema, a disease that contributed to his death.
What will Ric be remembered for?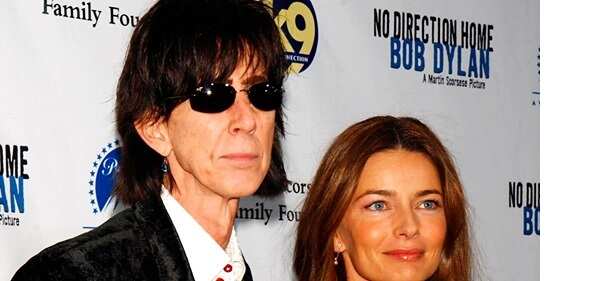 The star will be forever remembered for being one of the major contributors to the creation of high-quality music. Thorugh his group, The Cars, he and his group members were behind the definition of the sound of New Wave in the 70s and 80s. They released their self-titled debut in June 1978. This was a year and a half after playing their first-ever show.
While it is true that Ocasek had to share the lead vocals with bassist Benjamin Orr, who passed on in 2000, Ric was behind almost all the tracks in the six albums they produced. He wrote virtually everything that the group did. This speaks of his exceptional songwriting skills.
Even though the group split in the early 80s, Ocasek did not stop his musical endeavours. He continued on as a solo artist even though this line of his career did not seem as successful as when he was a member of the group. On the other hand, his production roles seemed to be doing so well as he registered great success as a producer collaborating with different groups including the Weezer, No Doubt as well as Bad Religion. He was still influencing music long after he quit his group. He also worked with underground acts such as Suic*ide and Bad Brains.
In 2011, The Cars reunited for Move Like This. Ocasek felt that the songs he had come up with would be fun and perfect if his old buddies joined in. In an interview with USA Today during the new album's promotion, he said that life was too short. He went on to say that he knew that the group was best suited for this. He knew that fans embraced them because of the group's signature.
"all have a similar quality. I broke it down once to be about six different songs that we do, and they're all variations on a theme."
Even so, he is what many would term as a pop contradiction. He worked on producing some of the most popular radio hits, including working with bands such as Skinny Puppy, but he still remained loyal to his old style.
"I'm not so intrigued with the American pop format, even though I fit into it quite comfortably. I'm more intrigued with some of the esoteric music, because there are no real new ideas in American pop."
The Cars also came together in 2018 as they were inducted into the Rock and Roll Hall of Fame. This was a well-deserving recognition considering the fact that the group released hits that made it to the gold standard.
Apart from music, the musician has also been known to be part of other media acts, including writing, drawing and photography. In 1993, he published a collection of poetry. He also appeared in John Waters Hairspray movie in 1998 as a beatnik.
Reactions from the public
The news of the star's death was received with regret and sadness. Other players in the music industry expressed their condolences as they heaped praises on the man who had done so much for the industry in one way or another.
The Weezer took to Twitter where they wrote,
"The weezer family is devastated by the loss of our friend and mentor Ric Ocasek, who passed away Sunday. We will miss him forever, and will forever cherish the precious times we got to work and hang out with him. Rest in Peace and rock on Ric, we love you."
Clearly, the impact that Ric had in the lives of those around him could not go unnoticed.
Apart from The Wizzers, MTV presenter Kurt Loder also wrote:
"Cars were the first band I saw that qualified as new wave – their synths and leathers were too pricey for pure punk. Long gone, of course, and now Ric too, a sweet guy."
Twitter was not the only social media platform that mourned the death of the legend. Writing on Instagram, Red Hot Chili Peppers bassist Flea paid his heartfelt tribute, writing:
"Ahh man, say it ain't so. I loved Ric Ocasek. What an interesting, smart, kind, funny man who made incredible records. I loved those Cars albums when I was a teenager. Perfect pop songs with those wicked Elliot Easton guitar solos. Absolute candy… As an adult I met him several times and he was gracious, funny and engaging. Ahh man. Ahh dam*n. Bless his soul. R.I.P. Transcend to the other side Ric. So much love and appreciation from me."
Ric Ocasek family
Ocasek and Porizkova met in 1984. At the time, the former model appeared in a video for the song "Drive". They married 5 years later. Though separated, the two had an amicable relationship. The announcement of their separation was made by Porizkova in May 2018, a year after it had actually happened as the two had separated in 2017. She made the announcement through her Instagram page, making it clear that the divorce would never interfere with their relationship as a happy family. It only meant that she and her ex-husband were no longer a couple.
"Our family has always been — and still is — a well-built car. When the four of us are together, we can go wherever the road takes us. But as a bicycle, my husband and I no longer pedal in unison. So, we're ditching the bicycle."
She went on to add that people should look out for more happy family photos and moments captured together. The two had two sons named Jonathan and Oliver.
"The photos of our happy family are, in fact, happy family photos; we are just no longer a couple. The love we have for one another is so wide and deep it's practically intangible, and that sort of love can never disappear. Expect to keep seeing happy family photos."
Ric Ocasek may be gone, but he left behind a happy family and a career that is marked with a huge legacy. There is no doubt that he will be missed by family, friends and fans. Rest in peace, Ric!
Source: Legit.ng