Silent Billionaires: Meet Ade-Ojo, Otudeko and 8 Other Wealthiest Yoruba Men, Otedola Didn't Make the List
Are the Yorubas the wealthiest tribe in Nigeria? Apart from Mike Adenuga and Femi Otedola that are usually on the Forbes list who are the other rich men from the south-west region
That there are several other Yoruba billionaires that are usually not in the news as much as the aforementioned names, like Adeleke Adedeji, Micheal Ade-Ojo, and Olu Okeowo
However, in this article Legit.ng has compiled a list of some of the wealthiest Yoruba men that many people don't know about
Fortune, they say, sides with those who dare, it gives plenty of itself to those who make things happen.
There are many business magnates in Nigeria, they are are big shots who aren't scared of making difficult decisions, and the Southwestern region of Nigeria is awash with many of them.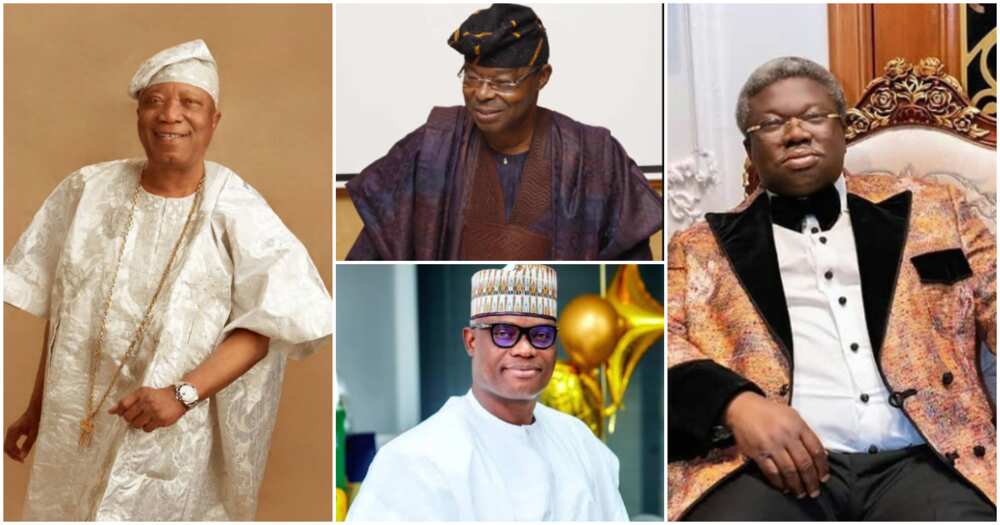 Many people are famous for tapping into the goodness of the land and its opportunities. While some of these people are well known in society, others are discreet but still retain their wealth.
Below is a list of silent Yoruba billionaires that many Nigerians don't know about:
PAY ATTENTION: Follow us on Instagram - get the most important news directly in your favourite app!
Michael Ade-Ojo
Michael Ade-Ojo is the owner of the Elizade group of companies which includes Elizade University in Ondo state and the famous Elizade Motors which is known for its affiliation with the Japanese vehicle brand Toyota.
Ade-Ojo is the chairman of Toyota (Nigeria) Limited. Elizade Motors is also the brand pushing the entry of Chinese automobile manufacturer JAC Motors into the Nigerian market.
Ade-Ojo started his business in 1975, and it was named after his first wife, Elizabeth (deceased).
He attended the University of Nigeria, Nsukka and graduated in 1965 with a Bachelor's degree in Business Administration. A year later, he married Elizabeth and their empire began.
Following her passing in 2003, Chief Ade-Ojo remarried in 2012, to Taiwo Ade-Ojo. The mogul has become a big role model in Nigerian society and has helped mould the opinions of many young people across the nation. He is estimated to be worth $2bn.
Kessington Adebutu
Kessington Adebutu is a renowned businessman and entrepreneur who began his rise to wealth in the late 20th century.
He is the founder of Premier Lotto (Baba Ijebu) which is a multibillion-dollar conglomerate.
Adebutu had a net worth that was estimated to be $700m as of 2019. The influential mogul has NGOs around Nigeria that function with the aim of helping the masses in matters of health, finances and education. He is currently valued to be worth $1.7bn.
Fola Adeola
Afolabi 'Fola' Adeola is a Nigerian businessman and investor. He is the founder of Guarantee Trust Bank(GT Bank). After resigning from the bank, he now has other interests in his name.
Fola Adeola is the chairman of UTC, ARM, Lotus Capital, Eterna Oil, and Credit Registry Services, amongst others. He is currently the chairman of One Main Cable Company Limited, a company he founded.
He attended Yaba College in 1975 and his rise is worth mentioning as he has been diligent in all his endeavours, creating a whole new dimension to the banking industry in most recent years.
The former GTB executive is estimated to be worth $1.3bn
Olu Okeowo
This business mogul made his fortunes through the boom in the real estate business in the 1980s and 90s. He began his journey to riches when he started a wrought iron furniture business.
As business grew, he expanded by creating more business ideas and delving into real estate. Okeowo is the chairman of Gibraltar Construction Nigeria Limited, born in 1965, Ijebu-Ode. He is valued to be worth $1bn
The 57 years old owns numerous properties around Lagos and other parts of Western Nigeria. Furthermore, Olu Okeowo owns the famous Parkview Estate in Ikoyi, Lagos, where he resides.
Abdulwasiu Sowami
Alhaji Abdulwasiu Sowami is accredited with the founding of Prudent Energy. In 2004, this power and petroleum company was created with the aim of generating enough energy elements for the masses at the most affordable rates.
It has amassed a whopping $600m gross revenue in the last eighteen years. A native of Ogun state, Sowami studied sociology at the University of Maiduguri and completed a Masters's program in Corporate Governance.
He has done well to be under the radar over the last two decades, but it seems Sowami had a change of mind. His fortunes are estimated to be roughly $700m.
Adedeji Adeleke
Adedeji Adeleke is the owner of Adeleke University, a private university in Osun state. The influential icon is popular for being the father of Afrobeats superstar David Adeleke aka Davido.
He also owns the famous Pacific Holdings, which is a conglomerate of various businesses. He is also considered to be one of the richest men in Nigeria, with his net worth exceeding $700m.
Chief Samuel Adedoyin
He saw born in 1935 to a farmer father and an Aso-Oke Weaver mother. Owing to the hard times, Adedoyin stopped his education at Primary 4. In the early 1959s, he began selling stationary which included ballpoint pens, office materials and others.
In 1968, Doyin Group was officially a business and over time he has been able to acquire up to 14 subsidiary offices and a staff strength of over 6000 people.
Samuel Adedoyin is valued at around $600m, and he is blessed with a golden marriage and children.
Sulaimon Adebola Adegunwa
He is the former chairman of Sterling bank PLC. He is also the chief executive officer of Essay Holdings, the parent company of Rite Foods Limited.
He is a well-respected man in Nigeria and is adored by the Yoruba elites. His net worth is reportedly a whopping $600m and this figure is said to rise in the coming months according to many financial outlets.
Oba Otudeko
Oba Otudeko is a top Yoruba businessman who is the founder of the famous Honeywell Group, known for Honeywell Semovita, noodles as well as their pasta and other foods. He is also the founder of FBN Holdings.
The mogul owns a charity organization named the Oba Otudeko Foundation, which is responsible for ensuring that people receive adequate health services as well as education. The NGO is also set on poverty alleviation and youth empowerment.
Oba Otudeko is valued at around $550m.
Moment billionaire Olu Okeowo received KWAM1's boys in his luxury home
Meanwhile, Legit.ng recalls reporting that King Wasiu Ayinde Marshal (KWAM1) seriously caused a massive stir during the build-up to the celebration of his 50-year on-stage anniversary.
The veteran Fuji musician sent his representatives to deliver a special invite to Nigerian billionaire and business mogul, Sir Olu Okeowo.
A video spotted online captured the moment Okeowo was seated in his expansive living room as KWAM1's representatives were ushered in amid fanfare.
Source: Legit.ng