Heather Storm bio: age, measurements, marital status
Heather Storm is one of those unique personalities who can light someone's spark with her story and lifestyle. We bet you that this woman will surprise you if you hear about her for the first time. Getting to know her is a must for everyone who looks for motivation and just car lovers. Are you already intrigued? Just read on!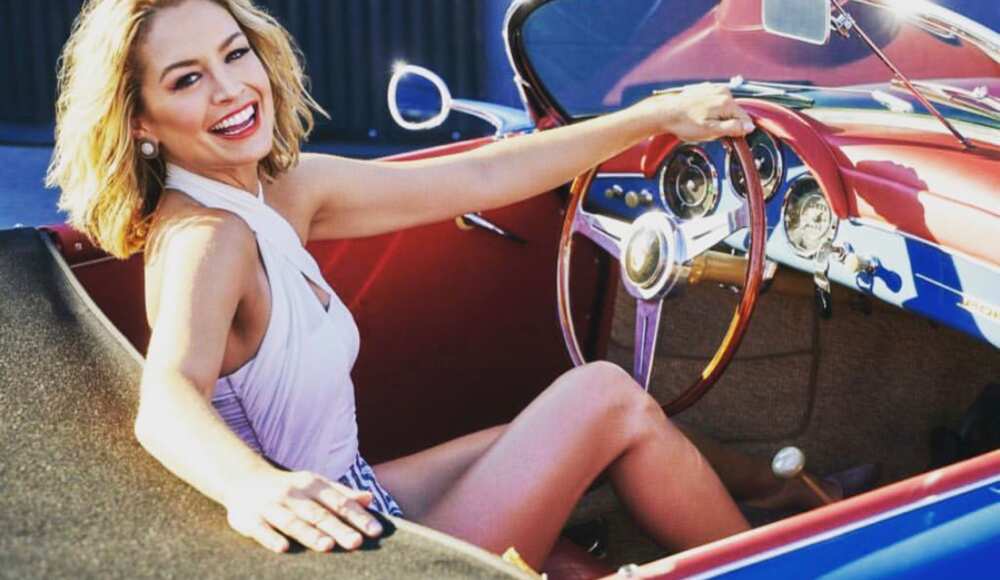 What will we get if we mix beauty, energy and intelligence? Right, this is the recipe for being as cool and wonderful as Heather Storm. Born Danielle Trotta has some mind-blowing facts, and we are going to tell you about them.
Heather Storm age, biography, and facts
Today, Heather Storm is known for lots of activities. This restless lady manages to combine work and hobbies in one, just simply devoting her life to what sparks her inner fire. On her Instagram blog, she describes herself as a television host, producer, traveller, sommelier and proud owner and happy explorer of her favourite car – '65 Mustang.
Heather Storm bio
When Heather Storm was a teenager, she and her family moved to the small town of Montana. It was here that her life turned upside down and the girl began to explore her life path, priorities, and habits. At that time, she learned a lot from her father, which was the determining factor for how we know her today. It was he who taught her to use the tools and understand the cars at an early age.
After our future celebrity graduated from the University of Oregon and received a bachelor's degree in environmental science, she lived in Puerto Rico for some time where her love for surfing originated. After that, the young girl moved to Los Angeles, where she worked tirelessly doing all kinds of work – from working as a fitness trainer to a model.
It would be ridiculous to get to Los Angeles and not try yourself in the movie industry. And the young lady knew this very well, and that is why so many people know her as an actress as well. She starred in many films and has an impressive filmography, where she performed both as an actress and as a producer and screenwriter. Here is a list of movies, TV shows, and projects with her participation:
Tae-Bo Evolution (2017)
The Coroner: I Speak for the Dead (2016)
Trial by Fire (2016)
Axiom (2015)
Nightingale (2014)
A-Holes Anonymous (2013)
Walk of Shame (2013)
Tosh.0 (2012)
Bad Breakdancer (2012)
1000 Ways to Die (2011-2012)
Death: Putting the 'Fun' in 'Funeral' (2012)
Stupid Is as Death Does (2011)
It's Effin' Science (2010)
Surviving Disaster (2009)
Home Invasion (2009)
MANswers (2007)
Rush Hour 3 (2007)
Epic Movie (2007)
Heather Storm also participated in a variety of projects and TV-shows such as Drive Yourself Local, The MixDown, and also she was a news reporter on My Combat Channel. In consequence, today she is the co-host of the Garage Squad TV-show.
READ ALSO: Sierra Skye model: age, height, measurements and hot photos
How old is Heather Storm?
Many people can be confused about what year was Heather Storm born. This is of no surprise. According to such an active lifestyle, which is typical of very young people, one may think that this lady is a youthful person. In addition, our TV celebrity looks gorgeous and stunning; she has a beautiful physique and a lovely smiley face.
Some sources even say that she was born in 1992. But the real situation is literally upside down. Heather Storm age is 56! She was born on the 13th of June, 1962. Despite her age, she is a real beauty and looks very attractive.
Heather Storm measurements
Affection for sports has paid off for this star with stunning figure and measurements. She has a perfect body which can be set as an example for many women. So what are they?
Height: 5′ 7″ (170 cm)
Measurements: 36-26-37 inches (91-66-93 centimetres)
Weight: 132 lb (60 kg)
Heather Storm marital status
We assume many of you are wondering who Heather Storm husband is. Who has such a wonderful person as a wife? Unfortunately, a little information is known about the celebrity's personal life so we just can guess if Heather Storm married or not. She does not post any facts in her personal blogs on this subject, and for now, we can only conclude that her love for cars and what she does in life is her real passion.
We will be greatly surprised if you do not adore Heather Storm yet. The lifestyle of this woman is really inspiring and motivating. She seems very happy and satisfied with the world and herself, including her activities and job, and the secret of it is just doing what your heart belongs to. Try following her lead.
READ ALSO: Alexis Knapp: height, baby daughter, movies
Source: Legit.ng