"He Told Me to Go and Sleep With Other Men": Alexx Ekubo's Ex-bae Fancy Finally Reveals Reason for Breakup
Nollywood actor, Alexx Ekubo's ex-fiancée, Fancy Acholonu, has now opened up on why she broke up with him
During an interview, she explained that it was because he told her to go and sleep with other men as he wouldn't touch her
Fancy added that Alexx is a narcissist and they had a fight where he almost got physical among other things
Popular Nigerian actor, Alexx Ekubo's former fiancée, Fancy, has now revealed her reason for breaking up with him.
Recall that Fancy and Alexx's broken relationship had remained a trending topic on social media when new details started to emerge.
In a new development, popular blogger, Stella Dimoko Korkus, had an interview with Fancy where she finally revealed the real reason she broke up with him.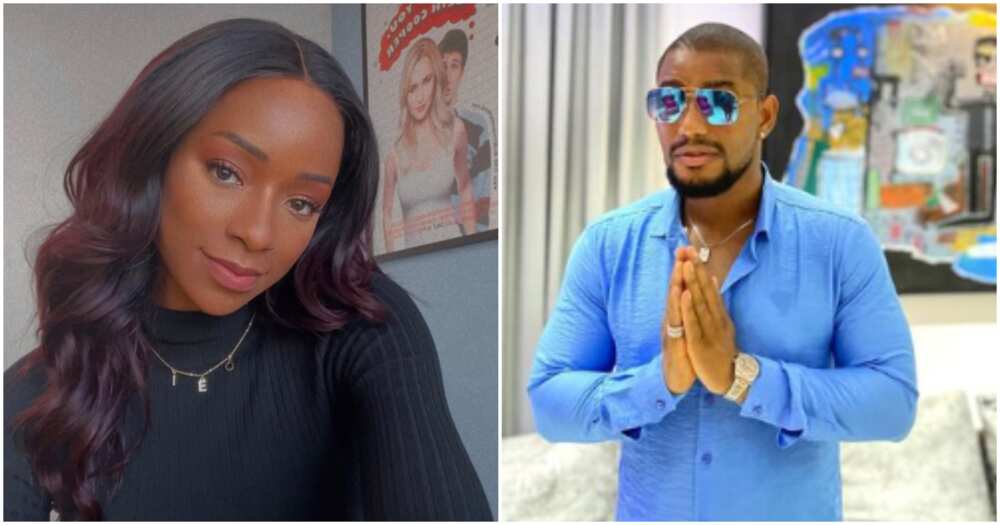 According to Fancy, Alexx was extremely narcissistic, and the sweet nature he showed people was not really who he was to her.
The young lady added that the actor was always lying, cheating and gaslighting her and that it got worse the day after their engagement.
Fancy explained that he became more controlling and verbally abusive and that they argued so much to the point of it almost getting physical.
She said:
"Alexx is extremely narcissistic. The charming personality he shows to everyone was not who he was to me. Behind those smiles of our happy photos he was always lying, cheating, and gaslighting me. The day after we got engaged, it became worse. He then became more controlling, and verbally abusive. We argued so much and it was close to becoming physical, I was scared of his rage. I told my sister and documented for record sake in case anything happened."
He told me to sleep with other men
Not stopping there, Fancy revealed the last straw that made her decide to end things with Alexx.
According to her, the major red flag that left her devastated was when he told her he would not sleep with her but she was free to sleep with other men.
She said:
"One major red flag that made me devastated was that he told me he won't sleep with me but I should go and sleep with other men. Imagine telling that to your fiancée that has kept herself for you for 5 years. At that moment I realised he didn't truly love me. It started going downhill from there. Emotional abuse."
Also in the interview, Fancy explained that she had to make their breakup public because people were already buying tickets and making plans to attend their wedding because he had announced the date online and refused to make a joint statement with her on the issue.
See the whole post below:
Nigerians react as Fancy reveals she broke up with Alexx for telling her to sleep with other men
nwanachiarasy:
"Fancy u dodged a lifetime bullet. Thank God for ur life."
sisidoreen:
"Then why did she go back again to reconcile."
nkekechi:
"I believe you Fancy..... There's an atom of truth in your story."
soullesspsychic:
"Anyone who has unknowingly dated or is married to a gay man will know that this Fancy girl has told not even one lie since this case started."
brandy_ish:
"Fancy sef be narcissist … see how she drops bombshell then acts an Angel next minute … Both of you are one of a kind."
lindaclems:
"What did I just read? Wawu!"
rain_omalicha:
"Sleep with other men kwa ???? Ehhh but that saw all the news on social media and still decided to continue with your coconut head nko ???"
___simplychichi.m:
"People saying she's obsessed?what is she obsessed over,dating someone for 5years is a joke huh…you guys shd just leave her to vent, besides she was interviewed!you people that publicly fight over a man is here rubbishing someone's hurt."
glitz_farms:
"But you stayed for 5 years and went back even after the broken engagement common it's ok we understand he gaslighted you but how are you cautiously and comfortably staying with someone that hurts you?"
Hmm.
He didn't sleep with me for 5 years - Fancy speaks on Alexx Ekubo
In other news, Legit.ng earlier reported on how Fancy Acholonu revealed Alexx Ekubo did not touch her for 5 years while they were together.
During the tell-all interview with Stella Dimoko Korkus, Fancy made it clear that she and Alexx were never getting back together. She also spoke about why she ended their engagement, the actor's sexuality, and not being intimate for five years.
Fancy opened up about how she and Alexx never slept with each other during their five-year relationship. According to her, it was confusing that the actor did not want to be with her intimately, especially for five years and it affected her self-esteem.
Source: Legit.ng