2021 in Review: Baba Suwe, Sound Sultan, Rachel Oniga and 14 Other Nigerian Celebs Who Died
While the year 2021 marked a number of things to different people, it is also the year that the Nigerian entertainment industry lost a number of great minds and talents.
Death is one thing that is guaranteed for every human being but that knowledge has done nothing to ease the blow when it arrives.
In 2021, fans all over Nigeria mourned over the untimely passing of great actors, musicians and more.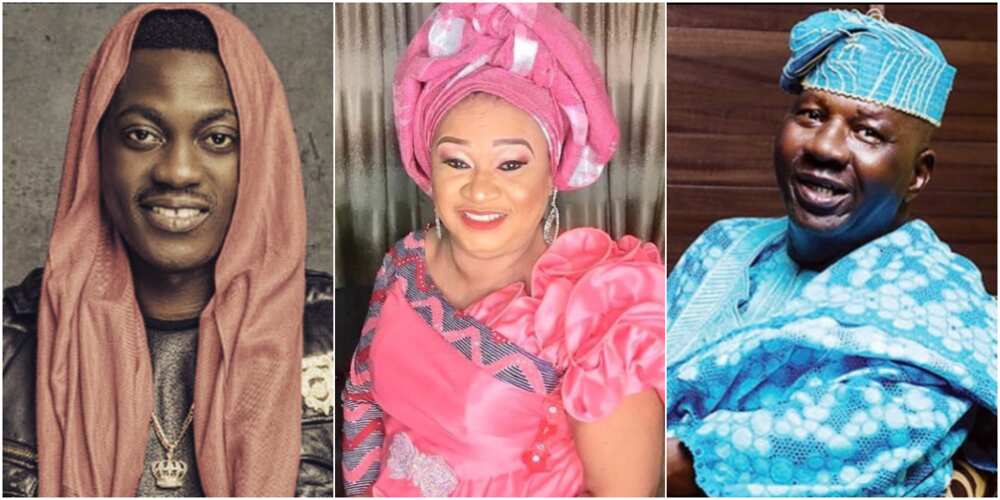 To honour their memories, Legit.ng has gathered a list of some Nigerian celebrities who gave up the ghost in 2021.
1. Sound Sultan:
One of Nigeria's great music talents, Olanrewaju Fasasi aka Sound Sultan, died at the age of 44 after a battle with angioimmunoblastic t-cell lymphoma.
His death was met with great mourning from many of his fans and colleagues who attested to him being an impact on their lives.
2. Babatunde 'Baba Suwe' Omidina:
Nigerian veteran comic actor, Baba Suwe, also gave up the ghost on November 22 at the age of 62. The film star's son noted that his father never got over his troubles with the National Drug Law Enforcement Agency (NDLEA).
3. Ernest Asuzu:
Veteran Nollywood actor, Ernest Asuzu, also gave up the ghost in January 2021, a few years after he had come on social media to solicit for financial assistance.
4. Sadiq Daba:
Veteran Nigerian broadcaster and Nollywood actor known for his role in Kunle Afolayan's October 1st, died on March 3, to the dismay of his numerous colleagues and fans.
5. Obama DMW:
Top Nigerian singer, Davido's right hand man, Obama DMW, also gave up the ghost in year 2021 after experiencing breathing difficulties. The young man had reportedly driven himself to the hospital before giving up the ghost.
6. Fortune Ateumunname:
Davido suffered an additional loss in his camp when his photographer, Fortune, passed on. The young man reportedly died by drowning.
7. Dokta Frabz:
Ace Nigerian music producer, Dokta Frabz, died in February 2021. He was said to have been shot dead in the US.
8. Ada Jesus:
This controversial Nigerian comedian died on April 21 after suffering from a kidney-related ailment. Ada's last days were filled with controversies after she was cursed out by popular preacher, Prophet Odumeje and actress, Rita Edochie, over her claims that they staged miracles.
9. DJ Babus:
This popular Nigerian disk jockey died in January 2021 over coronavirus complications.
10. Victor Olaiya:
This veteran Nigerian musician died at the age of 89 in February, 2021. He reportedly took his last breath at LUTH.
11. Folake Aremu 'Orisabunmi':
Veteran Nollywood actress, Orisabunmi, was also another celebrity to go with the year 2021. She died on January 6 at the age of 60.
12. Lambert Dike:
This veteran Nollywood actor died in March 2021, just a few days to his birthday.
13. Jim Lawson Maduike:
This is another Nollywood star who died in 2021. He had complained of body pains before his demise.
14. Rachel Bakam:
This Nigerian actress and media personality died at the tender age of 38 in April 2021. She died as a result of an undisclosed illness at a hospital in Abuja.
15. David Mela:
This fast-rising actor was one celebrity who met his untimely death in 2021.
16. Bruno Iwuoha:
Respected Nollywood veteran actor, Bruno Iwuoha, died at a hospital in Abuja. He had reportedly been battling diabetes for years.
17. Rachel Oniga:
Nollywood movie veteran, Rachel Oniga, died at the age of 64 on July 30 after suffering from a heart related illness. The actress was still on location, shooting some movie scenes just days before her demise.
May the souls of the departed rest in peace.
Nigerian celebs who survived major car accidents in 2021
The curtain is gradually closing on the year 2021 and it has indeed been eventful for many Nigerians including celebrities in the entertainment industry.
A lot of these superstars have had a close shave with death but it's comforting to know that they are still around to put smiles on the faces of fans through their crafts.
Legit.ng took a look at some celebrities who were on the verge of death at some point in their lives after getting involved in car accidents.
Source: Legit.ng