Esther Awoniyi Started Her Journey as a News Broadcaster, She Now Anchors Conversations with World Leaders
After university, Esther Awoniyi just wanted to be very successful. Filled with uncertainty, she made a first wrong turn
She got right back on track when she left her brief stint in brand marketing and landed her first broadcasting job in a growing TV network
Esther has since moved up the ladder, hosting business shows on top TV networks, and enjoying prolific business conversations with world powers and industry leaders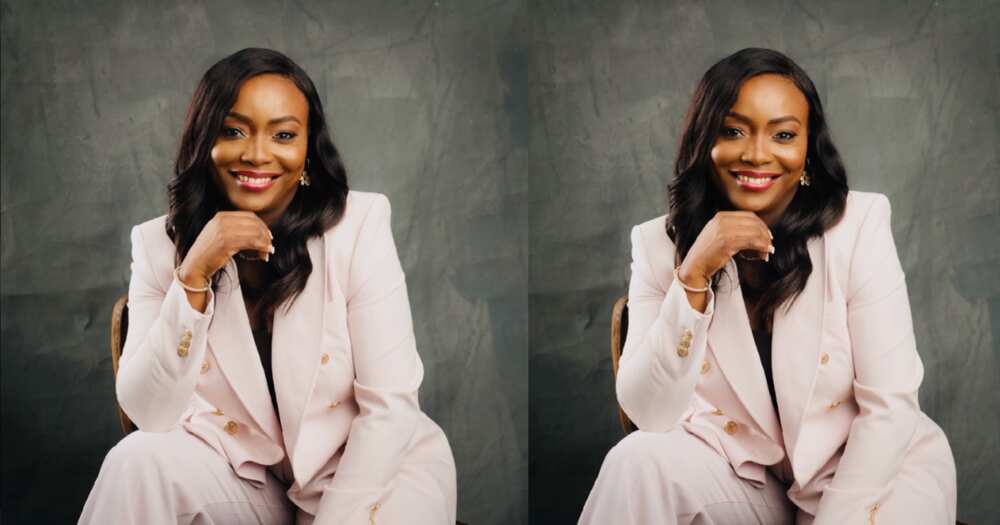 Esther Awoniyi welcomes the idea of an interview with her, with such grace and humility.
"Thank you once again. I am honoured and humbled by this proposed feature. Happy to answer all your questions and share my career growth story with you." she says as we prepare to dive into our Q & A session.
PAY ATTENTION: Сheck out news that is picked exactly for YOU ➡️ find the "Recommended for you" block on the home page and enjoy!
Esther's story is one of hope, sheer grit and determination. As with other women who made our Top Media Amazon list for the International Women's Month, Esther's story is worth telling and a lesson board for other younger ladies who might struggle with forging a career path.
You see, Esther wasn't always a journalist.
She had started her career as a brand marketing executive upon graduation from the prestigious University of Ibadan. Confronted with a job market that had very few job opportunities for fresh graduates like her, and a far from kind economy, she was at crossroads and finally decided on an ill-fitting job in brand marketing.
"After graduating from university, I was confronted with a job market that had very few jobs. I had a brief stint in brand marketing but it wasn't a good fit for me so that didn't last very long." she says.
Luckily, there was a mentor! And she shone the first light on what would be a 15 year journey to bliss.
"I began my journey into journalism when a mentor who thought I would be a good fit for TV during a conversation, asked me to consider becoming a TV presenter, suggested I attend speech school first and then apply to TV stations for a job. I took this advice and found a good one to get the training I needed."
The first opportunity and an enviable role later
Esther says it wasn't long upon the completion of her speech and presentation training that she got a job as a New Anchor at Minaj Broadcasting TV.
"For the first time since graduating from university, I knew I had found the right career for me."
Since beginning her career in journalism in 2007, Esther says she has enjoyed an amazing career at Channels TV where she became the face of the station's popular 'Business Morning' show.
Then comes the big deal job
Armed with experience from working at one of Nigeria's best TV networks, Esther realizes she wants more. To take on the globe and conquer the media landscape meant moving out of her comfort zone to do the unthinkable, thus her journey through the halls of the world leader in business news and real-time financial market coverage, CNBC.
At CNBC Africa, Esther's superiors saw her potential and trusted her to anchor CNBC's flagship live show, 'Power Lunch West Africa'.
"After a few years working as a news anchor, I decided to specialize in business news reporting and applied to an international business news media company. This encouraged me to work even harder because new doors opened for me." she says.
Anchoring business talks and meeting business leaders
Esther discloses during the chat that she has hosted a couple of industry leaders in her role as Business Anchor at CNBC. These people are not limited to the World Bank Group President, David Malpass, AFDB President Akinwunmi Adesina, Economics Nobel Laureate Joseph Stiglitz as well as some of Africa's most prominent power-houses including Aliko Dangote and Tony Elumelu.
"I have had the opportunity to travel the world, interviewing prominent business personalities, policymakers, and anchoring high-level panel discussions and events etc. These experiences boosted my confidence, expanded my knowledge of the media industry, and gave me a deeper sense of accomplishment."
Beyond hosting business leaders as part of her job description, Esther has also moderated some powerful and high-level panels at events such as the EU-African SME Summit in Europe, African Development Bank Annual Meetings, The African Export Import Bank Annual Meetings and the World Economic Forum Africa Meetings.
Working in a male-dominated industry and navigating that
Esther says that her journey in journalism has been a mixed bag. She speaks to the cons of working in a male-dominated industry, and having to put in twice the effort to succeed.
"Being in a male-dominated industry, I've had to work twice as hard, and had to prove myself repeatedly, particularly in the early stages of my career."
Now, she realizes that hard work and determination pays off in the end if one is patient and dedicated. She also mentions that she had some good mentors along the way who taught her the importance of resilience.
On embracing equity
As the world advocates embracing equity in the International Women's Month, Esther agrees that women should embrace equity. She advocated for women to look beyond gender roles but instead pursue fairness in evaluation, due credit for great work done, collaboration and partnership for growth and success, and most importantly seek satisfaction in uniqueness and exceptional strength.
"Over the years I have had the opportunity to interview and have conversations with very brilliant, talented, and confident women who are breaking barriers across different sectors, changing the status quo and showing the world that women are equal partners at various decision-making levels."
For her, she just wants to be happy to see more women focus on their growth and be equitable.
"I am happy to see that this trend has gained so much momentum with more women seeking jobs and running their own businesses in male-dominated industries and excelling."
On whether gender equality is still necessary
Esther thinks conversations about gender equality are sacrosanct. She speaks about great women journalists that she knows, taking up tasks only originally assigned to their male counterparts, e.g women reporting from war zones, leading newsrooms, and doing everything else that their male counterparts do.
She however believes that for gender equality to resonate with all, women must strive to earn a reputation for being punctual, dependable and reliable.
"I believe any woman who wants to succeed in her career must have a strong work ethic. Strive to earn a reputation as someone who is punctual, reliable, dependable and will always get the job done- all these have helped me greatly."
Risks, challenges and almost giving up
As we go further into the conversation, Esther admits that leaving her comfort zone to specialize in business reporting is one of the biggest risks she has taken. Although, she says it paid off and discloses how glad she was that she took it.
"Taking on tasks I believed I wasn't ready for felt like risks to me, but I believed it was important to gain more experience and conquer self-doubt and the fear of stepping outside my comfort zone."
She speaks of challenges as normal life occurrences and opportunities to learn and get better.
"Each day comes with its own challenge, and that's not necessarily a bad thing. The processes are never perfect, and each challenge comes with an opportunity to learn and get the job done, sometimes in a more innovative way."
On almost giving up, Esther says that there have been times that she has felt like leaving the profession because she believed it wasn't evolving the way it should. She mentions that while journalism is a profession that she is proud of, she knows that many of her colleagues don't feel the same way.
"I constantly remind myself that journalists are very key to nation-building and the work we do daily, matters. So despite all the challenges that come with the profession, remembering why I'm passionate about it and all the good that comes as a result of the work journalists do, keeps me going."
Rewards and defining moments
For Esther, while there have been some low moments in her journey, it's hard to ignore the great times she has had in her career. She speaks about the most defining moment in her career and attributes her wins to the almighty.
"I once had the opportunity to anchor a panel discussion in Europe that featured some of the world's most prominent business personalities and policy makers. I was very honoured and humbled to have been chosen for the opportunity."
"I feel a great sense of accomplishment and gratitude to God because not many people, in my opinion, get to have the career they were destined for. I must also mention that it has taken years of hard work, dedication, and sacrifice. It has not been an easy journey, but I am grateful that I can still look back at where I started and say, - it's all been worth it." she says.
Our Top Media Amazon of the Year says strive to become the best at what you do
As we wrap up the interview, we ask Esther what her advice would be to younger women who are trying to find their way in the same career path. She says:
"Strive to become the best at what you do and put in the work that's required. Dress well always, keep learning new things and let continuous professional development be a top priority. It will keep you ahead and help you stay relevant for as long as you want to be. Finally, when you experience burnout, don't ignore it-take time off to take care of yourself."
Source: Legit.ng