NIN-SIM Link: Telecom Companies Lose N76 Billion 23 Days After, Subscribers Struggle to Link Lines
Telecom companies are crying over loss of revenue since the Nigerian government directed them to bar lines not linked to the National Identity Management database
According to the telcos, they have lost about 76 billion from voice revenue as they also complain of the hassles of linking subscribers lines
Subscribers have also lamented of the adverse impact their barred lines are having on their lives and businesses
Telecommunication operators have disclosed that they are having a hard time linking blocked SIMs to subscribers National Identification Numbers (NIN) 23 days after the federal government directed the Nigeria Communications Commision (NCC) to restrict outgoing calls on unlinked lines.
The telcos say, apart from the difficulty in linking customers lines to their NINs, they have also lost about N76 billion since unlinked lines were barred from making outgoing calls 23 days ago.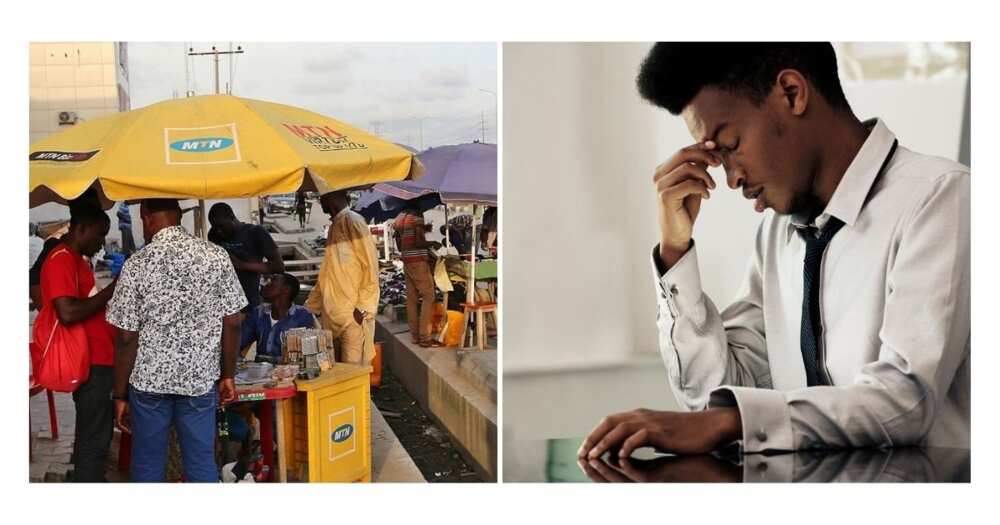 The Nigerian governement directed the telecom companies on April 4, 2022, to stop lines not linked to NINs from making calls after the deadline to do so elapsed on March 31, 2022.
This resulted in about 73 million active subscribers being barred and data shows that voice calls are one of the major sources of revenue for the telecom companies.
PAY ATTENTION: Install our latest app for Android, read best news on Nigeria's #1 news app
Voice calls major sources of revenue for telcos
Nigeria's biggest telecom operator, MTN made about N819.74 billion from voice in 2021, while Airtel raked in N397.91 billion.
The Association of Telecommunications Companies of Nigeria said the industry average revenue per user stood at N1,420 in 2020, translating to about N1,041.33 per user in the last 23 days.
The statement telling telcos to bar active lines said subscribers can have their line unbarred when they link their SIM cards to their NINs.
According to The Punch, sources in the telecom industry have confirmed that the process has not been as easy thought before and that it is also impacting heavily on telcos' revenue stream.
The source noted the telcos said the verification exercise is a major hassle for them and the Nigeria Identity Management Commission (NIMC).
Subscribers cry over barred lines
Meanwhile, subscribers have also cried out over their frustration in carrying out their daily activities and businesses on their respective lines.
Many of those who lines were barred said they use them mainly for business and that they have been having difficulty accessing vital information from their clients, friends and family.
What you need to do if you link your SIM with NIN but MTN, Glo, Airtel still bar your line from making calls
Meanwhile, Legit.ng has reported that Following the federal government's directive, telecommunication companies in Nigeria such as MTN, Airtel, GLO and 9mobile have barred over 70 million subscribers from making calls over failure to link their SIM with the National Identity Number (NIN).
However, emerging developments indicate that some Nigerians who have linked their SIM with their NIN are also having difficulty making calls.
After linking the SIM with NIN, subscribers are supposed to get confirmation from telcos that the process has been complete and successful.
Source: Legit.ng