Businesses Gradually Return to Life as More Customers Access Cash from Lagos Banks
Businesses in Lagos seem to be returning to life as a result of increased patronage due to customers' accessibility to cash
The cash crunch had affected the purchasing power of most Nigerians who could not readily pay for essential goods and services
Many small businesses that were most affected have begun to experience improvement in patronage since the CBN ordered recirculation of old notes
PAY ATTENTION: Сheck out news that is picked exactly for YOU ➡️ click on "Recommended for you" and enjoy!
Lagos - Many businesses have started breathing a sigh of relief, thanks to the recirculation of cash into the economy. Traders, workers, transporters, commuters and many others are now able to shake off the inconvenience caused by the scarcity of cash in the last few months and increase their purchasing power.
Particularly for business people, patronage has increased in the last week since the Central Bank of Nigeria ordered banks to disburse old naira notes to customers via Automated Teller Machines (ATMs) and over-the-counter.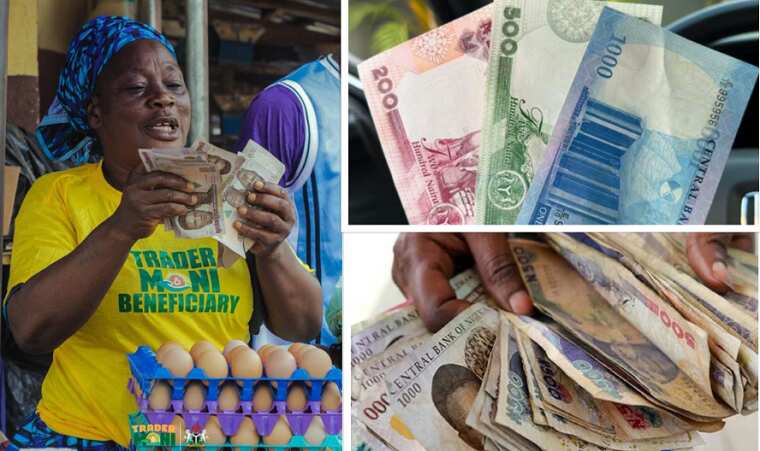 How CBN's naira redesign policy led to cash scarcity
It would be recalled that the scarcity of naira was caused by the naira redesign and cashless policy introduced by the CBN in late 2022. The policy was supposed to mop up old N200, N500 and N1000 notes in circulation at the time in exchange for the newer version of the denominations.
Customers who ensured depositing all of their cash in the bank were now faced with a new problem of accessing new naira notes which the banks claim were not sufficient enough to go round.
Following the cash crunch, many Nigerians were left without cash to carry out basic economic activities as most small businesses were still struggling to join the banking system become financially inclusive.
Alternatives like bank app transfers and USSD codes proved very unreliable as many customers raised alarms over many unsuccessful transfers, and in some cases, transferred monies never getting to receivers.
This unfortunate situation led to untold hardship on many Nigerians who queued at banks and ATM points daily trying to access as little as N2000. PoS operators that had become alternative channels for cash withdrawals took advantage of the situation to charge exhorbitant commissions for transfers and withdrawals.
It took the intervention of the Supreme Court judgment in a suit on the status of the old banknotes filed by some state governors against the Federal Government and the CBN for the apex bank to declare that the old N200, N500 and N1000 banknotes remain legal tender alongside the redesigned banknotes.
Businesses in Lagos return to life
Perhaps the most affected by the naira scarcity are small businesses. Traders, manufacturers, artisans, retailers, and labourers, whose patronages have witnessed a significant decline due to the cash crunch.
According to S&P Global, Nigeria's to Purchasing Managers' Index (PMI) fell to 44.7 in February from 53.5 in January this year. The monthly data which is usually derived from surveys of senior executives at private sector companies showed that the drop was the worse record since the height of the Covid-19 pandemic in June 2020.
Since last week, the banks have commenced the disbursement of old naira notes in their vaults to customers as directed by the CBN. In order to fairly distribute the banknotes, some banks have pegged withdrawal limit for their customers at around N10,000 and N5,000 for customers of other banks.
Bola Oyegun, a Lagos-based tailor, who has now been able to make daily withdrawals since last week, lamented to Legit.ng how the cash crunch affected her business. She said:
The last thing anyone would want to do is sew a dress when there is no cash available. The little cash that anyone finds would rather be used to buy food and maybe any other essential things. But things have started picking up since last week after the banks started disbursing the old naira notes.
Also, a Lagos-based trader who deals on plastic products and gave her name simply as Mama Toun, said that business had become very slow since January following the naira scarcity. She said:
I'm excited that the CBN has allowed for the use of the old naira until the end of the year. It used to make sales of up to N20,000 -N30,000 each day, but the naira scarcity overtook everything. In the last two months, I'm only lucky to even make sales of up to N6,000 a day. But towards the end of last week, sales have managed to improve as patronage has also improved.
Matthew Otaigbe, a Bet9ja agent told Legit.ng that a significant number of people who patronise him are people who do not have bank accounts and usually pay with cash. He said:
Many of the people who come to my shop to place bet are people who pay with cash because they don't have the means to bet online. At the height of the naira scarcity, they could no longer do so. Thankfully, since last week, after the banks started disbursing cash, they have started returning.
The naira scarcity forced many small business owners to run into losses and debts. Those selling perishable items like tomatoes, pepper, onions, Plantain and eggs were probably the worst hit as some of their products got ruined because of lack of patronage.
Iya Tomi, a plantain seller in Ketu said that many of the goods she got from her supply got spoilt because she could not sell them all of on time. She said:
It has not been easy for us that sell plantain, tomatoes and other food items that spoil on time. Last month I lost plantain worth over N70,000. They got spoilt right before my very eyes because people did not buy enough due to naira scarcity. This week, sales has been better.
5 Reasons CBN's Naira Redesign Policy Has Been Unsuccessful
Legit.ng earlier reported that the Nigerian Economic Summit Group (NESG) had highlighted some reasons for the less-than-commendable success rate of the Naira redesign and swap policy recently initiated by the Central Bank of Nigeria.
The NESG noted this in its recent report titled, NAIRA REDESIGN POLICY: CAUGHT IN THE WEB, released in February 2023, where it analysed the Central Bank of Nigeria (CBN)'s intent for the policy, the issues that have emanated and the likely outcome of a prolonged cash crunch.
The private policy advocacy group stated that the CBN's plan to redesign the country's currency which is authorised by Section 18(a) and (b) of the CBN Act of 2007, could not have come at a worse time when Nigeria was already dealing with biting fuel scarcity, inflation and other economic woes.
It, however, put forward the possible reasons the policy has been clouded in controversies and likely lack of success, which included improper timing, high level of informality, low rate of financial inclusion, ineffective policy coordination and lack of public sensitisation.
Source: Legit.ng