CBN Takes Action Against Those Behind Fake News on Old Naira Notes, After Aisha Buhari's Post Drama
The CBN has vowed to investigate and prosecute those spreading fake news on old N500 and N1000 notes
The promise was made after a purported press release was published on Aisha Buhari's social media page claiming that the old 500 and 1000 naira notes would remain legal tender for 70 days
CBN also reiterated that only the old N200 notes will be reissued and circulated alongside new notes until April 10, 2023, in line with the President's directive
The Central Bank of Nigeria (CBN) has cautioned individuals against spreading fake news regarding the bank's naira redesign policy, especially on the recirculation of N1,000 and N500 old naira notes.
The warning was contained in a statement jointly signed by the CBN's Deputy Governor, Corporate Services, Edward Adamu, and Director, Corporate Communications, Osita Nwanisobi.
The statement was issued following a purported press release shared on the Instagram page of the First Lady, Aisha Buhari, which claimed that the old N500 and N1000 notes would remain legal tender for the next 70 days.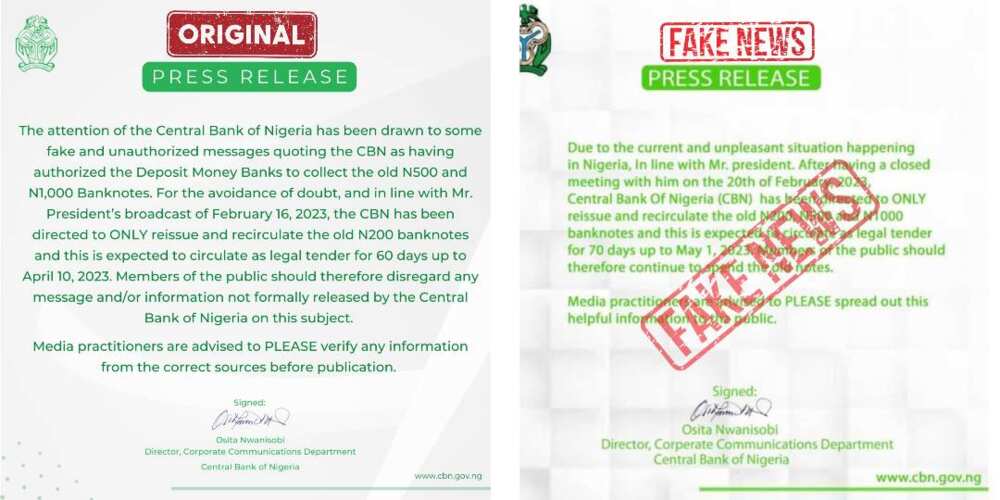 Punch reports that the CBN refuted the claim, saying that it would only follow the directives of President Muhammadu Buhari and reissue old N200 notes as legal tender until April 10, 2023
The CBN insisted that it has zero tolerance for fake news that could cause panic in the economy and promised to investigate and prosecute those spreading such news.
The bank also urged members of the public to ignore such false news and seek clarification from the bank's official channels, The Cable reports added.
Part of the statement read:
"The Bank is working with the law enforcement agencies to investigate, apprehend and prosecute the purveyors of this fake news. Please be guided accordingly."
CBN battles with fake news on old naira notes
The CBN's move to clamp down on the spread of fake news has been commended by many Nigerians, who have urged the bank to take stiffer measures against those found to be behind the misinformation.
The circulation of fake news has become a significant issue in Nigeria, with several cases of misinformation causing panic and unrest among the population.
The government and relevant agencies have also intensified efforts to clamp down on those spreading fake news.
CBN begins door-to-door distribution of new naira notes as scarcity bites hard
Meanwhile, in another report, the Central Bank of Nigeria (CBN) has started a door-to-door distribution of the redesigned naira notes.
The move comes amidst a persistent cash shortage in the country, which has left many citizens struggling to get cash for their daily needs.
The CBN hopes that the new method of distributing the new notes will ease the cash shortage and provide relief to Nigerians who have been hit hard.
Source: Legit.ng