Marketers Kick as FG Mulls Sale of Nigeria's Refineries After Spending N10tn on Maintenance
President Tinubu's tax adviser has argued that Nigeria is better off without an operational refinery
He said Nigeria's petroleum could become the most expensive in the world because of corruption
A mixed reaction has since trailed his perspective on the dysfunctional state of Nigerian refineries
Taiwo Oyedele, the chairman of the Presidential Fiscal Policy and Tax Reforms Committee, has said Nigeria is better off with its refinery not operational.
He spoke during The Platform's Independence Anniversary event, tagged 'Africa Rising Continent – Nigeria's Strategic Role', held on Monday, October 2, 2023, in Lagos.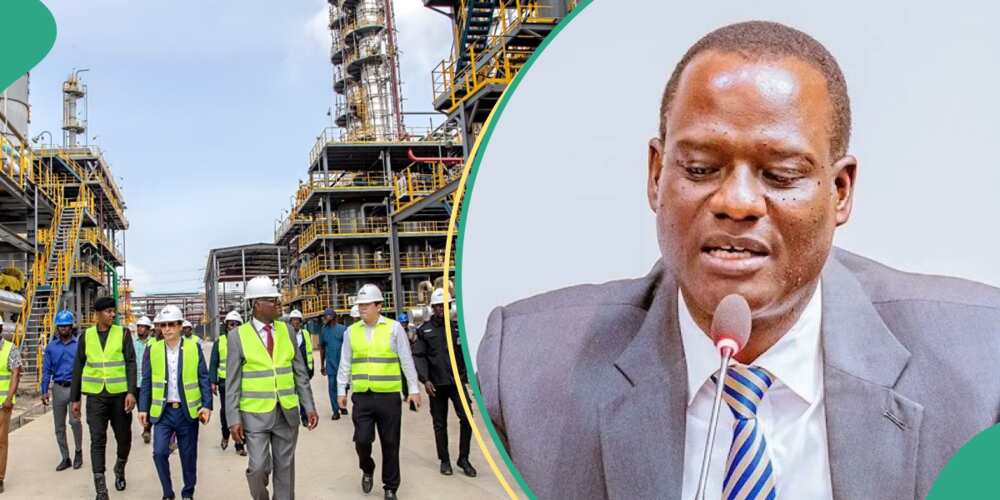 Oyedele warned that if Nigerian refineries produce oil, managerial inadequacies might make a litre of petrol the most costly in the world.
This is in tandem with an earlier report by the Federal Government that the price of petrol at filling stations will not go down even if all five Nigerian refineries are working at full capacity and producing the most amount of the product.
PAY ATTENTION: Сheck out news that is picked exactly for YOU ➡️ find the "Recommended for you" block on the home page and enjoy!
Too much money spent on refineries
According to Punch, Oyedele quoted the National Assembly as saying over N10 trillion had already been spent on maintaining the refineries when they have not produced anything.
He said:
The National Assembly said we have spent over N10tn maintaining our refineries even when they have not produced anything.
According to him, even if Nigerian refineries process crude oil, unless we deal with our inefficiency, one litre of petrol will be the most expensive in the world.
Oyedele said:
"If Nigerian refineries process crude oil unless we deal with our inefficiency, one litre of petrol will be the most expensive in the world. You would have succeeded in replacing the subsidy at the pump with subsidy of the refineries."
Mixed Reactions trail Oyedele's comments
The National Controller of the Independent Petroleum Marketers Association of Nigeria, Mike Osatuyi, responded to Oyedele's remarks on the sale of refineries.
He said it was ideal for the nation to have its refineries.
He argued that building Nigeria's refineries would ensure energy security and increase employment.
Osatuyi said:
"You can't control what you don't own. So, it is good for us to have our own. The cost of importing petrol is now very high. I think the government is moving in the right direction by making the refineries work very soon."
Speaking on the subject, Wale Oyerinde, Director-General of the Nigeria Employers Consultative Association, suggested selling the refineries.
He claimed that Nigeria's refineries have been operating at a loss for many years and that it makes no sense to keep investing money in an inefficient system.
He advises that the government transparently sell it to Nigerians, allowing the average Nigerian to invest if they so choose, with the government keeping a small portion of the proceeds. He said that there was no use in storing it because the refinery had not been operating.
Oyerinde said:
"It should be sold to individuals who can run it as a business and then the government will play the role of a regulator rather than continue pumping money into it. It has been our position, that the government should transparently sell it off to Nigerians or private individuals or experts that can run it."
Niyi Yusuf, the chairman of the Nigeria Economic Summit Group, said over time, the private sector has demonstrated its capacity to effectively optimise resources for the benefit of all stakeholders.
He contends that underperforming assets, such as refineries, should be privatised to allow the private sector to provide the capital, technology, technical expertise, and managerial know-how required to cease draining the public budget and begin generating revenue for consumers' use.
Yusuf said:
"More than half of our population have not witnessed our refineries work at optimal capacity. It's about time we try a new strategy and privatisation is a proven model"
Meanwhile, Legit.ng had reported that the first phase of the Cabinda refinery, located in Angola, is expected to come on board by the end of 2024.
Amid Fuel Price Hike, Nigeria's Domestic Refineries Receive 3.6mb of Crude From NUPRC
The Nigerian Upstream Petroleum Regulatory Commission (NUPRC) announced that between September 2021 and May 2023, three local refineries received 3.61 million barrels of crude oil, Legit.ng reported.
According to a statement released in Abuja by NUPRC, it delivered 3.61 million barrels of crude to three local refineries between September 2021 and May 2023, in contrast to claims made by some operators in the Nigerian refinery industry that doing so would destroy members' investments and stifle the sector's growth.
Source: Legit.ng