Presidency Explains Why Petrol Prices Will Not Go Down Even If All Nigeria's Refineries Are Working
Presidential spokesman, Ajuri Ngelale has clarified the relationship between refineries and the pump price of petrol
Ngelale declared that the price is dependent on the international benchmark of the cost of crude oil per barrel
He however stressed that there are of course big benefits to a country having working refineries
The price of petrol at filling stations will not go down even if all five Nigerian refineries are working at full capacity and producing the most amount of the product.
This is according to the statements made by President Bola Tinubu's Special Adviser on Media and Publicity, Ajuri Ngelale while he was a guest on Television Continental's talk show, "Your View".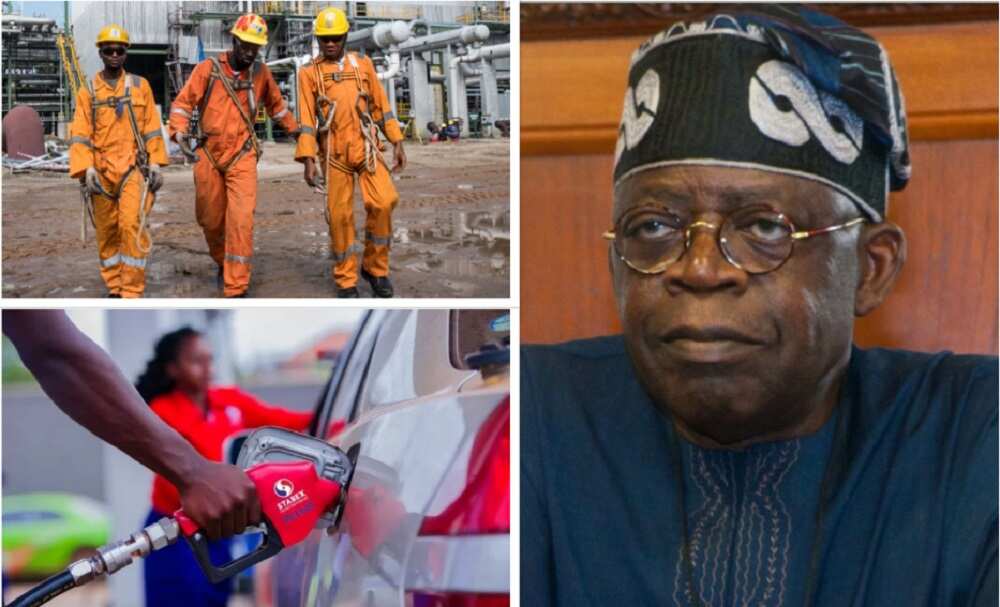 More refineries do not equate to cheap fuel
During the television interview monitored by Legit.ng, Ngelale dismissed the idea that having more refineries will bring down the price of petrol as a myth that doesn't happen anywhere in the world
PAY ATTENTION: Сheck out news that is picked exactly for YOU ➡️ find the "Recommended for you" block on the home page and enjoy!
He said:
Even if we have the most refineries producing the most PMS in the world, you will find that the most prolific PMS producers with their refineries...if you go to see what they are charging in their pump, you will find that it's no different from those countries that don't have refineries.
The presidential spokesman said that the reason why the price of the pump will not go down irrespective of what your refining capacity is as a country is that nobody spends billions of dollars on building a refinery because of charity or because of corporate social responsibility, but to make money.
So that is why you find that no matter how many oil marketers you have bringing the product into the country, no matter how many refiners you have, producing massive amounts of PMS, the price is dependent on the international benchmark of what the cost of crude oil per barrel is.
When the oil price is high, the price in the pump will go up, when the oil price is p is low, the price will go down. These are market fundamentals that are determined, not in one country, but on the international stage.
Ngelale says there are benefits of having refineries
Ngelale however stated that having working refineries have big benefits for the country hence the renovation of the Port Harcourt refinery which according to President Tinubu is coming on stream in December 2023.
He also noted the Dangote refinery which has already been launched and will be dishing out products soon and the 200,000 barrel-per-day BUA refinery in Akwa Ibom State.
So what we are saying is the benefit of having refining in the country is not that you will have cheap fuel. The benefit is that you would have saved the country hundreds of millions of dollars in transportation and logistics costs that we are spending on an annual basis of having to put refined PMS from the international refinery on the water to come to Nigerian shores where we would now offload and send to our distribution stations. You save that money.
He added that Nigeria spends 10 billion a year on foreign exchange paying out to refineries and partners to get the product exchanged from crude to refined PMS. He said all that money would be saved in the central bank as a result of having working local refineries.
He added:
There are benefits, big benefits, but one of them is not the issue of having cheap fuel.
Working refineries can affect petrol prices
Wale Ogundeji, an energy analyst, disagrees slightly with with Ngelale on the effect that working refineries will have on price of petrol.
He said:
The benefits are quite numerous. From earning foreign exchange to creating jobs and to generating revenue for the country, these possibilities are there. I however believe that once these benefits fall in place, it will positively impact market forces and thereby result in a price drop.
He however suggests that on the need to focus more on the visible benefits of having a refinery and less on the conviction that price will automatically come down.
"N1000 per litre?" Marketers speak on fuel price increase, ask Nigerians not to panic
In related news, Legit.ng earlier reported that the Nigerian Independent Petroleum Marketers Association (IPMAN) has indicated potential adjustments in the fuel pump price within the nation.
Chinedu Okoronkwo, the President of IPMAN, reassured Nigerians during an interview with Legit.ng, urging them to remain calm. Presently, the cost of one litre of gasoline varies between N580 and N640, contingent upon the geographical area.
Concerns have arisen that this price might surge to N1,000, driven by the nearing global crude oil prices to $90 per barrel.
Source: Legit.ng