Top 20 work from home jobs in Nigeria you can do online
The outbreak of the COVID-19 pandemic forced numerous Nigerians to start working from home as opposed to going to the office. The period taught the working class that work-from-home jobs are valid sources of income. They are flexible and allow people a better work-life balance.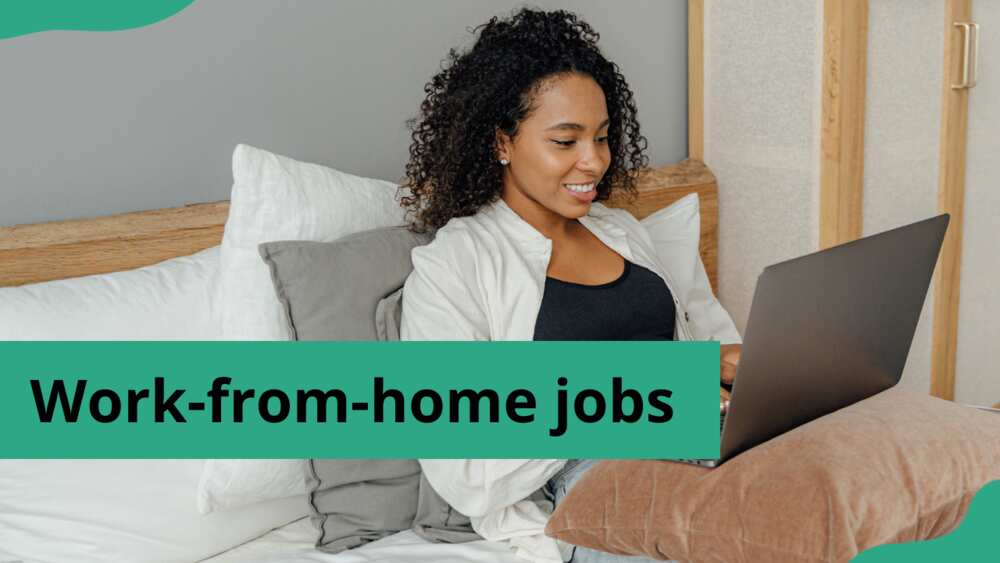 There is no shortage of work-from-home jobs in Nigeria. You can build an empire in the comfort of your home using the skills you possess. You can also learn new skills and convert them into money-making ventures.
Top work-from-home jobs in Nigeria
There are numerous online money-making opportunities to explore in contemporary Nigeria. Always choose what matches your passion, interests, and skills.
The primary requirements for pursuing work-from-home jobs in Nigeria are good computer skills, a computer/laptop, and a reliable internet connection. Below is a look at the top online opportunities you can explore.
1. Blogging
If you have been researching how to find legitimate work from home, you have probably come across blogging among the top options. Blogging is best for people who enjoy writing.
A blog is an informational website published on the web about any topic of interest. Bloggers make money through ads or endorsing products and services. Note that blogging requires patience as it does not start paying immediately.
2. Vlogging
Vlogging is mainly done on YouTube. The platform YouTube allows anybody to create a free channel and post content. You can become a vlogger by recording engaging content and uploading it.
Over time, you will gain subscribers and monetise your channel. YouTube pays depending on the number of views, your country, and subscribers.
3. Transcription
A transcriber listens to audio or video files provided by a client and types the words as said. To do this job, you need quality headphones, a computer, and fast typing skills. You must also have a keen ear.
4. Affiliate marketing
Affiliate marketing is one of the top jobs where you can work from home. It involves promoting a company's services and products for a commission. The venture is free to start as long as you have a steady internet connection and an online audience.
You can start this work by enrolling for affiliate marketing positions in online retailer companies. Once enrolled, you will receive a link that redirects your audience to the services or products you endorse.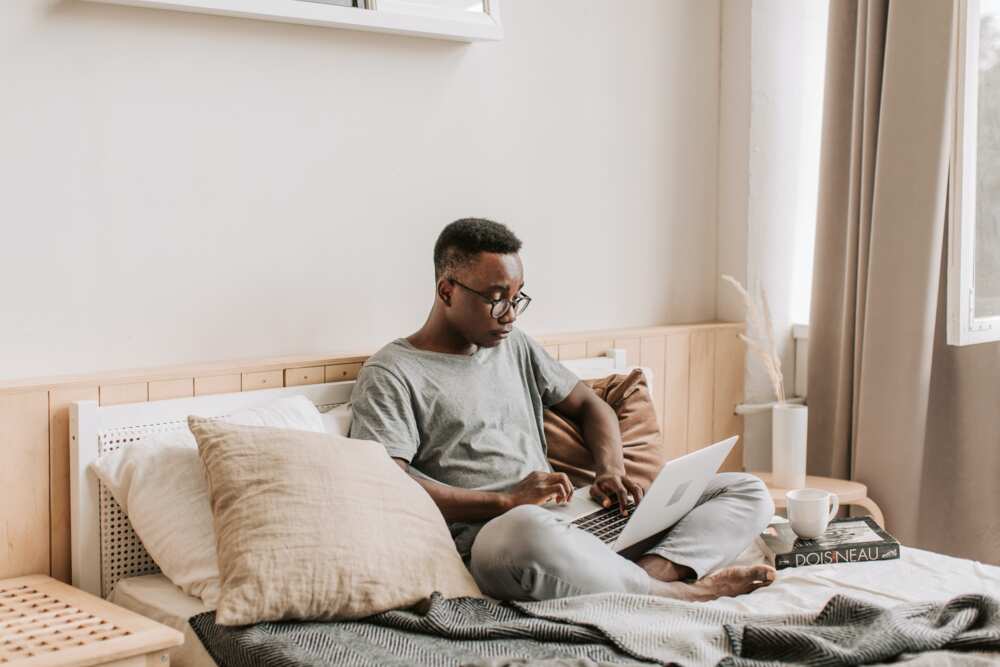 5. Freelance writing
Freelance writers look for clients needing remote or ghostwriters for their blogs, books, or other written content. You can work for multiple clients simultaneously. The amount you make as a freelance writer depends on the agreement you strike with your client(s).
6. Translation services
Translating means expressing words or text in another language without losing the original meaning. For you to offer translation services, you must be proficient in the particular language(s) needed by the client. You can offer translating or interpreting services and bag plenty of cash.
7. Graphic design
People with experience and expertise in design software, e.g., InDesign, Photoshop, and Illustrator, can attract huge profits with their skills. Virtual graphic designers pocket good income based on the level of experience and pay policy of their clients.
8. Animation services
If you enjoy creating animations, you can tap into this vibrant niche. You can work for media stations, website owners, and other businesses. Many clients are searching for freelance animators who can make appropriate animations for their establishments.
9. Customer service representative services
Most businesses require customer service representative services. This job is suitable for individuals with excellent communication skills.
Once you get this job, you will use a phone and/or computer to deal with clients on behalf of the company. You will deal with the business' complaints and seal deals with the clients.
10. Data entry
Data entry involves clerical tasks, e.g. electronic data processing, typing, word processing, transcribing, and coding. If you have been wondering where to find work-from-home jobs, there are many data entry jobs advertised on multiple online platforms every day.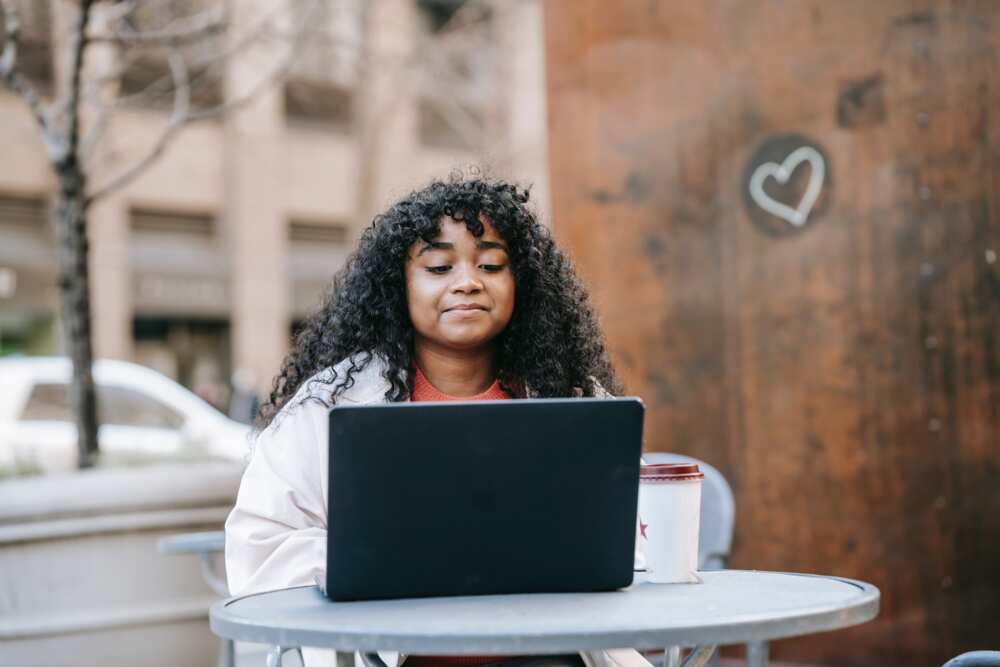 11. Online tutoring
Online tutoring is one of the top work-from-home jobs for students in Nigeria, especially those in universities. Offering tutoring services for children in primary or secondary schools is a good source of income.
These services are always in demand because some students need one-on-one attention. Besides, the job is flexible.
12. Social media management
Businesses and brands have gone digital. They now have social media accounts to interact with new, returning, and potential clients. As a result, many firms need people to manage their social media accounts. You can become a social media manager for top brands and earn handsomely.
13. Internet security services
The online space comes with many opportunities and challenges. If you are a computer wizard with a speciality in security patches, you can use your skills to help businesses and individuals secure sensitive information from hackers, scammers, and viruses at a fee.
14. Website flipping
Website flipping is the process of finding poorly developed websites, improving them, and selling them at a higher price. This is another paying opportunity that requires a tech-savvy person.
15. Resume writing
Every year, millions of people globally seek various job opportunities. They need well-done resumes. You can offer online resume writing services and make some good cash.
16. E-commerce website
E-commerce has grown in the last few years. You can start and run an e-commerce website in the comfort of your home. Beware that there are numerous competing sites in this niche, so you must not expect it to make millions within a couple of days. Be patient!
17. Online news correspondence
The media industry is constantly changing, and the demand for online news correspondents for podcasts, TV stations, and radio stations is increasing. As an online news correspondent, you will generate news content for distribution over the internet.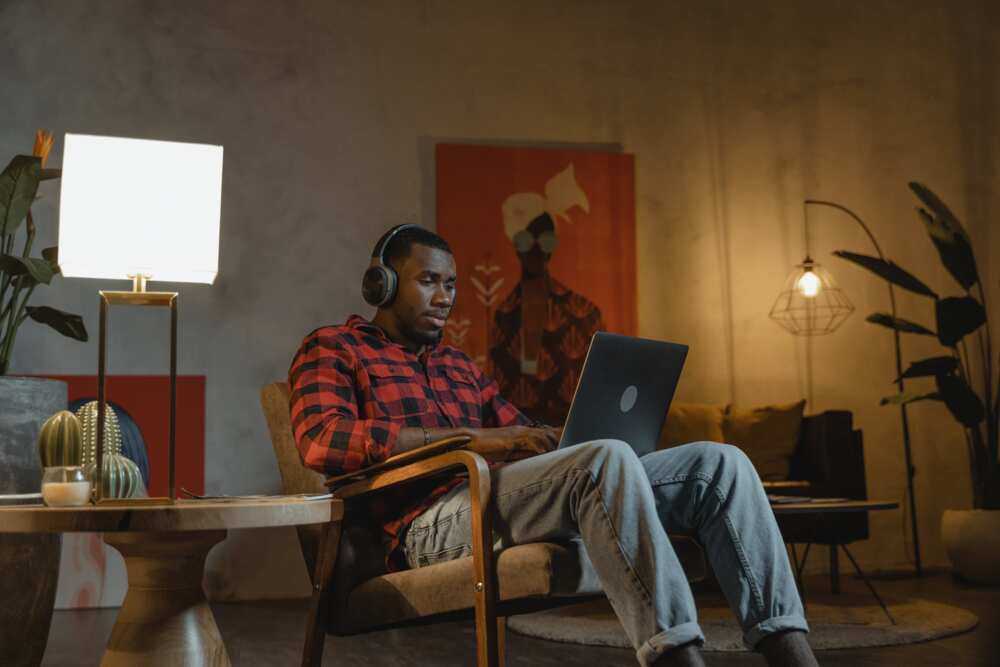 18. Email marketing
If you can craft catchy email subject lines that people cannot help but click, you can contact businesses and make money online by managing their email campaigns. Firms and brands require people who can attract more customers through their marketing campaigns.
19. Editing and proofreading
If you have top-notch editing and proofreading skills and are proficient in a particular language, you can offer editing and proofreading services at a fee. Clients will provide raw content, which you should clean up.
20. Product reviewing
Numerous companies need people to review and endorse their services or products. Product reviewing entails receiving a product or service from a brand. Next, you are required to share your honest opinion about it. You get paid for sharing honest opinions.
Can I work online from home in Nigeria?
Yes, you can. There are multiple online work-from-home jobs in Lagos or any other part of the country. You need a computer, computer skills, a stable internet connection, and the skills needed for the particular job.
What are some legitimate work-from-home jobs in Nigeria?
Some legitimate work-from-home jobs in Nigeria include vlogging, blogging, freelance writing, and website flipping. Check out more opportunities you can explore above.
What jobs can I work from home with no experience?
Data entry, transcription, and virtual assistance are some of the online jobs you can start with little or no experience. You can learn on the job and improve over time.
Many Nigerians have been searching for work-from-home jobs because they are flexible and well-paying. Beware that online employment is not a get-rich-fast scheme. You must also be keen as some opportunities are not legitimate.
DISCLAIMER: This article is intended for general informational purposes only and does not address individual circumstances. It is not a substitute for professional help or advice and should not be relied on to make any kind of decision. Any action taken upon the information presented in this article is strictly at your own risk and responsibility!
Legit.ng recently published an article on how to write a good CV for a fresh graduate. Many employers seek employees with fresh minds, skills, and motivation.
The first step to getting a job for fresh graduates is to write a good CV. If you are a recent graduate, a well-structured CV can help highlight your skills.
Source: Legit.ng