YDOS 2023: Legit.ng & LEAP Africa team up to promote youth media literacy for Youth Day of Service 2023
Legit has entered into a partnership with LEAP Africa through the Youth Day of Service 2023 platform, to promote youth media literacy in Nigeria and drive sustainable change
Legit.ng and LEAP Africa will be hosting Nigerian youths virtually to discuss their roles as digital citizens, observance of decorum online and how to become media literates
The partners are calling on well-meaning Nigerian youths to join the conversation by signing up for the webinar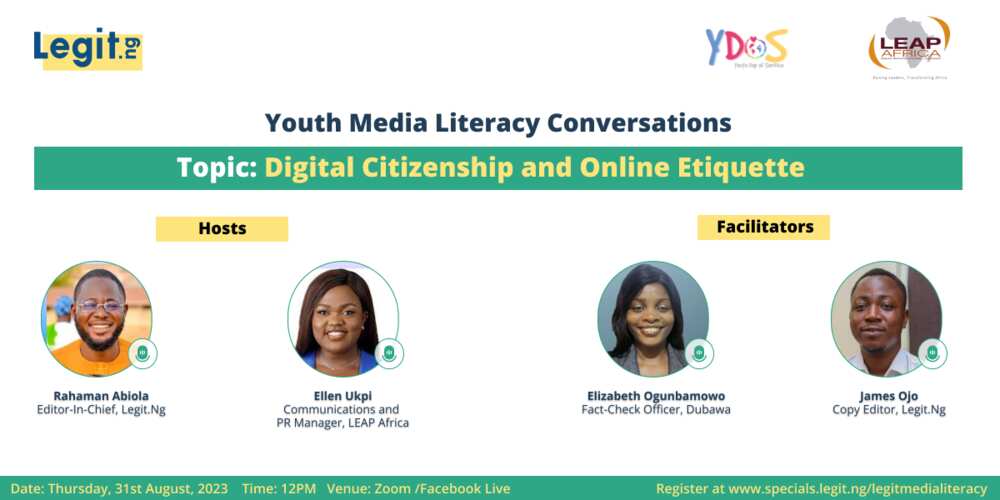 Legit.ng and LEAP Africa have announced a partnership to promote media literacy as a tool for social change to round off the Youth Day of Service (YDOS) agenda for 2023.
Today, young people are more connected than ever through social media platforms, online communities, and digital communication channels. This makes them the most viral spreading channel for news of any kind. That is why LEAP Africa reached out to Legit.ng as one of the most popular online news resources among younger generations in the country combating the spread of misinformation and disinformation.
The partners are inviting young Nigerians who are interested in changing the country by fighting false information, to join a webinar for the youths' preservation of truth. The webinar is scheduled to be held on Thursday, August 31, 2023 with a topic "Digital Citizenship and Online Etiquette".
It will take the model of a workshop facilitated by the leading digital media company's news copy editor, James Ojo, an award-winning investigative journalist. A special keynote speech would also be given by Dubawa's Fact-checking Officer, Elizabeth Ogunbamowo, one of Nigeria's finest journalists who works with Dubawa at the forefront of the battle against misinformation in Nigeria.
Speaking on the partnership and the impact of it, Legit.ng's Editor-in-Chief Rahaman Abiola said, "As a nation, it has become very important for us to understand the concept of digital citizenship, online etiquette and online interaction, and how this contributes to the spread of fake news. Given that young individuals are at the center of this situation, it becomes our shared duty to serve as the guiding light that steers them towards an era of enlightenment. Teaming up with LEAP Africa and their YDOS platform will elevate our efforts."
Echoing Rahaman's sentiments, the Communications and PR Manager at LEAP Africa, Ellen Ukpi expressed her excitement for the partnership with Legit.ng, and how thrilled the organisation is to be leveraging another innovative tool for change.
"We are very excited about the integration of Legit.ng's media literacy project into the Youth Day of Service 2023. Since the inception of this programme, we have sought different ways to drive change for sustainable growth, through our youths. We are set to make a more sustainable impact with media literacy as a tool of change and national development. To our youths, we implore you to register for this webinar and join us on August 31, 2023. Together, we can promote national peace and unity through real news."
Legit.ng and LEAP Africa's YDOS Media Literacy partnership which was forged in line with Legit.ng's ambitious media sustainability strategy of ensuring that one-third of the Nigerian youth population becomes media literate by 2025, aligns with target 4.7 of the Sustainable Development Goal 4 which aims to ensure the promotion of a culture of peace and non-violence, and appreciation of cultural diversity and of culture's contribution to sustainable development.
Interested youths can now register HERE.
As a fully-fledged digital media company, Legit.ng continues to maximise the full potential of technology and the positive elements of the digital world, in impacting the lives of people through its large audience and readership base.
About Legit.ng Media Literacy Project
Legit.ng, Nigeria's leading digital media and news platform and no.1 Facebook publisher in the world kicked off a media literacy campaign dedicated to helping Nigerians easily distinguish between fake and true news, in September 2022, in collaboration with top Nigerian celebrities like Aproko Doctor, Tochi Okechukwu, Tega Dominic, Edache Obe, Giddyfia, among others. As a major launch medium, Legit.ng also unveiled a special microsite that was dedicated to teaching visitors on how to fact-check rumours, advocate transparency in reporting, and demand responsible news journalism from the media.
Since inception, the project has gone on to get recognised in Africa and on a global stage for its contribution in preserving trust in journalism.
About YDOS 2023
LEAP Africa's brainchild, YDoS is a one-month, annual Pan-African, youth-led social impact campaign which coincides with the celebration of the UN International Youth Day in August. It is a platform to harness African youths' energy, creativity, and innovation by encouraging them to volunteer their time, skills, and resources to deliver a sustainable future for Africa.
Since the programme's inception in 2020, the Youth Day of Service has recorded participation in 24 African countries and engaged over 6000 volunteers on about 400 regional SDG Action projects. This year, the Youth Day of Service aims to connect 7,000 volunteers across Africa to local SDG action projects.
Source: Legit.ng