Lovely grandma quotes, sayings and memes to send to your nana
A grandmother is a special and close friend. She is a wonderful combination of warmth, kindness, laughter, and love. Here is a collection of grandma quotes and sayings that you can send to your lovely nana.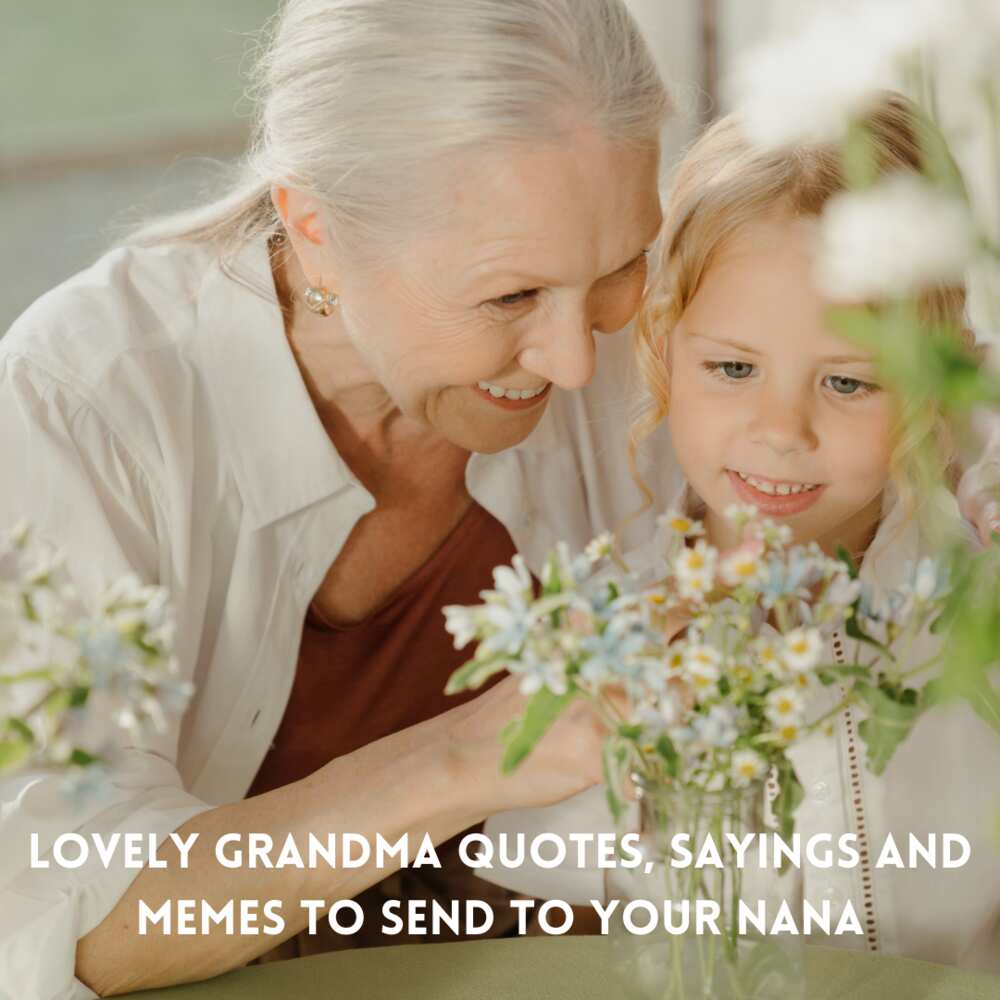 So, how can I express my love to my grandmother? Express your love to your nana by sending her some of these great quotes about grandparents.
Great grandma quotes
A grandmother will always have a cherished place in our memories and our hearts. Below are some lovely quotes about grandmas: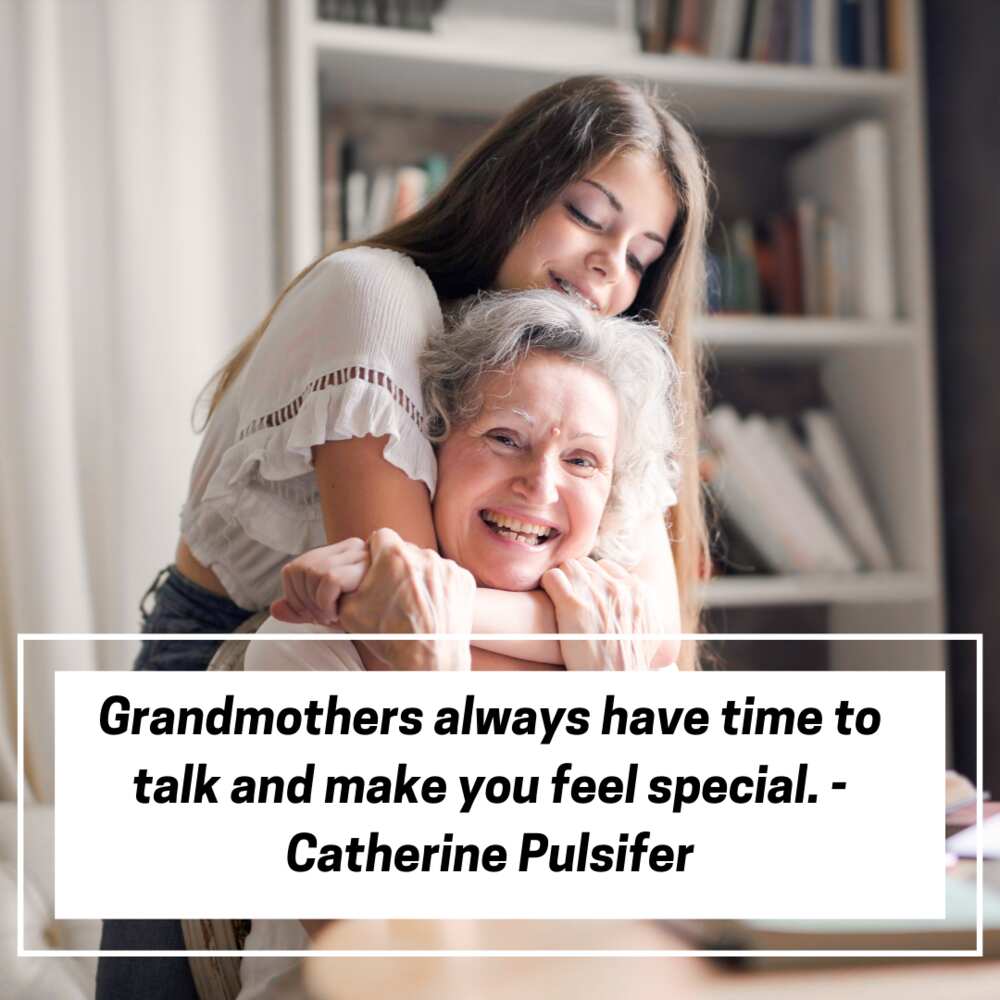 Grandmothers always have time to talk and make you feel special. - Catherine Pulsifer
Every house needs a grandmother in it. - Louisa May Alcott
Grandmothers and grandchildren have a lot in common. They are inclined to straggle behind on walks. They doze off at unexpected moments. They like fancy cakes. They are very fond of cats and know how to talk to them. They are given to falling over. They get the giggles. - Pam Brown
My mother and grandmother raised me. Queens raised me. - Lamar Odom
We should all have one person who knows how to bless us despite the evidence. Grandmother was that person to me. - Phyllis Theroux
A grandma is warm hugs and sweet memories. She remembers all of your accomplishments and forgets all of your mistakes. - Barbara Cage
Grandma always made you feel she had been waiting to see just you all day and now the day was complete. - Marcy Demaree
Heart-warming nana quotes
A grandmother overlooks our faults, encourages our dreams, and praises our every success. There are many ways you can show appreciation to your grandmother, and below are some beautiful grandma quotes.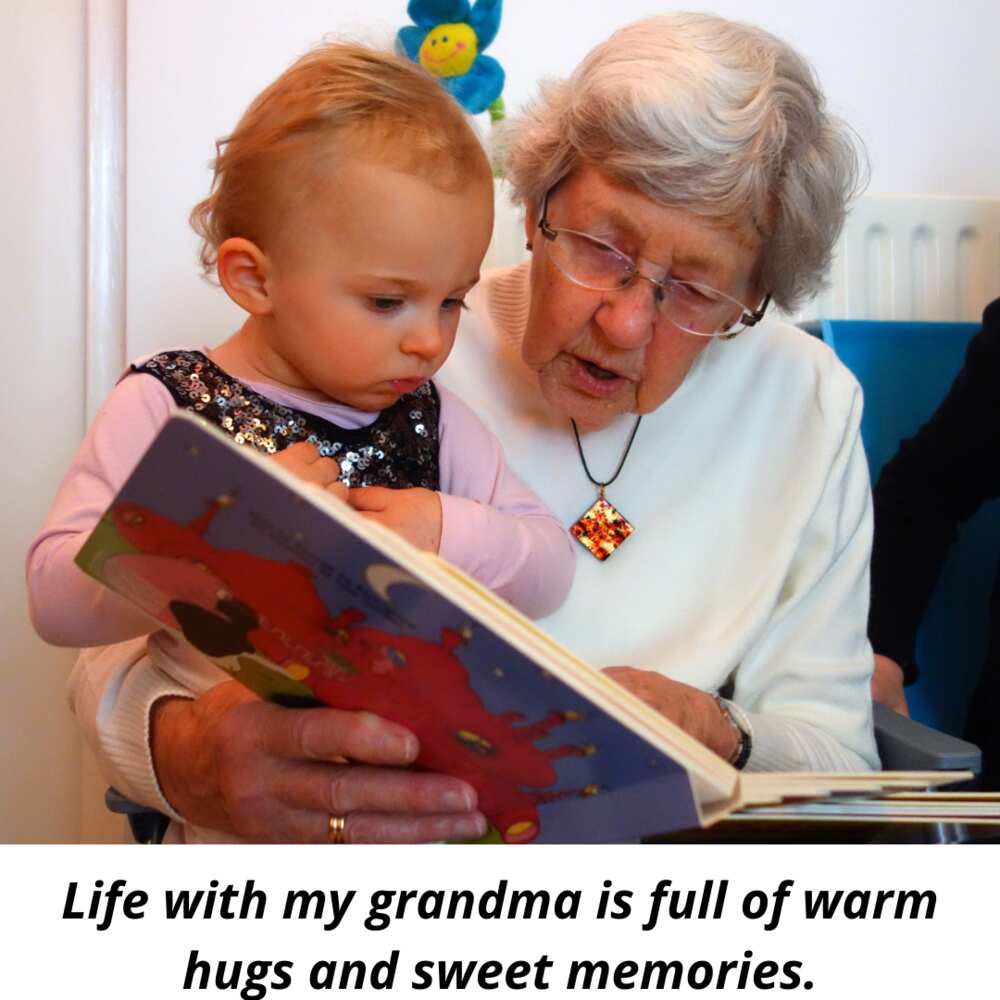 Life with my grandma is full of warm hugs and sweet memories.
My grandchildren may not have everything they want in this world, but they have a grandma that loves them more than anything in this world.
Grandmothers are the full package to granddaughters and the best too.
I love my grandma with all my heart. Nothing could ever change that.
A grandmother's love never dies; even after they pass, it remains in our hearts.
Nobody can replace the love of a grandma. She has this magical ability to make everything feel better.
Beautiful grandmother quotes from grandkids
Appreciating your grandma is one way of expressing love and showing how much you love her. Below are beautiful quotes for your grandmother.
I love that I can tell grandma anything and know that she will always have ears that truly listen and arms that always hold.
You are the pillars of our life; you showed us love and care, thank you, grandma, and you are the best.
Grandma, you have loved me since I was born, but I have loved you my entire life.
My grandma is the strongest, kindest, and most loving person I know.
My grandmother is the most remarkable woman I know. She is a perfect combination of warmth, compassion, and love.
Having a bond with your grandma is something money can't buy.
You are the sunshine of our hearts, and I will always cherish you forever. I love you, grandma.
Beautiful grandma sayings
Here are some beautiful grandma sayings.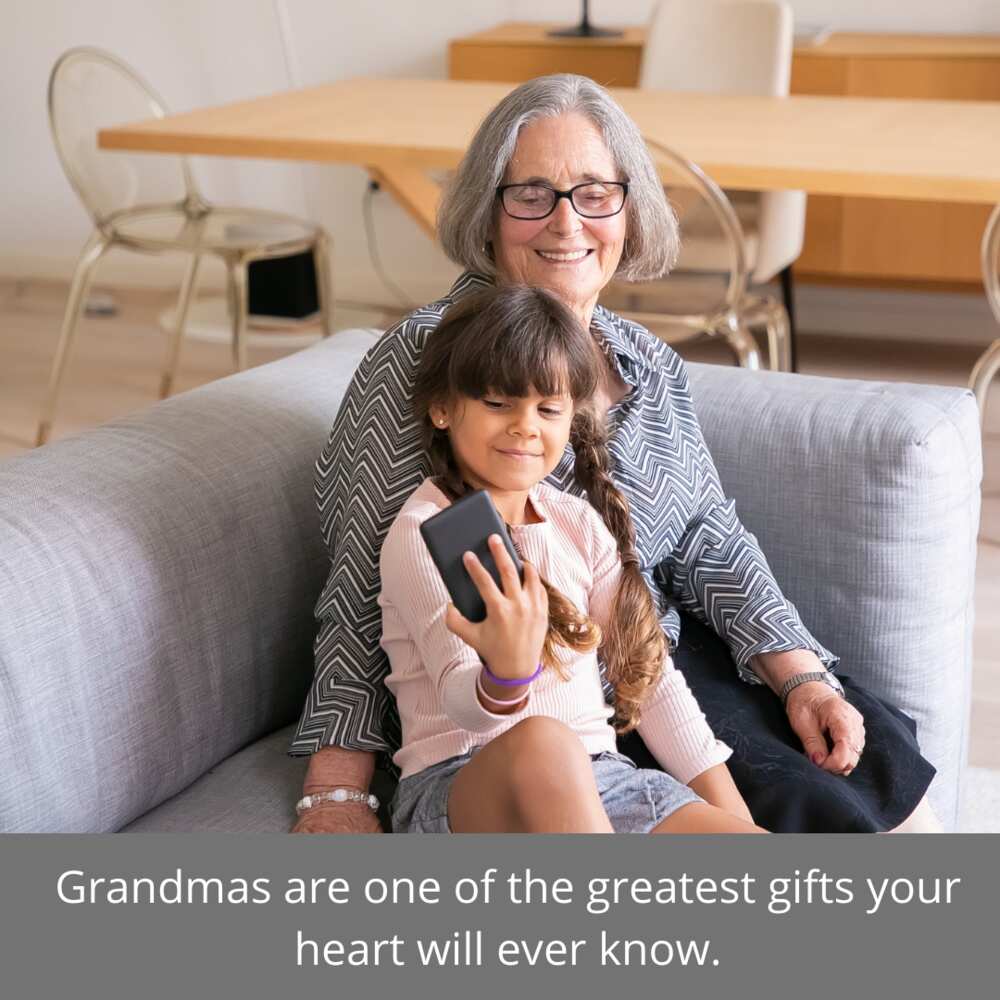 Grandmas are one of the greatest gifts your heart will ever know.
There is no place like home except grandma's house.
You are the sun, grandma; you are the sun in my life.
I was so lucky that I grew under the care of my grandma; she is a reservoir of knowledge and wisdom, her love sunk into the depth of my heart, I love you, grandma.
Behind every young child who believes in themselves is a grandma who believed first.
A grandma is a little bit parent, a little bit teacher, and a little bit best friend.
Grandmothers are wonderful ladies who always seem to place others in front of themselves.
A grandmother thinks of her grandchildren day and night, even when they are not with her. She will always love them more than anyone would understand.
Grandmothers never forget memorable life experiences and welcome you with warm hugs.
A garden of love grows in a grandmother's heart.
There aren't too many things that are more comforting on this earth than a hug from grandma.
It is as grandmothers that our mothers come into the fullness of their grace.
Grandmothers hold their grandchildren in a special place in their hearts.
A grandmother always has time for you, even if the rest of the world is busy.
Grandparents quotes and sayings
Grandparents are very valuable; they have so many stories and experiences from their own lives to share. Below are some adorable grandparent quotes you can send to your grandparents to appreciate them.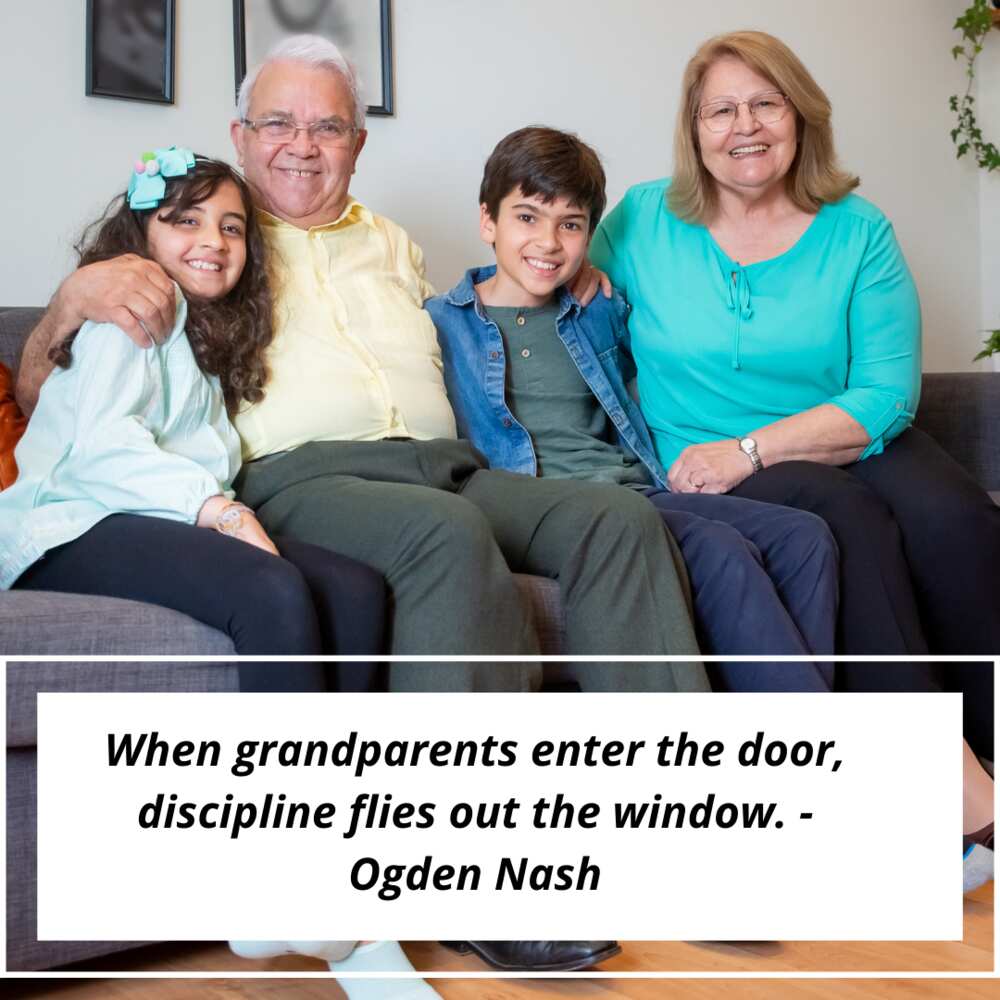 When grandparents enter the door, discipline flies out the window. - Ogden Nash
Nobody can do for little children what grandparents do. Grandparents sort of sprinkle stardust over the lives of little children. - Alex Haley
Grandparents are like stars; you don't always see them, but you know they're always there.
The reason grandchildren and grandparents get along so well is that they have a common enemy. - Sam Levenson
A grandparent's love is strong & deep, filled with memories to cherish & keep.
Being grandparents sufficiently removes us from the responsibilities so that we can be friends. - Allan Frome
No cowboy was ever faster on the draw than a grandparent pulling a baby picture out of a wallet.
Grandparents, like heroes, are as necessary to a child's growth as vitamins.
Surely, two of the most satisfying experiences in life must be those of being a grandchild and or a grandparent. - Donalid A Norber
A child needs a grandparent, anybody's grandparent, to grow a little more securely into an unfamiliar world.
A grandparent's love is full of devotion & loads of affection!
There is nothing more wonderful than the love and guidance a grandparent can give his or her grandchild. - Edward Fays
Some of the world's best educators are grandparents.
Funny grandma quotes
Have a look at these funny quotes about grandmothers.
You do not really understand something unless you can explain it to your grandmother. - Albert Einstein
Becoming a grandmother is wonderful. One moment you're just a mother. The next you are all-wise and prehistoric. - Pam Brown
A grandmother pretends she doesn't know who you are on Halloween. - Erma Bombeck
My grandmother is over eighty and still doesn't need glasses. Drinks right out of the bottle. - Henny Youngman
I wish I had the energy that my grandchildren have - if only for self-defense. - Gene Perret
A mother becomes a true grandmother the day she stops noticing the terrible things her children do because she is so enchanted with the wonderful things her grandchildren do. - Lois Wyse
Funny grandma memes
Below are some funny grandmother memes that will make you laugh.
1. Oh no, not again!
Grandma won't rest until you show her how to use her new phone.
2. The genius technician
When you help grandma fix any electronic device, you are always regarded as the genius technician in the family.
3. Don't tell anyone I gave you money
Getting money from grandma never gets old .
Grandma will always be our best friends. Which of these grandma quotes touched your heart? Let us know in the comment section below.
READ ALSO: Great mom quotes from the heart about every kind of mother
Legit.ng recently published an article on great mom quotes that you can send to your mom on her birthday, wedding anniversary, or mother's day to remind her how much you care about her.
Motherhood is, without a doubt, one of the hardest yet most fascinating things there ever is. There are numerous ways you can use words to tell your mom how important she is to you. Most mom quotes are affectionate, funny, and lively.
Source: Legit.ng