50+ best Iron Man/Tony Stark quotes that are absolutely iconic
Tony Stark, popularly known as Marvel Cinematic Universe's genius, was a famous playboy and philanthropist. The fictional character has been featured in numerous films, TV series, games and comic books, mostly portraying powerful, wittiest and humorous characters. He astounded everyone across the globe with his great sense of humour and impeccable sayings and quotations. Check out these funny and inspirational Tony Stark's quotes that are memorable.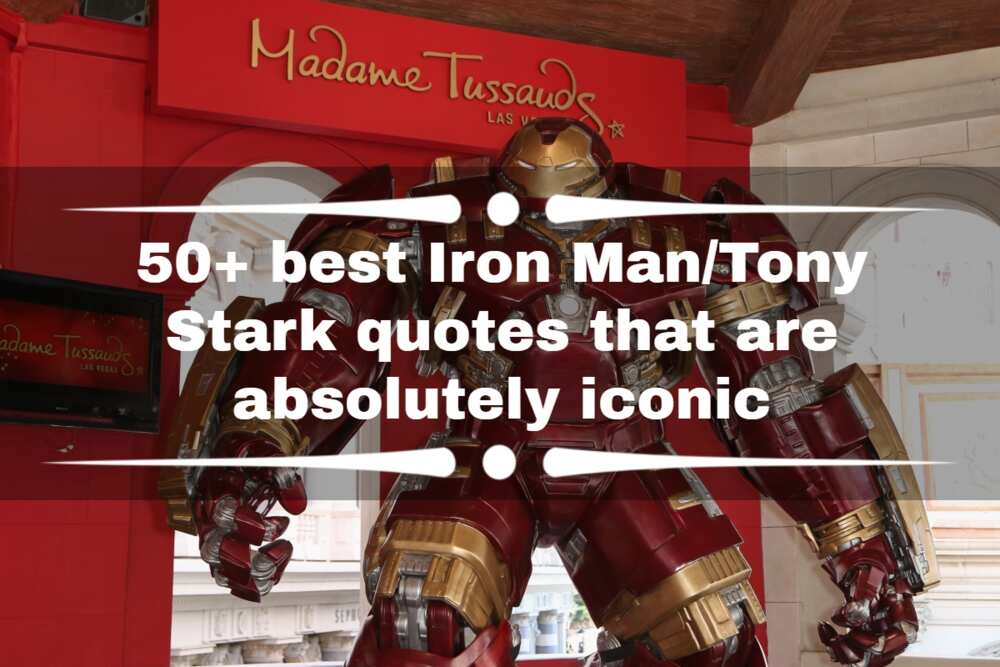 Tony Stark, also known as Iron Man, was a witty character whose words made sense even when they were meant to mock or appear as sarcasm. He played a vital role as a hero in the Avengers and as the key leader of the superteam. Get inspired by reading and sharing Tony Stark's quotes with your friends and loved ones.
Best Tony Stark's quotes
You might recognize Tony from notable films such as Avengers: Infinity, The Incredible Hulk, and Avengers: Endgame. In addition to impressing many people with undeniable talent, he also excited fans with memorable and funny quotes. Check out some of the best Iron Man's quotes that are memorable.
You walked right into this one: I've dated hotter chicks than you.
I don't like it when you have plans.
I am Iron Man. The suit and I are one.
I love you 3000.
Big man in his suit of armour. Take that off, and what are you? Genius, billionaire, playboy, philanthropist.
What? Blow something up? I already did that.
If there's one thing I've proven, it's that you can count on me to pleasure myself.
I don't want to see this not on your myspace page. Please, no gang signs.
Drop your socks and grab your crocs. We're about to get wet on this ride.
A hero? Like you? You're a lab rat, Rogers. Everything special about you came out of a bottle!
I'm not afraid to hit an old man.
I told you. I don't want to join your super-secret boy band.
Oh God, are you gonna steal my kidney and sell it?
You're talking about a man whose happiest day of his life was shipping me off to boarding school.
Famous Iron Man quotes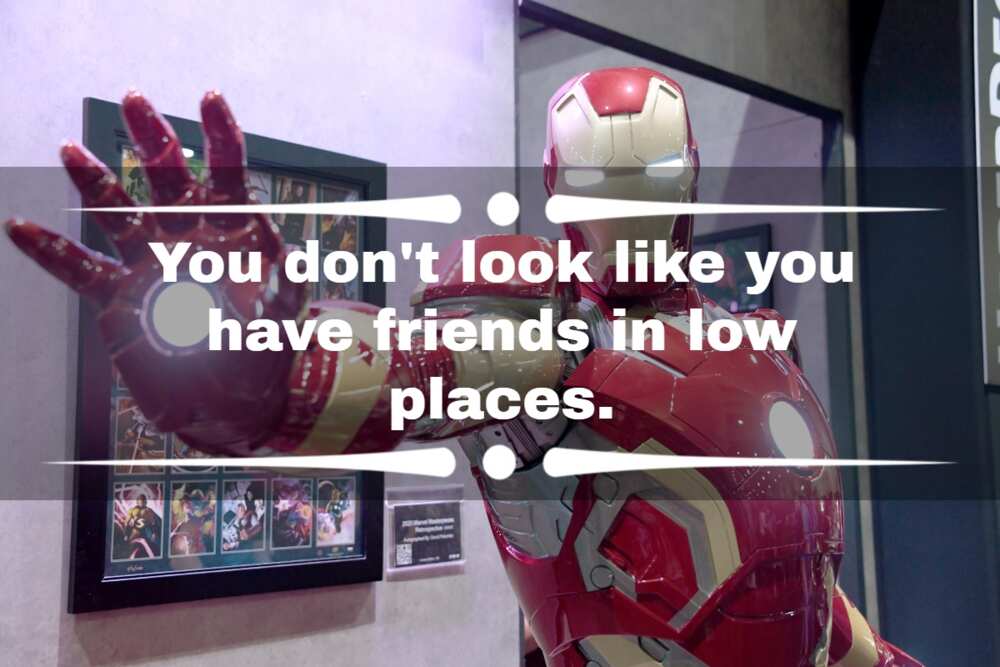 The famous actor came up with several quotes, some of which are more popular among Marvel Comics fans. Here are some of Tony Stark's famous quotes that will make you feel inspired.
I'm sorry, Earth is closed today.
If we can't protect the Earth, you can be d*mn well sure we'll avenge it.
I mean, we won't know because we dropped a building on him while we were kicking a*s.
Part of the journey is the end.
They say the best weapon is the one you never have to fire. I respectfully disagree. I prefer the weapon you only have to fire once.
If you douse me again, and I'm not on fire, I'm donating you to a city college.
We're the Avengers, not the Prevengers, right?
That man is playing Galaga, he thought we wouldn't notice it, but we did.
You don't look like you have friends in low places.
Sometimes I want to punch you in your perfect teeth.
Dude, you're embarrassing me in front of the wizards.
Doth mother know you weareth her drapes?
That's how dad did it. That's how America does it. And it's worked out pretty well so far.
It's an imperfect world, but it's the only one we got. I guarantee you the day weapons are no longer needed to keep the peace; I'll start making bricks and beams for baby hospitals.
Funny Tony Stark's quotes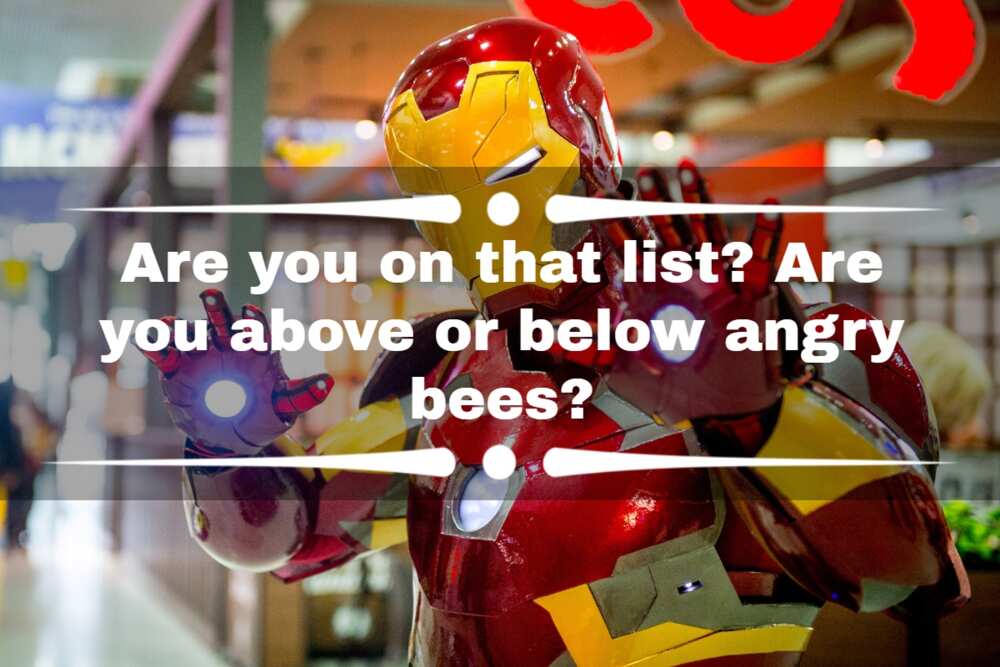 Are you searching for funny quotes from Tony Stark? Choose one from this list of hilarious Iron Man quotes.
I loved you in "A Christmas Story".
Mr Stark displays textbook narcissism agreed.
Give me a scotch. I'm starving.
Iron Man. That's kind of catchy. It's got a nice ring to it. I mean, it's not technically accurate. The suit's a gold titanium alloy, but it's provocative, the imagery, anyway.
So you're this spider-ling? Crime-fighting spider? Spider-Boy?
Better clench up, Legolas.
Are you on that list? Are you above or below angry bees?
I'm a huge fan of how you lose control and turn into an enormous green rage monster.
The man has no regard for lawn maintenance.
Don't say wind farm. I'm already feeling gassy.
Actually he's the boss. I just pay for everything and design everything, make everyone look cooler.
Your eyes are red. Tears for your long-lost boss?
You really have got a lid on it, haven't you? What's your secret? Mellow jazz? Bongo drums? A huge bag of we*d?
Hey, you said one out of fourteen million, we'd win, yeah? Tell me this is it.
Tony Stark's inspirational quotes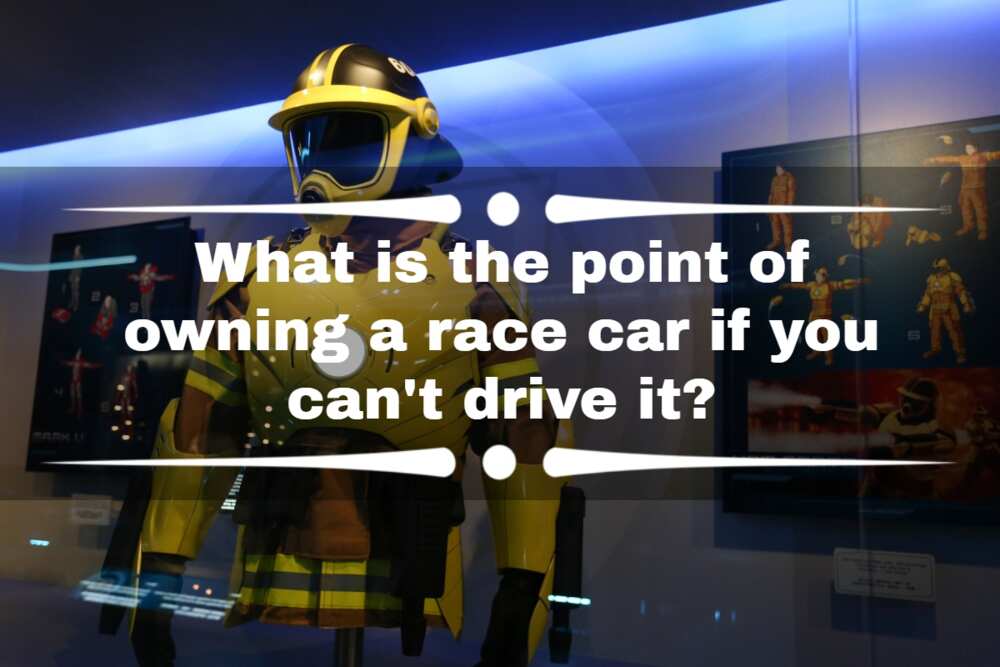 There are times when you feel so low, and you don't have the energy to keep grinding. Maybe it is because you are going through some challenges and feel like you need something to motivate you. Check out the following quotes from Stark to get inspired.
Sometimes you gotta run before you can walk.
No amount of money ever bought a second of time.
I came to realize that I had more to offer this world than just making things that blow up.
There's one thing you can never take away from me: I am Iron Man.
What is the point of owning a race car if you can't drive it?
If we can't accept limitations, then we're no better than the bad guys.
If you're nothing without this suit, then you shouldn't have it.
It's not about how much we've lost; it's about how much we have left.
Everyone wants a happy ending, right? But it doesn't always roll that way.
Let's face it this is not the worse thing you've caught me doing.
Don't do anything I would do, and definitely don't do anything I wouldn't do.
United? Unity isn't about being the same. It's about working together. What you can't calculate, Ultron is that our differences are our greatest strength.
I shouldn't be alive unless it were for a reason. I'm not crazy, Pepper. I just finally know what I have to do. And I know in my heart that it's right.
It is undeniable that most people miss the witty and tremendous acting skills of Tony Stark. Although he passed on at the end of Avengers: Endgame, his best lines are among the most memorable moments by his fans. Tony Stark's quotes are highly treasured since they make people feel he remains a hero.
READ ALSO: 80+ romantic crush quotes to help you express your secret love
Legit.ng recently published an article about romantic crush quotes. Knowing the right words to say to your crush is important because it can give you a chance to have a relationship with that individual. You can use crush quotes to make them think about you day and night.
A crush is that one person who makes your heart skip, butterflies fill your tummy and make your mouth dry. When a person has a crush, they have romantic feelings, but it takes a lot of courage to tell someone you have romantic feelings for them. Make use of crush quotes to make win them over.
Source: Legit.ng