33 unique Spirit Week ideas for work to help in teambuilding
Few things destroy staff morale faster than spending eight hours at their desk every day. That is why most companies plan Spirit Week so that their staff can have fun. Out-of-the-box Spirit Week ideas can be great for team building and creating a comfortable work environment.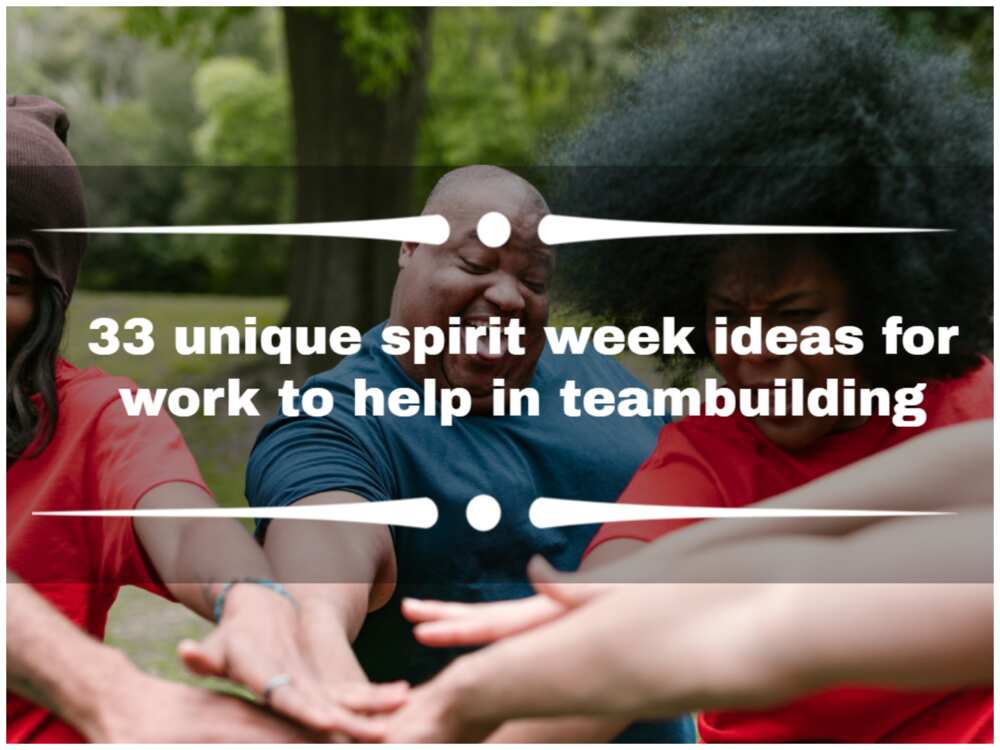 For many people, work is just a means to an end. However, a good workplace culture can help their perception of work, and it's up to the management to create a positive culture.
What is Spirit Week?
Spirit Week is the week a company sets aside for employee engagement activities geared towards staff appreciation, bonding and team building. Some companies also use Spirit Week to reflect on the past year, set goals for the coming year and share planning tips to get the most out of the year.
Spirit Week ideas for work
To get the most out of Spirit Week, the activities have to be fun, inclusive of all staff and encourage group participation. Here are some entertaining spirit day themes.
Costumes
The company can set aside a day during Spirit Week for the staff to wear different costumes to work. This is not only fun but also gives the employees a chance to showcase their creativity side. Smaller spirit day ideas can also be drawn from it, such as those below.
Superhero day: Give your employees a chance to channel their favourite superhero. It could be a fun way to boost staff morale.
Cartoon characters day: Cartoons were a Saturday morning staple for a lot of people's childhoods. Dressing up as their favourite cartoon characters for a day would be a good and nostalgic dress-up theme.
Retro day: Organise a 60s, 70s or 80s-themed day. Staff outfits and music for the day can be inspired by the chosen decade.
Famous groups: Employees can team up and dress up as famous trios or duos from popular culture. Scooby-Doo and Shaggy, and ketchup and mustard are some spirit day ideas for work.
Company colours day: Foster company pride and loyalty by letting employees dress up in company colours for a day. It is a way to inject some colour into the workplace.
Meme day: For this activity, members of staff show up to work dressed as well-known internet memes. It will be a fun way to gauge people's meme knowledge.
Twin day: On twin day, two employees show up at work dressed the same. You'll require them to pair up and work well together.
Throwback: Employees dress as they did on their first day at the company. It's a great opportunity for nostalgia and for them to see how far they've come.
Game ideas for Spirit Week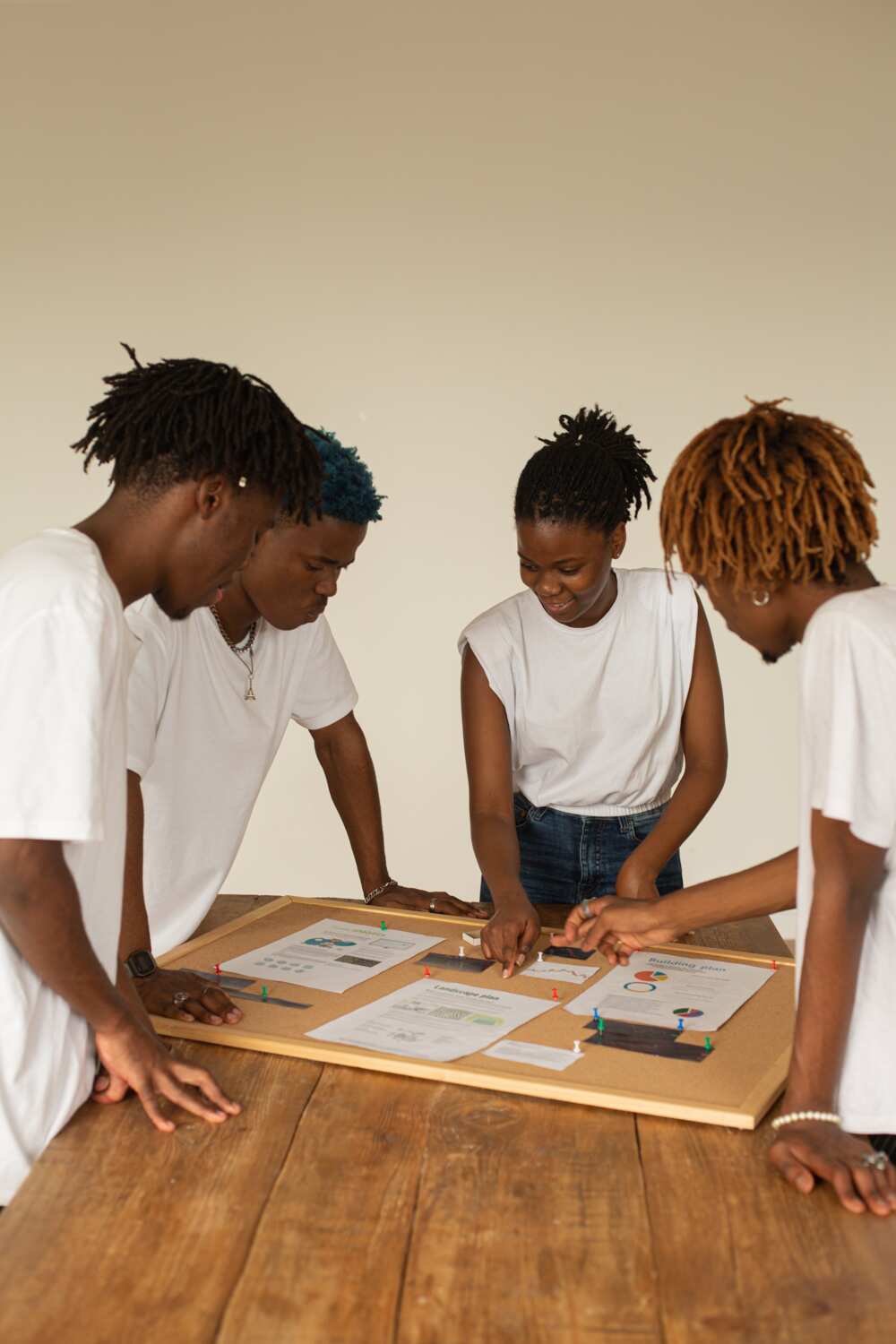 The management can set aside one day of Spirit Week for games. Watching the management play charades would lighten the mood around the office. It is also a great bonding activity for those in online jobs, who come to the office once in a while. These games are great spirit day ideas for work.
Murder mystery: "kill off" somebody and make the rest of the staff solves the "murder." This is an entertaining way to put their problem-solving skills to the test.
Scavenger hunt: Plant clues all over the office and have the staff hunt for them. Attach a prize at the end to encourage healthy competition.
Escape room: Lock people together in an escape room and let them find clues to escape. However, ensure the conditions are safe.
Service week
A company can designate one week for giving back to society. This is also known as Corporate Social Responsibility, a noble time to give back to the society of which the company is a part.
Volunteering: A company can plan for its staff to volunteer at homeless shelters, animal orphanages or hospitals. This noble team-building activity provides the company with a chance to give back to the community.
Tree planting: This activity is fun and grounding. It is also environmentally responsible and will benefit the community long-term.
Work Spirit Week ideas to enhance camaraderie
It is important to build a spirit of camaraderie between employees. These activities can help them get to know each other better and boost teamwork.
Family day: Host a family fun day where the members of staff bring their kids and partners to work. Staff members can form lasting family friendships this way.
Happy hour: Wrap up a long project by letting staff enjoy some drinks together. They would relax and unwind and boost their mood for future projects.
Company meal: The company may offer to take the employees out for lunch or dinner. This would help break the monotony of eating at their desks or in the breakroom.
Secret Santa: Celebrate Christmas as a work family. Get the employees to secretly exchange gifts, encouraging them to know each other better to choose the best gifts.
Cultural cuisine day: Different employees bring food from their cultures. It encourages people to bond and learn about each other's cultures.
Movie night: Let the employees vote on a good film to watch together. You may then light up the projector and invite staff members to the boardroom for this unique activity.
Role swap: Encourage staff members in different roles and departments to swap roles. They get to walk a day in each other's shoes to enhance understanding and interdepartmental collaboration.
Compliment circle: Liven the mood around the office and make the staff feel appreciated by asking them to spend the day saying something nice about each other. Encourage them especially to compliment somebody they would not usually compliment.
Other engaging Spirit Week ideas for work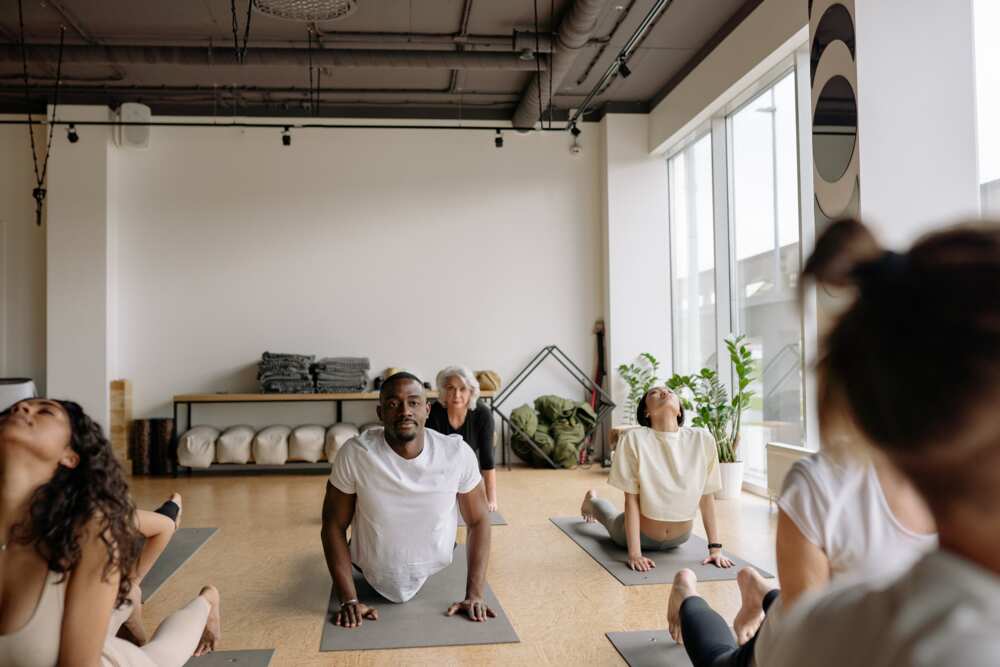 If none of the above works for your company, there are still many options. These spirit day themes can be good for staff health, productivity and enjoyment at work.
Sports week: The company may organise a tournament in any sport and offer prizes for the winners. Have the employees form teams to play and improve their fitness.
Wellness day: A wellness day could involve bringing on board a health and wellness expert to help guide the staff through a day of meditation and yoga. The company may set up healthy food or smoothie stations for the staff to access during the seminar.
Talent show: Set up a stage and give the employees a chance to show off their creative sides. Identify your company's musicians, actors and fashion icons while breaking the monotony of the work week.
Fun video shoot challenge: The employees get to show off their acting, voice acting or dancing chops in a fun video shoot at work. The video might be serious, like a workplace tutorial, or fun like a viral TikTok challenge.
Field day: Fire up the company bus and take the staff out on a field trip. It could be to the beach, a museum or benchmarking another company, which may result in interesting business ideas to improve your own company.
Arts and crafts day: Paint and sip events have become rather popular lately, as they are fun, healing and relaxing. You could co-opt this into the workplace to encourage creativity and imagination. Provide arts and crafts supplies and have the staff form teams to draw, paint and colour.
Wacky Christmas party: Be unique by throwing a Christmas party in the middle of the year. Incorporate everything that usually goes with it in December: Santa Claus, ugly Christmas sweaters and Christmas decorations.
Paintball tournament: Let your staff run around shooting each other with paintball guns. It is fun and may be a good way to channel arguments healthily.
Bring your pet to work day: Allow your employees to spend the day with their furry friends. This may also boost the mood all day with all the cute animals around.
Quiz/Trivia: test your employees' general knowledge with a trivia day. Prizes will encourage participation and teamwork.
Patriotism week: Everybody at the office dresses as key figures in the country's history. They also get to do and learn about important activities and events that have played a part in the making of the country.
Walk-to-work week: Instead of regular carpooling, encourage employees to walk to work together. You'd have to consider the distance from their homes to the office for this to work.
Coming up with interesting and unique Spirit Week ideas for the workplace is a great way to encourage teamwork and boost employee morale. The above activities and themes can be a lot of fun and provide a proper learning opportunity for the staff.
READ ALSO: Funny church program themes to keep your congregation entertained
Legit.ng recently published a list of funny church program themes. Church attendance, especially by the younger generation, has unfortunately been dwindling. This has forced the clergy to come up with creative themes to keep the congregation interested and entertained, and therefore present.
The church is a place for community, and the more people attend the service the stronger their bonds grow. These themes can keep the congregation coming back weekly to build a strong community.
Source: Legit.ng