Valentine's Day: 14 Gift Items Inspired By Jackie Appiah That Men Can Buy For Their Special Lady
2023 Valentine's Day is fast approaching and YEN.com.gh's fashion editor, Portia Arthur has shared the list of items that every stylish woman would love to receive on February 14
This list was inspired by Ghanaian actress and style icon Jackie Appiah who continues to impress fashion lovers with her looks
This is the perfect opportunity to show your significant other how much you care about them with these thoughtful items
2023 Valentine's Day falls on a Thursday; a working day and the perfect opportunity to make your woman fall madly in love with you once she opens her present.
Legit.ng's fashion desk has put together thoughtful and fashionable Valentine's Day presents that every woman would love and really use.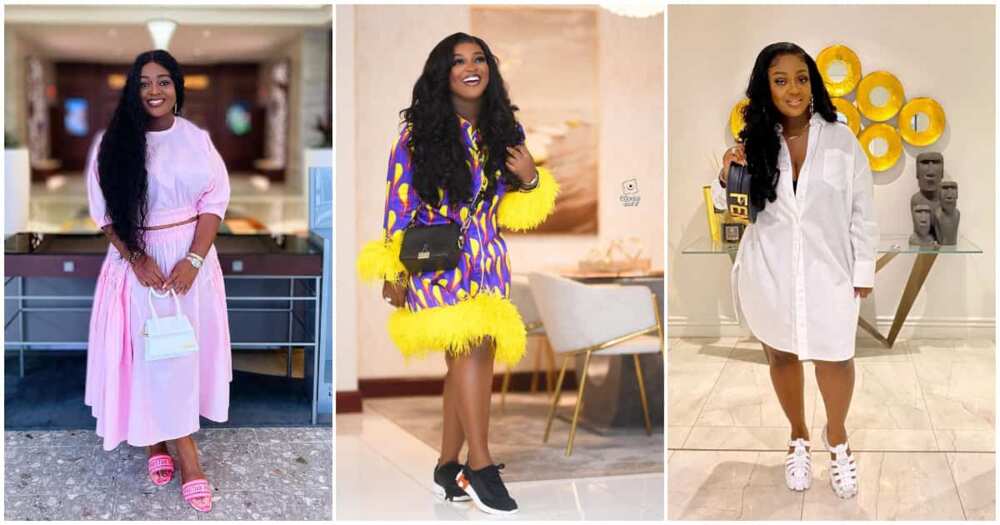 Check them out below:
1. A Balenciaga bag
A few of the A-lister Ghanaian celebrities own this sleek and portable designer bag.
This expensive bag will make her stand out at every event from weddings to parties and some corporate events.
2. Designer sneakers
High heels are a great turn-on for some men but sometimes dressing in trendy sneakers is very classy and unpredictable.
She can style her peplum African print top paired with tight jeans with sneakers and steals glances at work.
3. Frontal wigs
Let's be real frontal wigs are quite expensive but you can't put a price tag on quality products.
Once she follows all the precautionary rules, the hair will last forever and she can rock it all events.
4. Handmade fascinators or turbans
Turbans and Fascinators add classy and beauty to every look without away attention from the details of the dress.
It can be worn to brunch and weddings to make a bold statement.
5. Designer swimwear
Vacations are important to rejuvenate and brainstorm to boost productivity at work.
It would be a bad item to go for swimming sessions once a month to destress in your sassy swimwear and matching flip-flops.
6. A colorful two-piece outfits
Sometimes, you need to dress down stylishly without showing cleavage or thighs. Two-piece tops and trousers have become a wardrobe staple for casual dates and travel wardrobe.
You can even incorporate them in your work outfits when you pair them with high heels. Jackie Appiah has different designs that you can choose from.
7. A short white dress
White dresses are wardrobe essentials for all events not only for thanksgiving, naming ceremonies, or church.
All you need is trendy shoes and a classy bag for your date night.
8. Trendy glasses
Sunglasses is one of the popular fashion accessories that you would find in the bags of most female celebrities and, style icon Jackie Appiah has the best collection for style inspiration.
9. Pumps or high heeled sandals/mules
Wearing the right and elegant shoes boost your self-confidence and elevate your looks.
Depending on their individual preference, it is advisable to choose three-inch high heels that can be throughout the day without her feet.
10. A cotton pajama
Quality pajamas can be worn throughout the year even on Christmas days. Valentine's Day is the perfect occasion for your partner with a new set.
11. A ripped black jeans
Quality and stylish black jeans can be repeated countless times to make a bold statement. Most female celebrities have been spotted styling their looks with the same jeans at different events.
12. Travelling bags
As they always say; travel and see what is happening around you. If you have any plans of surprising her with a week vacation or weekend getaway, then you need to get her designer baggage for Instagram photos.
13. A maxi-dress
Locally made tie & dye fabric can be customized and sewn beautifully in any style from corseted dresses to two-piece outfits.
14. A classy clutch bag
Clutch bags are purposely for making a bold and elegant statement at a red-carpet event or end-of-year corporate dinners.
Shop for unique designs and colours that can be paired with different gowns and floor-sweeping dresses.
Men's fashion: 5 times Ghanaian actor John Dumelo looked dapper in tailor-made 2-piece outfits
One of Ghana's talented and highly respected male celebrities, John Dumelo has left us awestruck with his birthday photo.
The style influencer promoted various Ghanaian menswear brands on his active social media pages by modelling and rocking their designs to local and International pageants.
Legit.ng takes a look at five times the actor served fashion goals.
Source: YEN.com.gh