Easy ways of how to check GTB account number via SMS or online
The official GTB details are vital for customers to access banking services from the institution. However, the 10-digit figure is easy to forget, especially for new customers. Luckily, there are many convenient options for how to check GTB account number online or on your mobile phone.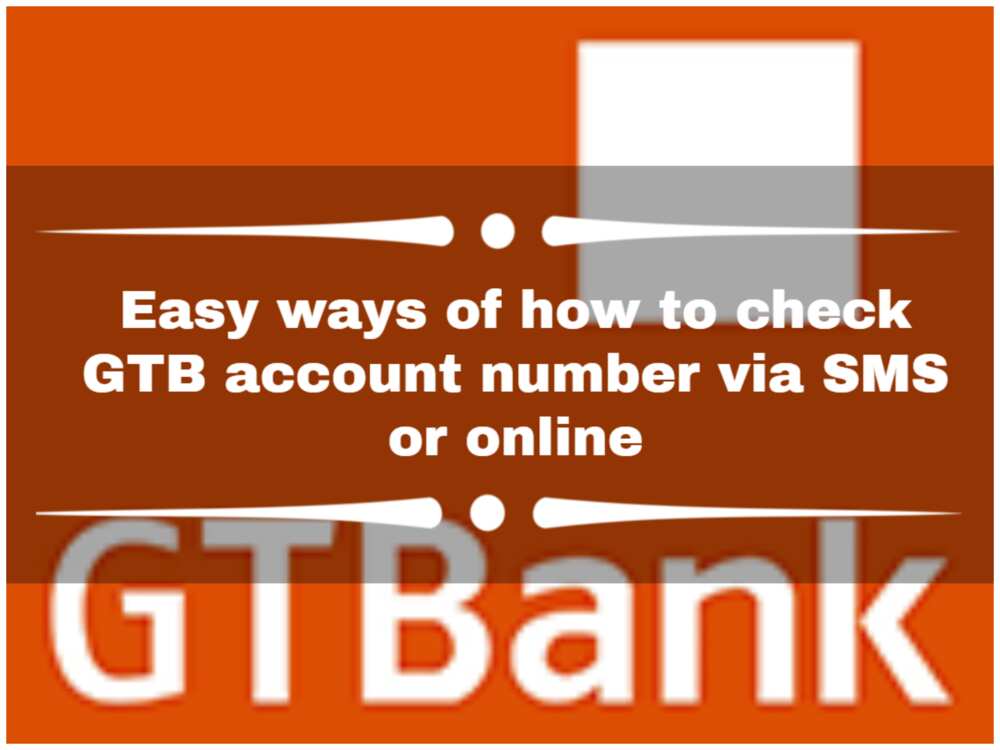 Guaranty Trust Bank (GTBank or GTB) is one of the leading financial institutions with over 8 million retail customers in Nigeria. It offers various financial services, including asset and pension management, retail and investment banking, and payment services.
How to check my GTB account number via SMS
There are two options for checking your GTB details via SMS. The first option is to send a message reading "My Account" to 08076665555. Within a few minutes, you will receive a text containing your full name and the 10-digit figure.
The second alternative is to send a message reading "BAL" to the GTB shortcode 0701. You can also use this method to check your balance. Briefly, you will get a message back containing the details you require. Finally, you can contact customer support by messaging +2349040002900 on WhatsApp.
You should note that the first two methods require you to have at least N10 credit on your line, while the third method needs data. Furthermore, they can only send your details to the phone officially registered with the bank for security reasons.
How to get my GTB account number online
You can quickly check your details online by visiting the internet banking section on the bank's official website. Enter your details as requested and log in. From there, you can navigate and find your details. You can also check the number by clicking on the "Account Enquiry" tab on the website.
You must have registered for their online banking service to access your details. You must also have mobile data or Wi-Fi to access this service.
You could use social media if you're unsure what details to enter on the internet banking platform. Contact the bank's support team on Twitter or on Facebook. They typically respond to inquiries on their page and direct messages immediately or within a few hours.
Other ways to get my GTBank account details on my phone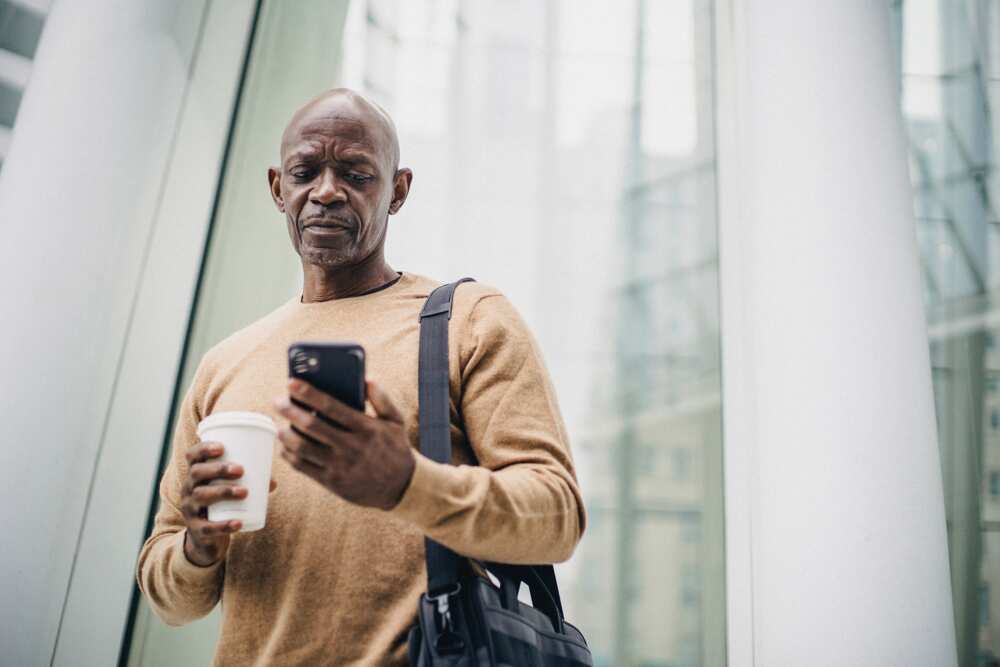 Your bank account number can sometimes be called your Nigeria Uniform Bank Account Number (NUBAN). Aside from using SMS and checking online, here are other ways to check your NUBAN.
1. Use the USSD code
Find your details by dialling the bank's official USSD code, *737*6*1# and following the prompts. Enter whatever information will be required to get your NUBAN. Non-customers can also use the USSD code *737# to open an account.
Like the SMS option, you need credit to use the USSD service. Your details will also only be provided to your registered phone.
2. Use the GTBank Mobile App
The mobile app has made banking easy. Like with online banking, you must have registered for mobile app banking to access this service. Enter your details to log into the app and find your details displayed.
3. Call customer care
Customers who aren't technologically savvy can get help by calling customer care. They can be reached on either of four phone contacts: +234 1 4480000, 0700 48266328, +234 802900 2900 or +234 803900 3900.
How to know my GTB account number using my ATM card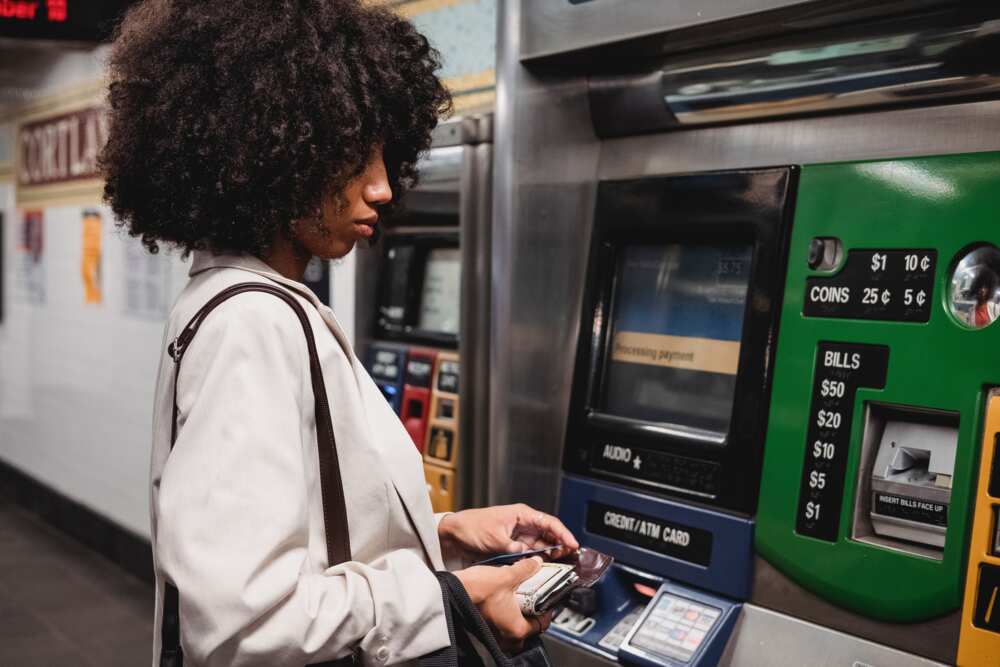 Customers can use their ATM cards to get their bank details. Visit the nearest ATM and insert your debit card. Enter your PIN when prompted, select either "Current" or "Savings", depending on your account type, then select "Account Information". All your details will be displayed on the screen.
You can also get your details by physically visiting a nearby branch. Request a printout of your account information from a customer service representative. They will likely require your debit card and some form of identification, so ensure you bring these with you.
What is NUBAN?
NUBAN is the Nigeria Uniform Bank Account Number. It is a 10-digit code, the Nigerian equivalent of the International Bank Account Number (IBAN). It is a unique identifier of specific bank account numbers and is required for all money transfer transactions.
What is the GTB account number format?
Every GTB account number is ten digits long. The final digit on the string is the check digit, used to identify errors in the figure entered.
What is my GTBank account number?
You can find the figure on your debit card. It is the 10-digit figure at the bottom of the card. The long 16-digit figure in the middle of the card is your card number, not your account number.
Can I get my GTBank account number without visiting a branch?
Yes, you don't have to go to a branch to get your account details. You can find the digits via USSD, SMS, the mobile app, or the bank's internet banking platform. You could also contact their customer service representatives by calling or on their official social media platforms.
How do I check GTB account number without a pin?
The easiest and quickest way to get your account number if you don't remember your PIN is to message "My Account" to 08076665555. For security reasons, this must be done from the phone officially registered to your account. You could also contact customer service on social media or visit a branch to be assisted.
The GTBank account number is ten digits long, and many customers often forget it. There are several simple methods of how to check GTB account number. You can use SMS, the online banking platform, or many other ways on your smartphone.
READ ALSO: How to check Glo number in Nigeria: Complete guide 2022
Legit.ng recently published an article on how to check Glo number in Nigeria. Globacom (or Glo) has millions of customers in Nigeria and is one of the leading telecommunications providers in the country.
Many mobile phone users in Nigeria have multiple phone numbers, and therefore, it is common for customers to forget their Glo number. There are many ways to confirm your number, including dialling a USSD code, calling a 4-digit number or confirming your tariff plan.
Source: Legit.ng