Bianca Censori's age, nationality, job, net worth, Kanye West
Bianca Censori is an Australian architect, model and entrepreneur. She made headlines in January 2023 after her marriage with Kanye West, an American rapper, fashion designer, entrepreneur and producer popularly known for his hit tracks such as Runaway and Heartless.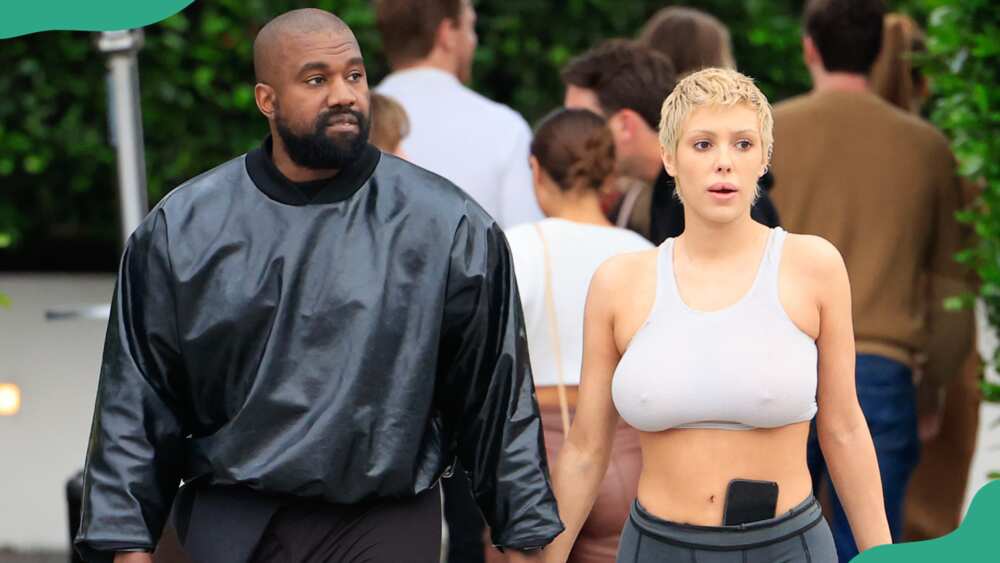 Bianca Censori is an architectural designer who came into the limelight following her marriage to Kanye West. She is the Head of Architecture at YEEZY, Kanye's company. The couple currently resides in Los Angeles, California, United States.
Profile summary
| | |
| --- | --- |
| Full name | Bianca Censori |
| Gender | Female |
| Date of birth | 5 January 1995 |
| Age | 28 years old (as of 2023) |
| Zodiac sign | Capricorn |
| Place of birth | Melbourne, Australia |
| Current residence | Los Angeles, California, United States |
| Nationality | Australian |
| Ethnicity | Mixed |
| Religion | Christianity |
| Sexuality | Straight |
| Height | 5'4" (163 cm) |
| Weight | 126 lbs (57 kgs) |
| Body measurements | 36-27-37 inches (91-69-94 cm) |
| Hair colour | Black (now dyed blonde) |
| Eye colour | Dark brown |
| Father | Elia 'Leo' Censori |
| Mother | Alexandra |
| Siblings | 2 |
| Marital status | Married |
| Husband | Kanye West |
| High school | Carey Baptist Grammar School |
| University | University of Melbourne |
| Profession | Architectural designer |
| Net worth | $2 million |
Bianca Censori's bio
The architectural designer was born in Melbourne, Australia. She is an Australian citizen of mixed ethnicity. She was born on 5 January 1995. Bianca Censori's age is 28 years old as of 2023. Her zodiac sign is Capricorn.
She is the daughter of Alexandra and Leo Censori. Her father was incarcerated due to his involvement in illegal substances and firearms possession.
Additionally, her uncle Eris Censori is a well-known figure in the criminal world, earning the moniker "the Al Capone of Melbourne" due to his formidable reputation.
The family immigrated to Australia in the 1960s, seeking a fresh start from their home in Italy. Bianca was raised alongside her two sisters, Angelina and Alyssia.
Educational background
The Australian entrepreneur completed her secondary education at Carey Baptist Grammar School in 2012. She later enrolled at the University of Melbourne, graduating with a Bachelor of Architecture in 2017. She also earned a Master's degree in Architecture from the same university in 2020.
What does Bianca Censori do for a living?
Bianca Censori before Kanye was known for her successful career in the fashion industry. She is an architectural designer, model and entrepreneur. She founded a jewellery company after completing high school, where she sold jewellery products online through her website.
The business was in existence from 2013 to 2017 while pursuing her degree. She also worked as a Design Consultant at Kelektiv while still at the university for a year and a half.
Is Bianca Censori a real architect?
Yes. After graduating from the University of Melbourne in 2017, Bianca began working as a student architect. She worked there for three years.
What does Bianca Censori do at Yeezy?
After leaving DP Toscano Architect in June 2020, she secured a job as a full-time Architectural Designer at YEEZY in November of the same year. She, therefore, relocated to the United States as the company is based in California. Kanye West owns the company.
What is Bianca Censori's net worth?
She has an alleged net worth of $2 million. Her net worth is primarily attributed to her architectural career.
How did Kanye meet Bianca Censori?
It is unknown exactly when they started dating; it is believed they became an item when Bianca became an employee at Kanye's company, YEEZY, in 2020. According to several reports, Kanye West and Bianca Censori secretly married in January 2023 at the Beverly Hills Waldorf Astoria.
TMZ shared several pictures of them in Los Angeles, USA. Bianca was even spotted with the rapper wearing a ring on her finger. It is alleged that their marriage is not considered legal as they didn't appear to submit a marriage certificate. The two have not confirmed or denied the speculations.
Kanye West is also widely known for his previous marriage with Kim Kardashian. They tied the knot in 2014 and divorced after being together for eight years. The two share four kids.
Bianca Censori and Kanye West's controversy
Kanye West and Bianca Censori have been at the center of intense media attention ever since they became a couple. They have been openly displaying affection and making public appearances in a series of daring and provocative outfits, causing consern among local residents.
Some have even suggested that Bianca might face charges of "public indecency," a violation that can result in fines of up to €309, as per the Italian Constitutional Court.
In September, the pair were spotted sharing a moment on a boat, with Kanye exposing his bare behinds while Bianca knelt before him with her head resting on his lap.
Throughout their travels in Italy and other destinations, West and Bianca have consistently surprised and amazed onlookers with their choice of attire.
West usually opts for minimalist attire, often going without shoes, while Censori frequently flaunts figure-hugging outfits that include tights, high heels, and bra tops that provide minimal coverage.
Bianca Censori's height and weight
Bianca is 5 feet 4 inches or 163 centimetres tall. She weighs approximately 126 pounds or 57 kilograms.
Fast facts
Here are interesting facts about Bianca Censori.
She once owned an accessories label.
She participated in Melbourne Design Week.
West's track titled Censori Overload gives hints about their marriage.
The couple walked barefoot in Italy in August.
West and his team dress Censori in her signature looks.
Bianca Censori is an architect and entrepreneur from Australia. She made headlines early in 2023 following her marriage to the famous American rapper Kanye West. The two currently reside in Los Angeles, California, United States.
Legit.ng recently published Vanity Alpough's biography. Vanity is an American entrepreneur and real estate agent. She owns an online store, Vanity Forever.
Vanity Alpough came into the limelight following her relationship with Kendrick Perkins, a former professional basketball player. Vanity and Kendrick are high school sweethearts, and they share four children. She currently resides in Texas, United States, with her family.
Source: Legit.ng