Keely Shaye Smith bio: who is Pierce Brosnan's current wife?
When Keely Shaye Smith stepped out in a musical clip for the first time, she was a goddess. Her hard work and self-confidence were spotted when she married the famous James Bond actor, Pierce Brosnan. Nevertheless, she has suffered many jabs from media trolls for her weight gain. This has got many wondering: what happened to Pierce Brosnan's wife?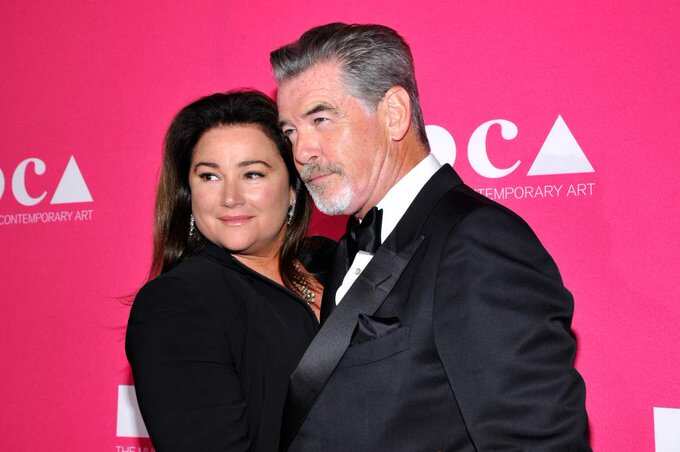 Keely Shaye Smith is well known as a top TV personality and journalist. However, that is not even half of what the multitalented wife of James Bond has got. She has assumed movie roles, produced some movies, and also served as a glamour model. Having spent so many years in journalism, Ms Brosnan has covered different aspects, including celebrity as well as environmental journalism. After her marriage, Pierce Brosnan wife now serves as a social activist together with her husband.
Profile summary on Keely
Name: Keely Shaye Smith
Also known as: Keely Shaye Brosnan
Nationality: American
Date of birth: 25th of September, 1963
Birthplace: Vallejo, California, US
Birth sign: Libra
Age: 56 years old
Height: 5 feet and 8 inches (1.65 m)
Profession: Model, actress, journalist, author, and TV host
Net worth: $100 Million
Sexuality: Straight
Marital status: Married
Spouse: Pierce Brosnan
Children: Dylan and Paris
Who is Pierce Brosnan's current wife?
Keely Shaye Smith was born in California. Not much is known about her siblings and educational background. She started her career as a model and featured in a musical clip by Huey Lewis and The News. The music video, shot in 1986, made the Billboard Hot 100. It was Keely's first TV appearance. The popularity of that video got her a movie role in 1989, where she played Valerie Freeman in General Hospital.
In the years that followed, Smith switched from being an actress to becoming a journalist. Her exceptional talent and work ethic helped her adjust well after the move. Within a short while, she became the host of the Home Show aired by ABC channel. Pierce Brosnan wife remained in the same show for more than five years and earned awards and nominations for it. Apart from getting two Genesis Awards, she received a nomination by the EMA – Environmental Media Association.
The consistency of the talented television host on the job landed her another position on NBC. For three years, Pierce Brosnan's wife worked as a correspondent for NBC's Unsolved Mysteries. Then, she had the privilege of working as a correspondent for the Good Morning America show, which was aired on ABC. This was different from the programme, Great Bears, she hosted on Outdoor Life Network.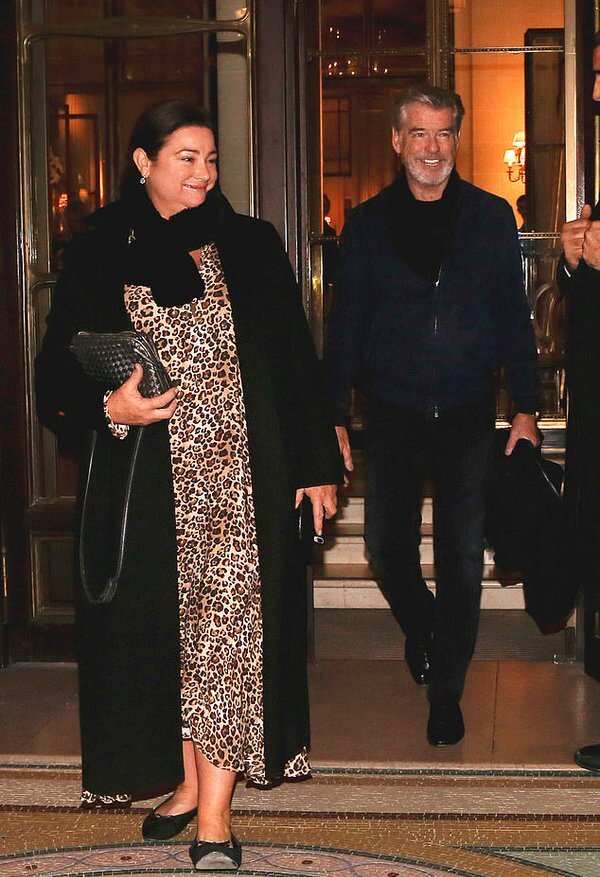 Keely Shaye Smith age
The journalist, actress, and activist was born on the 25th of September, 1963. So, how old is Keely Shaye Smith? She is 56 years old currently.
How much is Keely Shaye Smith worth?
Currently, according to Celebrity Net Worth, Smith is worth $100 million, with her husband, Pierce Brosnan. The inseparable lovebirds own different properties around the world. Being wise investors, Pierce and Keely bought a house in Malibu for an undisclosed price.
They rebuilt the one-acre beachfront home into a 13,000 square foot mansion and rented it for $250,000 monthly. Today, the same property is worth more than $20 million. They also made similar investments in California and Hawaii.
How Pierce and Keely Shaye met and married
Pierce Brosnan and Keely Shaye Smith first met at a pool party in Mexico City in 1994. While having a chat with Ted Danson, Smith had begun talking to Pierce. From there, the would-be couple hit the ground running. Seven years after, the small talk led to a reasonably large marriage ceremony in Ballintubber Abbey in County.
It is obvious that the 007 star and his half are crazy in love. Pierce is always fond of his wife, taking his time to praise her in public. The love-struck James Bond actor replayed their wedding video on their 17th wedding anniversary. On Instagram, Pierce uses the term 'my girl' to describe his wife whenever he posts something about her.
The duo is always seen together on every social event. According to Brosnan, he is always missing his wife, and so, they must be together always as they 'fit' themselves. While expressing his gratitude to God after recovering from the loss of his first wife, Cassandra Harris, he said, "I had a great marriage which sadly had its own ending, and I was lucky enough to find love again. We were meant to find each other. I thank God for her every day."
Their social activism
Keely Smith had been a vocal activist before her union with Pierce. After marriage, the inseparable lovers collaborated with organizations like IFAW and NRDC to put an end to the creation of a salt warehouse in Mexico. The pair is also determined to bring environmental awareness to school pupils. Keely and Pierce are currently funding a humanitarian initiative created by Jane Goodall, a longtime friend of Pierce.
In 2007, Keely and Pierce successfully pushed against the Cabrillo Port Liquefied Natural Gas plant, which was to be constructed off the coast of Oxnard and Malibu. In that same year, approximately $100,000 was given to help rebuild the Hawaiian island park.
In 2009, the couple visited the POTUS to support a cause. Their visit helped Eni Faleomavaega and William Delahunt (US lawmakers at that time) introduce policies to address the irregularities in commercial whale hunting around the world. In that same year, the lovers supported the American Clean Energy and Security Act by appearing before the US EPA— Environmental Protection Agency.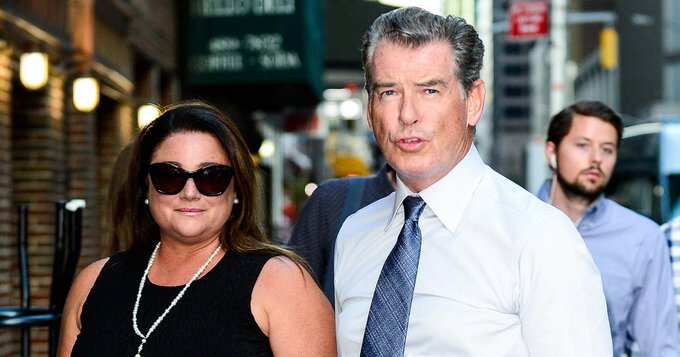 How many children do Pierce Brosnan and Keely Shaye Smith have?
In 1997, the Pierce Brosnan family welcomed their first child and son, Dylan Thomas. The second son, Paris Beckett, was born after four years. Eventually, the couple decided to get married several months after the birth of Paris.
Interestingly, the two kids are also pursuing careers in the entertainment industry, like their parents. Dylan Brosnan is the lead singer of a band known as Raspberry Blonde. Additionally, he is a model for Saint Laurent. His sole acting credit is in the short film, Iconic. Currently, he is studying at the University of Southern California's School of Cinematic Arts.
Paris Brosnan, on the other hand, is a filmmaker and model as well. He directed a short film titled Your Voice Matters, and he has done photoshoots for brands like Ralph Lauren, Balmain, and Dolce & Gabbana. He also did a documentary on Sri Lanka, focusing on the hunger crisis among children as part of the World Food Programme for the United Nations.
Keely Shaye Smith weight
Brosnan's wife was a former model before marriage. During those early days, Keely Shaye Smith young body had induced envy whenever she steps on the red carpet. Every model wished to have her kind of physique. After giving birth to Paris, her second son, Smith surprised everyone with her post-baby body. She wore a fitting dress revealing her great features.
When did Keely Shaye Smith gain weight? In recent years, Keely Shaye Smith weight gain had been dramatic. As a result, many bloggers and magazines have been forced to wonder what could be the cause of the dramatic change. Many online trolls compared her to a fat character in Goldfinger.
After years of harsh mocking and whirling rumors about her excess weight, Smith officially restructured her eating habits. This led to the recent Keely Shaye Smith weight loss. Pierce Brosnan's wife today has successfully shed off close to 100 pounds. She was seen on the red carpet at Brosnan's Mamma Mia 2 launch in July 2018. Everyone was amazed at her new figure, and so, many Keely Shaye Smith pictures were taken.
It is good that Pierce Brosnan wife today is looking confident like her former self. However, the most important thing for Keely Shaye Smith and her fans is that her husband has always shown her love regardless of her size.
Source: Legit.ng